This year, #startTODAY will follow Hoda Kotb, Jenna Bush Hager and Craig Melvin as they start their own personal health journey with the goal of living to 100. Each anchor has been paired up with a team of coaches to help them along the way.
Craig Melvin's joining forces with Bob Harper, host of The Biggest Loser to come up with attainable fitness goals, nutritionist and TODAY contributor Joy Bauer to develop a healthy eating plan that works for his life, and Headspace founder Andy Puddicombe to find a way to be more present and less stressed.
Harper's goals for Craig are simple but effective:
Get excited about working out again
Increase strength and conditioning
Lower weight and body fat
Puddicombe's goals for Craig are aimed at creating balance in his busy life:
Feel less stressed
Be more present
Have more time for others
Bauer's goals emphasize a high-protein, plant-based diet:
Cook (and enjoy!) plant-based protein including tofu, lentils, tempeh, chickpeas and "fake steak"
Pack meals and snacks with ample protein to fuel intense workouts
Master ordering vegetarian fare in restaurants and delis
Check out Craig's 7-day plan below and follow along here for more recipes and tips.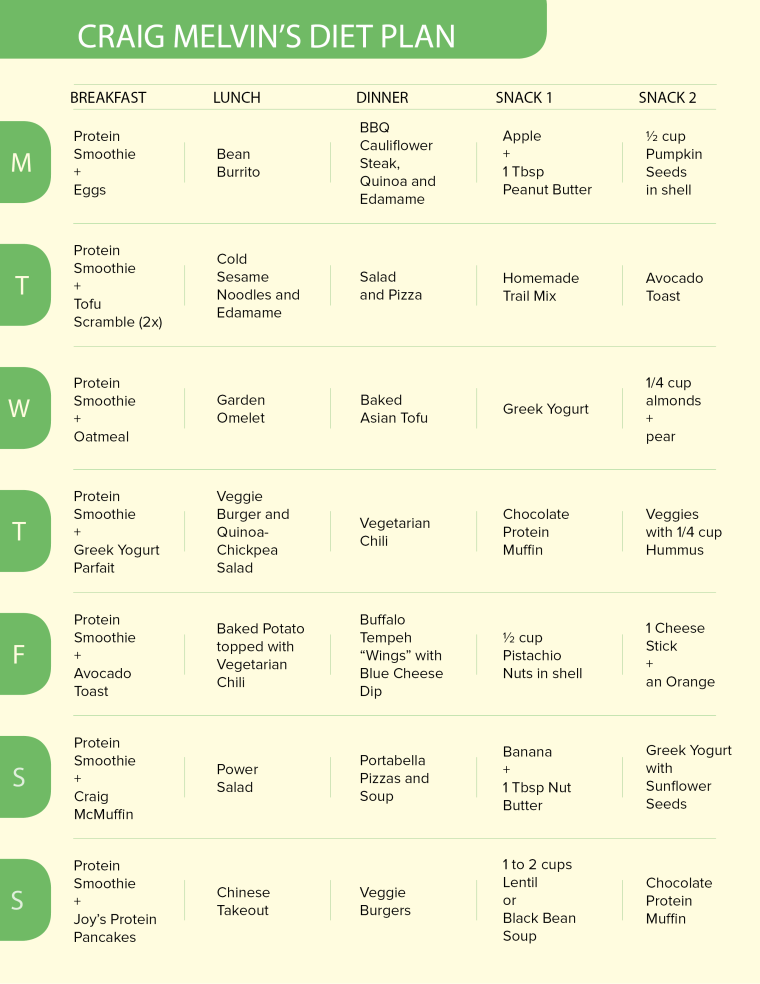 Craig's team has come up with lots of motivating goals for the new year, but is it the right plan for you? Take our quiz below to see which anchor's plan suits you best!
Craig's plan is full of goals that you can achieve too! For more tips and advice, sign up for our One Small Thing newsletter, where all of Craig's coaches will be sharing their best tips all month long. Check back next week to find Craig's full fitness plan and we'll continue to update you here with more of Craig's plan along the way!