Craig Melvin is constantly on the move. Not only does this cause some stress in his life, but it also makes it difficult to make time for others and stay present. To help find more balance in his busy life, Craig enlisted the help of Headspace founder Andy Puddicombe to find practical ways to live more mindfully every day.
Craig created a set of goals including feeling less distracted (especially when it comes to his phone), feeling more rested when waking up and feeling calmer in balancing the responsibilities of work and family life.
FOLLOW ALONG WITH ALL THE #STARTTODAY PLANS AND TIPS WITH OUR "ONE SMALL THING" NEWSLETTER
Puddicombe created a 30-day plan full of simple tasks that Craig can do every day to be more present in his own life. While the primary goal is to encourage a greater sense of feeling present, these tasks also result in a greater feeling of calm, easy, empathy, appreciation, gratitude and balance.
JOIN ANDY PUDDICOMBE FOR A FACEBOOK LIVE CHAT LATER TODAY
Craig's 30-day plan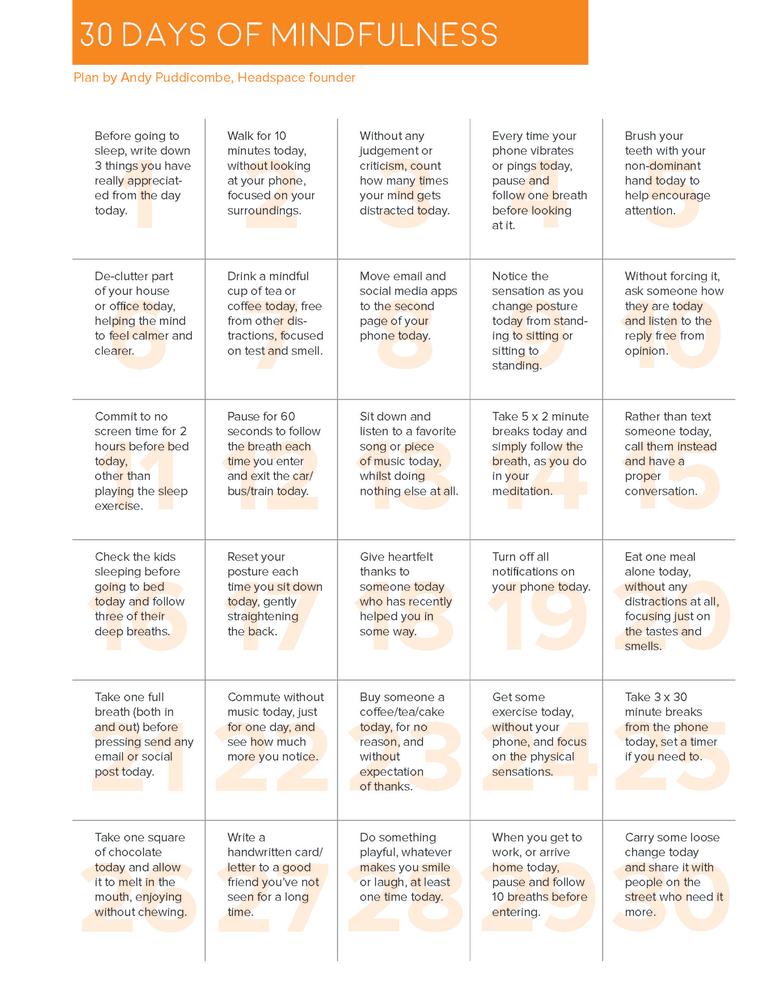 Craig's full plan is two-fold. Each day will involve a meditation component as well as a mindfulness component. The goal is to develop an ongoing meditation practice and commit to the mindfulness tasks that feel beneficial.
For guidance in meditation, Craig will be using the Headspace app. He'll be following a program that cycles through 10 minutes of meditation every day for 10 days and repeating that program three times throughout the entire 30-day period.
FOR THE REST OF CRAIG'S #STARTTODAY PLAN FOLLOW ALONG HERE
Through these practices, Craig will be focusing on these three major goals over the course of the month:
1. Feel less stressed.
Mastering the basics of meditation through the Headspace app's free introductory series, Take10, and making it a daily habit will help Craig to let go of stress and feel better rested. For most people, regular meditation also results in a greater sense of calm, clarity and perspective, along with many other health benefits.
2. Be more present.
We often miss out on life because we are distracted by thought. Although meditation will provide the foundation for Craig to be more present, the daily mindfulness tasks will help strengthen this quality of mind and ensure that it extends into everyday life and activities.
3. Have more time for others.
By feeling less stressed and being more present, Craig will naturally have more time for others. But there are specific things we can do in meditation, and also in everyday life with the mindfulness tasks, to ensure that we are looking out for those around us as well.
Do you have more questions about meditation? You can text Andy Puddicombe later today! Find out how.