/ Source: TODAY Contributor
Summer's just around the corner, so TODAY is looking at some fun ways to pump up your fitness routine. As part of the StartTODAY series, yoga fans stretched out their mats for a special event organized by TODAY sponsor Kohl's.
The dawn yoga class was led by Kohl's ambassadors Masumi Goldman and Laura Kasper-Jack, known as "Two Fit Moms." Their mantra? "It's never too late to start something new."
Trying a yoga class for strengthening and flexibility is one way to go. If you want to make your heart race as well as work your muscles, there are many different workouts. If you feel your schedule is too busy to start a routine, "every little bit counts," Goldman told TODAY. "You don't need an hour. How about ten minutes? Five minutes?"
Water cycling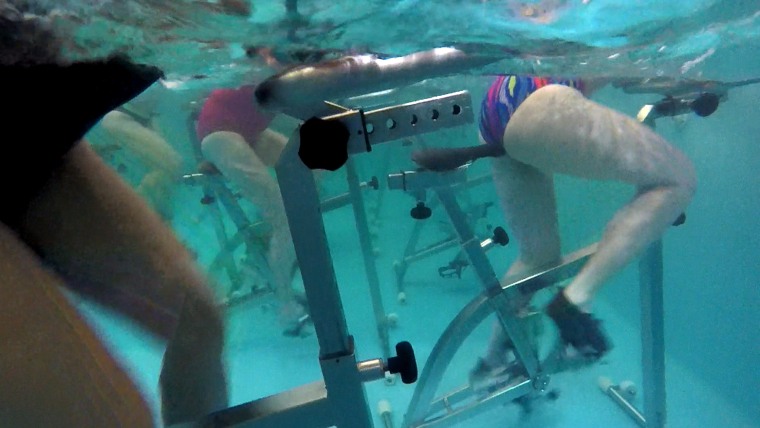 Stationary surfing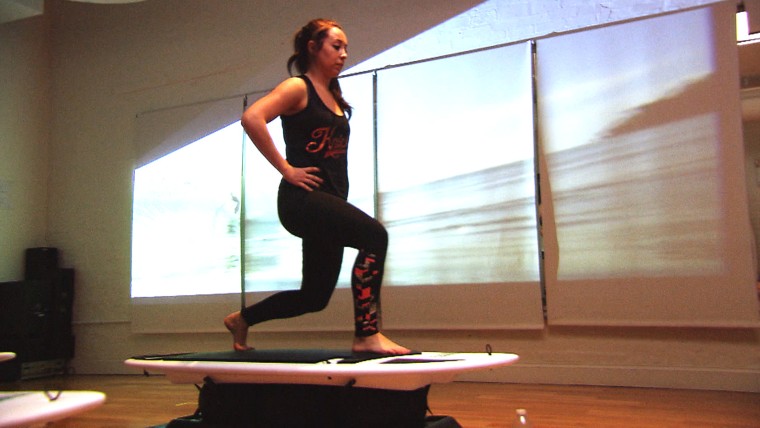 New trends pop up all the time as innovative trainers and class instructors search for different ways to motivate people to get moving. Here are three more of the latest and greatest.
1. Trampoline workouts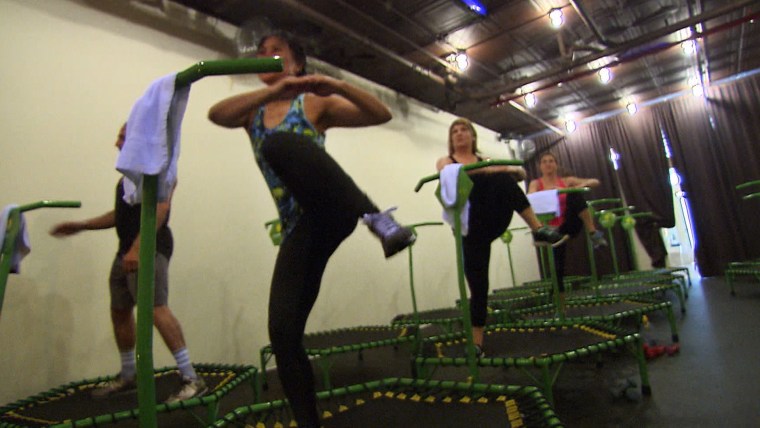 Those childhood trampolines are making a comeback as an adult-friendly, low-impact workout. Antigravity rebounding on a trampoline makes it easier on joints than running and jumping on a sidewalk. Plus, the unstable surface works your core and improves balance. "Trampolining is a joint-friendly way to add a cardiovascular component to your workout," says Jessica Matthews, exercise physiologist with the American Council on Exercise. "The intensity can vary from a brisk walk to a run." Fitness companies specializing in trampoline workouts include Sky Zone Trampoline Park, Jumping Fitness, Joy and Vitality, with many other trampoline workout facilities springing up around the country.
2. Aerial fitness/yoga
If working out while being suspended from a cloth hammock floats your boat, you'll love aerial fitness. You can also find aerial dance and yoga, all of which use hanging equipment called aerial silks, sling, nets and ropes, which require a high degree of flexibility, strength and power to master. Aerial yoga enables you to more easily stretch your entire body by working with gravity to realign and relax you.
3. Competitive fitness classes
Aside from secretly racing the person next to you on the treadmill, cardio and aerobics classes are not inherently competitive. Orangetheory and Flywheel are a couple of chains about to change that. Orangetheory, so named for the "orange zone" of working out at 84 to 91 percent of your maximum heart rate (calculated by subtracting your age from 220), which appears on a screen in front of you during your workout to help motivate and hold you accountable. The cycling studio, Flywheel, with locations around the country, allows you to participate in their Torqboards, large-screen displays that flash leaderboards to show how you're doing.
Swap your boring old treadmill workout for one of these new programs to kick up your fun –– and your results.