/ Source: TODAY Contributor
Truth: No matter how creative they get with their salads and stir-fries, even the most committed healthy eaters sometimes find themselves craving a simple, satisfying sandwich. When left unchecked, the sandwich can quickly derail plans for a wholesome lunch (we're looking at you, 900-calorie chain offerings!), but there are plenty of ways to fight back. Baltimore-based nutritionist Monica Reinagel, author of the blog Nutrition Over Easy and books like Nutrition Diva's Secrets for a Healthy Diet, shared her smartest healthy-sandwich hacks with TODAY.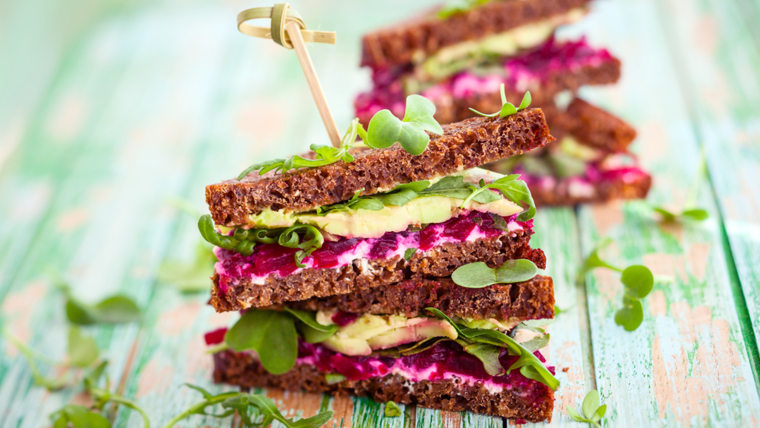 Watch for fat hidden in bread: Reinagel warns against popular focaccia, which, like croissants and brioche buns, is high in calories and fat. "Most people don't realize it, but it's made with quite a bit of olive oil, so it's the same effect," she says. She prefers whole-grain or rye breads, which are higher in fiber and significantly lower in fat and calories.
Know that butter is everywhere: Pressed sandwiches are "basically baked in butter" to give them that gorgeous caramelization and addictive flavor. "Don't be fooled into thinking that they're just heating them up so the cheese melts," she says. The bottom line: Make hot sandwiches at home when you can control the cooking method and ingredients. And even with cold menu items, some chefs automatically add generous amounts of butter, mayonnaise or olive oil to their bread whether or not you request it, so inquire when you order and at least ask for a reduced amount.
Pair eggs with English muffins: Doing breakfast for lunch? If you aren't in the mood for toast, skip bagels, which can have up to 50 grams of carbs, and go for an English muffin. "They have bagels beat simply because of their smaller size," she says.
Perform surgery on your sandwich: Sometimes you have to take matters into your own hands—literally. For example, Reinagel cautions that wraps, despite their low-carb reputation, aren't necessarily healthier. "Restaurant wraps are usually huge, basically the equivalent of three slices of bread," she says. Her coping strategies? "If the sandwich isn't too messy I tear off the entire top part and then just stop eating once I'm left with that empty wad at the bottom." (If they're an option, Reinagel always prefers wrap sandwiches that have been sliced into pinwheels, since they're less dense.) With baguettes and rolls, Reinagel is inspired by chains like Potbelly that serve "skinny" sandwiches with about one-third of the bread scooped out. "If you're up for it, you can do this yourself with any deli sandwich," she says, or as a last resort, "just take off the top and go open-faced."
Pile on the veggies: Just because you're eating a sandwich doesn't mean you can't get a little closer to the CDC's daily 9-cup recommendation of fruits and vegetables. Tomatoes and bell peppers are obvious picks, as long as they haven't been doused in oil, but skip the iceberg lettuce, which adds crunch but is low in nutrients. Instead go for darker leafy greens like spinach, arugula or watercress.
Manage your meat: Standard deli cold cuts often contain additives like sodium as well as nitrates, which may increase the risk of heart disease. In a perfect world, your lunch spot would offer items like sliced, freshly cooked chicken or steak, but if not, look for brands known for serving meat that's organic, low-sodium and nitrate-free (like Applegate Farms).
Consider your condiments: To add lots of flavor without fat, Reinagel likes mustard and spicy condiments like horseradish, and peppers packed in vinegar. If you must have mayonnaise or oil-based dressing, ask for it on the side and use it sparingly.
More from our How to Order Healthy series:
How to order a healthy smoothie