Tights are magic as the weather gets cooler. They keep us warm, look cute and give a second life to our spring and summer outfits.
The only problem? Rips, tears, runs and pilling force us to buy new pairs way too often. That's why TODAY Style collected some expert tips to make your tights last all season long (including one amazing trick that involves your freezer. Move over, Ben & Jerry's!)
1. Shop smart
Choose tights that are natural fiber blends when possible. "Tights with the highest Lycra content are going to last longer. They are more opaque, in most cases, so they may not be the first choice for a very dressy occasion. If they are all-synthetic (polyester, nylon blend, etc.) then more opaque can mean more dense and often longer lasting," says Lisa Hayes, fashion design program director at Drexel University.
2. Prep to last
When you bring home new tights, throw them in the freezer before wearing. No, really! "Freezing your tights is a quirky, yet budget-savvy way to help keep your tights longer, (and stay) run-free, lint-free and vibrant in color. It's definitely a trick to try!" says celebrity stylist Denise Caldwell. This is even great for nylons, sheer pantyhose, fishnets or delicate stockings.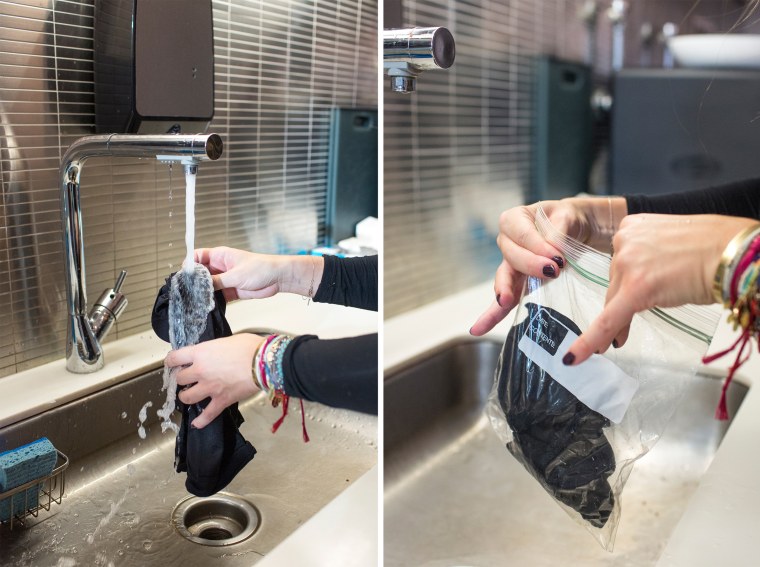 To freeze, Caldwell suggests taking your new tights and running them under water until they're damp. Then place them in a plastic bag and freeze overnight. Take them out and give them a day to defrost and thaw out. "You only need to do this once. After that, you're good to go!" says Caldwell. The chilly temps firm and strengthen the individual fibers of your tights, making them less susceptible to runs later on.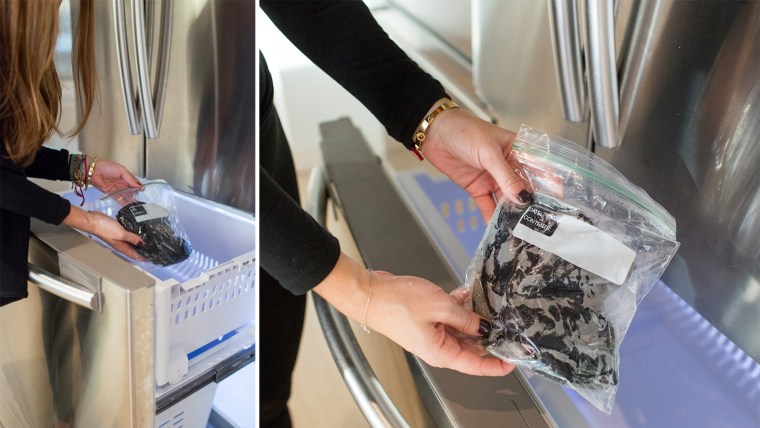 3. Wear with care
"When putting on your legwear, it is important to be seated comfortably, gather each leg at the ankle, smooth over the foot and gently bring up the leg," says Hanes Hosiery's head designer, Cathleen Moxham.
It is important not to roughly pull or tug on the legwear. "Make sure your hands move from the front to the back of the leg and stretch the legwear evenly to ensure a uniform appearance on the leg," she says. Taking tights off in the same manner is equally as important to its lifespan. "Sharp objects can wreck havoc on legwear; make sure that nails are smooth and it's best to remove jewelry. Wearing moisturizer on your hands helps as well," Moxham suggests.
4. If you see a snag ...
The trick our mom taught us as teens still holds true; As soon as you see the beginning of a snag, apply some clear nail polish to the spot to stop it from running.
5. Store them properly
Gently and loosely fold stockings and store side-by-side instead of stacking. "This lets air circulate (allowing them to breath), keeps wrinkles at bay and most importantly, helps you quickly find and put on the right tights in a jiffy," says Carrie Glenn, an etiquette coach and founder of Etiquette at Hand.
6. Never, ever dry in the dryer
"This breaks down the elasticity in the fabric, causing that dreaded roll-down-your-hips-and-belly-right-when-you-sit-down-for-a-nice-dinner moment," says Glenn.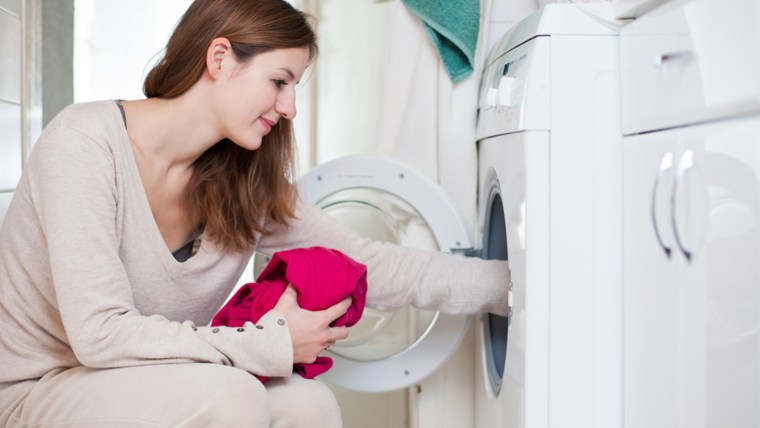 Instead, hand wash using Woolite or even mild dish soap instead of detergent. "If you must machine wash, toss them into a small garment bag first. Add vinegar to the wash — 1 tablespoon if hand washing and about a cup to regular machine wash," says Glenn.
And there's still hope for very dirty or stained tights! Glenn says to spot treat with dish soap and let it sit for about 10 minutes (you can even leave it overnight) before hand washing.
7. Worst case scenario, repurpose!
If all else fails, don't throw your tights away. "Cut the feet off, then cut across each leg every two or three inches and use for hair scrunchies!" says Glenn.
This article was originally published on Dec. 2, 2015 on TODAY.com.