Since the very first episode of "Mad Men," we've been enraptured by the show's nostalgic and outright gorgeous costumes. As the series nears its final episode on Sunday, we're even more amazed at how each outfit perfectly complements the characters' emotion in the scene and overall evolution.
"Mad Men" costume designer Janie Bryant looked back on all seven seasons with TODAY.com, sharing the hidden messages behind three of her favorite outfits from the series.
1. Betty's playsuit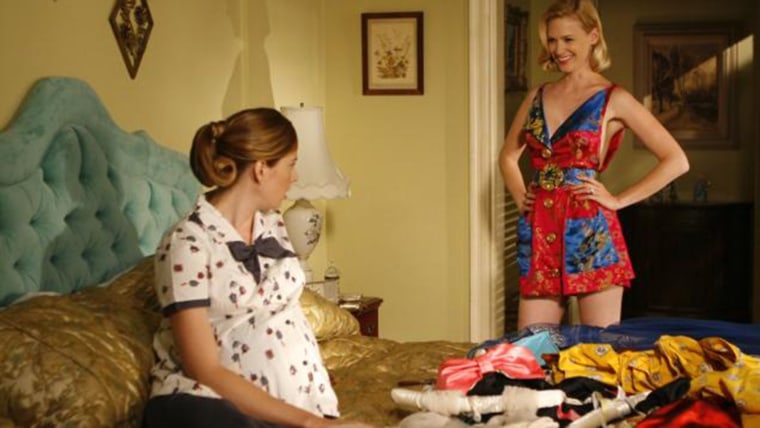 As the first original piece that Bryant designed for the show, Betty's fashion-forward playsuit holds a special place in both Bryant and Betty's hearts. The playsuit, which appears in season one's "The Wheel," is a relic from a time before Betty met Don when she was a model who traveled all over Europe and lived an exciting, independent life. As Bryant describes, the playsuit serves as a significant juxtaposition to her current life as a housewife, feeling like a prisoner.
2. Megan's L.A. look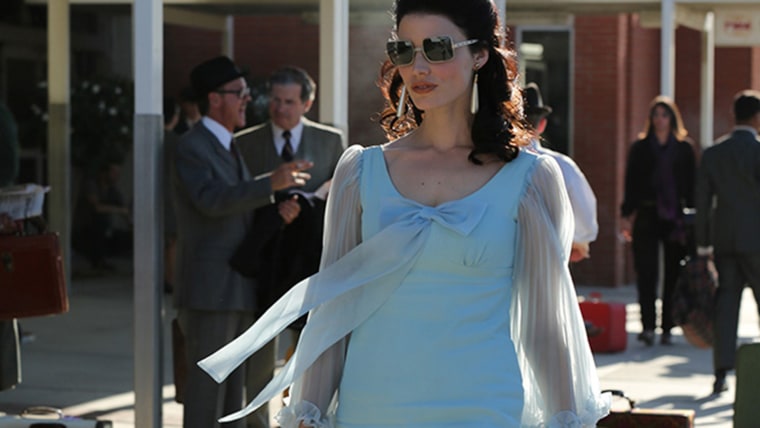 This airy, sky-blue chiffon dress signifies the transition from the New York Megan of season five to the L.A. Megan of season seven's first half — as well as the stark contrast between Megan and Don. Viewers may also recognize the same dress return a season later when Megan meets Harry Crane for lunch in an attempt to jump-start her struggling acting career. While Megan's dress repeat was likely meant to be a confidence booster, the scene felt a far cry from that of the dress's self-assured debut.
3. Joan's date-night dress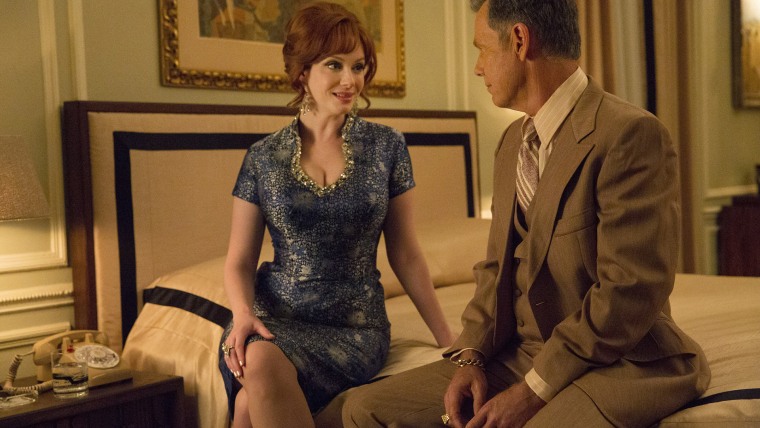 Here's something you may not have noticed before: almost every outfit Joan wears has an Asian influence. If you look back at previous seasons, Joan hangs Asian art in her apartment, wears Chinese jewelry and and even dons a kimono when she's comfortable at home. For the season seven scene, in which she goes on a date with her new love interest Richard, show creator Matthew Weiner requested that she look like "classic Joan." Bryant took that to mean a beautiful Asian brocade dress with a slight Mandarin collar.
Catch the series finale of "Mad Men" at 10/9c on AMC.