Rokerthon 2 is over — and Al Roker is a champion!
After visiting 50 states, traveling 17,000 miles, delivering 104 forecasts, being greeted by nearly 5,000 cheering fans and having the rare opportunity to meet and greet 36 goats across the country, Al returned to New York Friday morning.
There was fanfare waiting for him, including a marching band, Mets mascots, The Rockettes, one more goat and Al's own family.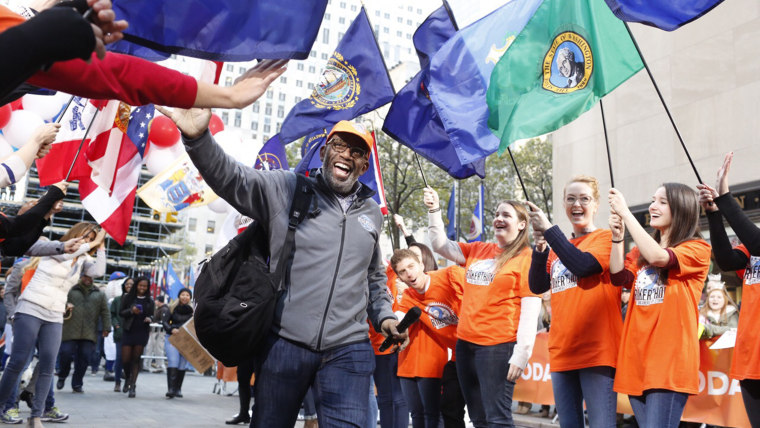 But his homecoming offered him more than just a chance to reunite with familiar faces. After delivering one last forecast for his home state, it offered him one heck of an honor: a new entry in the "Guinness World Records" book.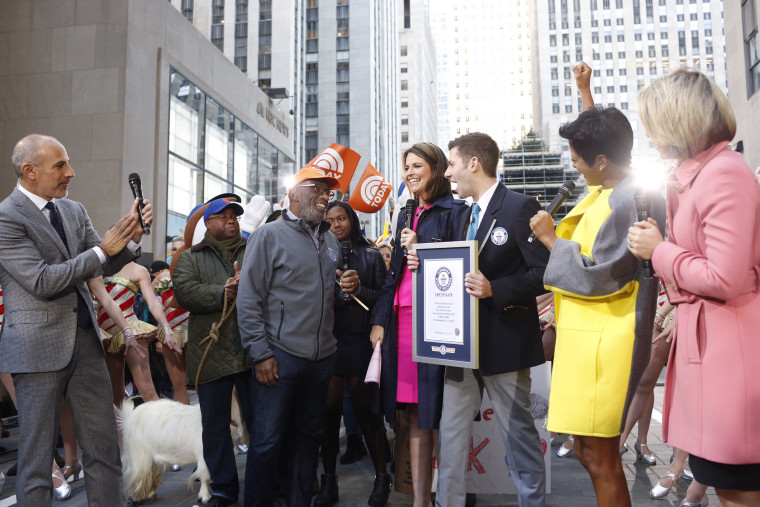 While last year's Rokerthon event was all about endurance, as TODAY's go-to guy for the weather delivered the forecast for 34 hours straight, this time around, Al upped the challenge with his trip across the weather map, delivering forecasts from all 50 states — from Hawaii to New York — in one short week.
"It was like doing six Rokerthons from last year!" he said of his latest feat Friday.
That is nothing short of amazing.
Congratulations, Al! We're glad to have you back.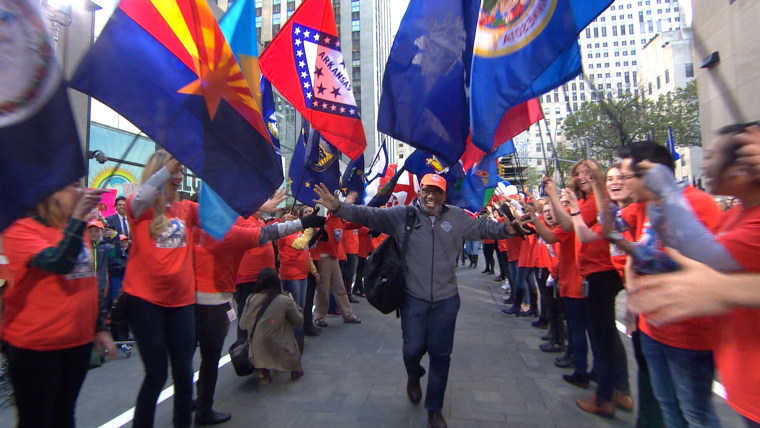 And you can take a look back at his entire journey. Click on the "RokerTracker" button in the upper right of the map to go into a trace route mode where you can step through all of Al's adventure. Just keep clicking that button to travel along his path.
Rokerthon 2 was all for a good cause. While Al made his way across the country by planes, trains and any other vehicle he could catch, Rokerthon 2 supported Feeding America, an organization devoted to feeding those in need across the nation.
Keep on scrolling to get a recap of Al's week, day by day!
The final stretch: Al's heading home
Al is almost home.
He's delivered the forecast 104 times on his journey across the country, snapped 44 selfies, spotted 36 goats and he's been greeted by nearly 5000 cheering fans along the way.
And he packed light! Al took just one suitcase for his amazing journey.
But it all comes to an end on the plaza Friday morning.
Al started the day in Stamford, Connecticut, and you could tell by his smile that he was looking forward to his homecoming (and to setting a world record).
"Me and the crew are feeling great," he told Matt Lauer and the rest of the TODAY gang. "We're ready to come home to see our loved ones ... and you guys, as well!"
That's our Al!
Day 7: Heading closer and closer to home
Al's race around the weather map continues ...
On Thursday, after visiting the entire Southeast the day before, Al headed back north, as he gets closer and closer to home.
His first stop was Arlington, Virginia, before hoping the Amtrak and making his way to the nation's capital.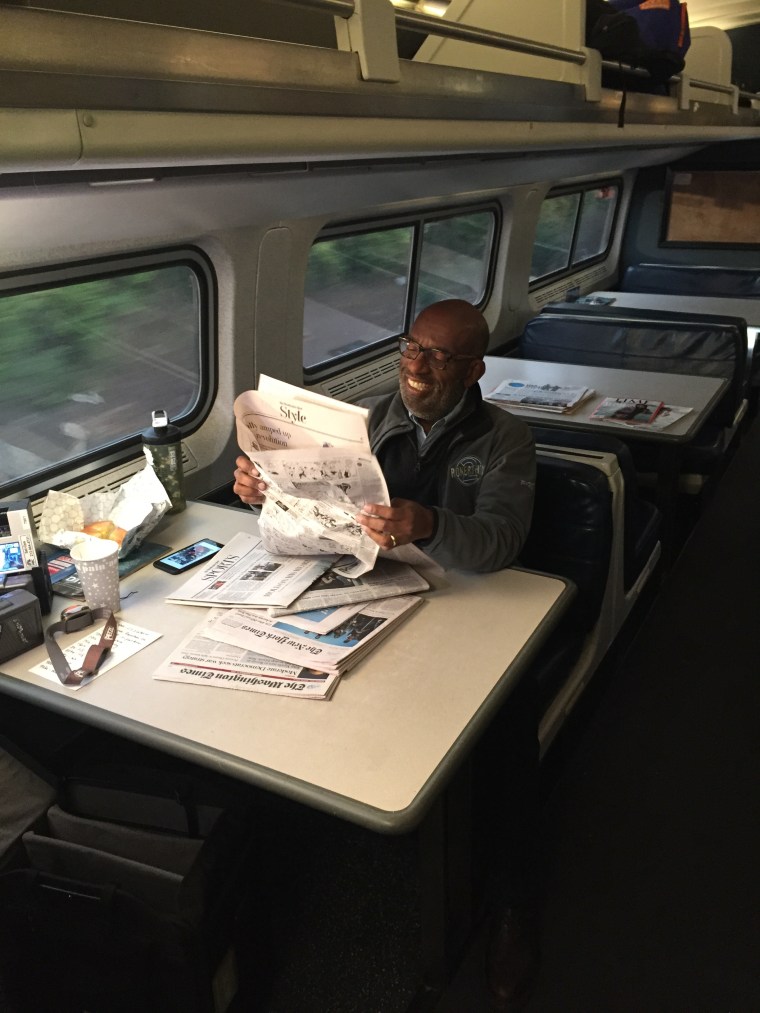 It's been a great journey for Al, and it will come to an end Friday morning — hopefully with a new world record set.
Here are few of the amazing feats Al's ticked off his list so far (and counting!):
16,581 miles traveled
12 modes of transportation: planes, cars, a chuck Wagon, the Oscar Mayer Wienermobile, a boat, a horse, a golf cart, a party bus, a military carriage, a firetruck, an RV and trains
10 times across time zones
24 goats spotted
Day 6: Down south!
On Wednesday, he started his day in Slidell, Louisiana, delivering his first forecast from Honey Island Swamp — and we mean in it. He wore waders while revealing the weather.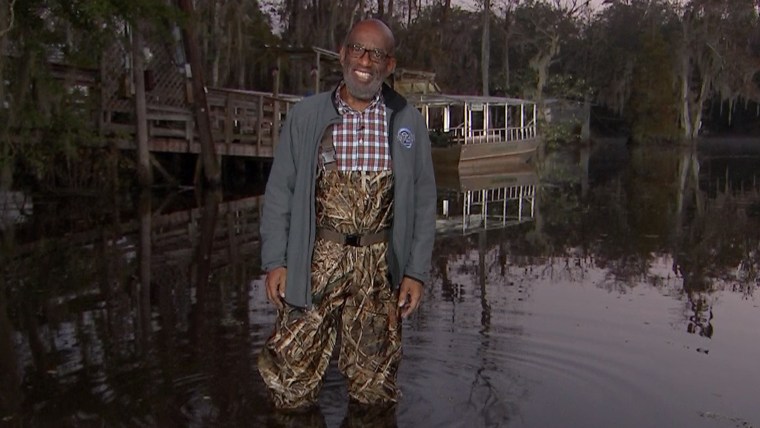 "So far we have not see any goats this morning, but it's early!" he told the TODAY gang in the studio.
We're rooting for you, Al! And so are these ladies:
Where to from there?
Al made it through the whole Southeast Wednesday.
Day 5: From MO to OH!
Al stood along the shore of the mighty Mississippi on Wednesday!
But the Mississippi River spans quite a distance, and Al wasn't in its namesake state — he won't be there until Wednesday.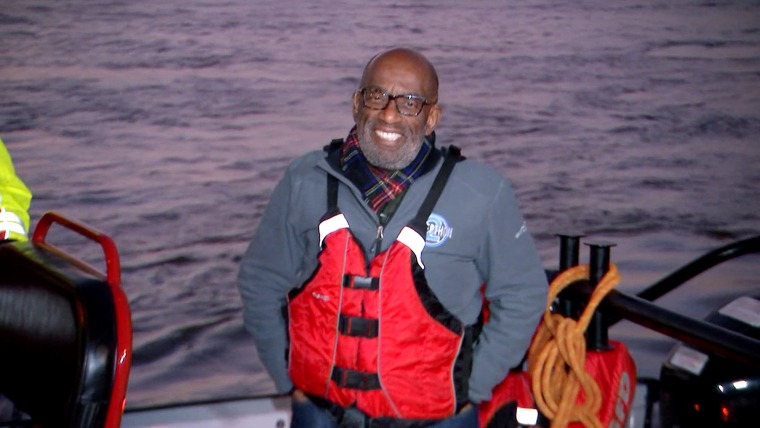 He was actually broadcasting from Cape Girardeau, Missouri, bright and early. Well, so early that it wasn't quite bright yet.
From there?
While Tuesday's list wasn't quite as long as his "Monster Monday" itinerary, he visited a total of eight states before he called it a day. From Missouri, he headed out across the Midwest, eventually making his way to Ohio.
As for how he got there, well, he was happy to take any form of transportation — even the Oscar Mayer Wienermobile!
Day 4: The Four Corners and beyond!
What Al dubbed as "Monster Monday" has lived up to its billing.
What's so monstrous? Al's schedule!
He planned to make his way through 13 different states in one day. But he found a clever way to knock out a few at once.
"We've got a head start because we're literally at the Four Corners — Utah, Colorado, New Mexico, Arizona," he told Matt Lauer and the rest of the TODAY gang Monday morning. "It's gonna be huge!"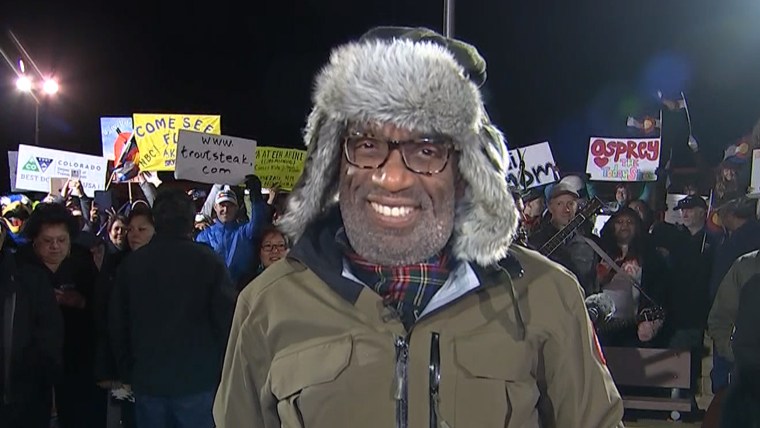 We have no doubt about that.
Day 3: The West Coast
On Sunday, Al continued his latest world-recording breaking attempt in Spokane, Washington, hitting eight other states throughout the day.
Before it was over, he'd covered the entire west coast of the United States — and then some!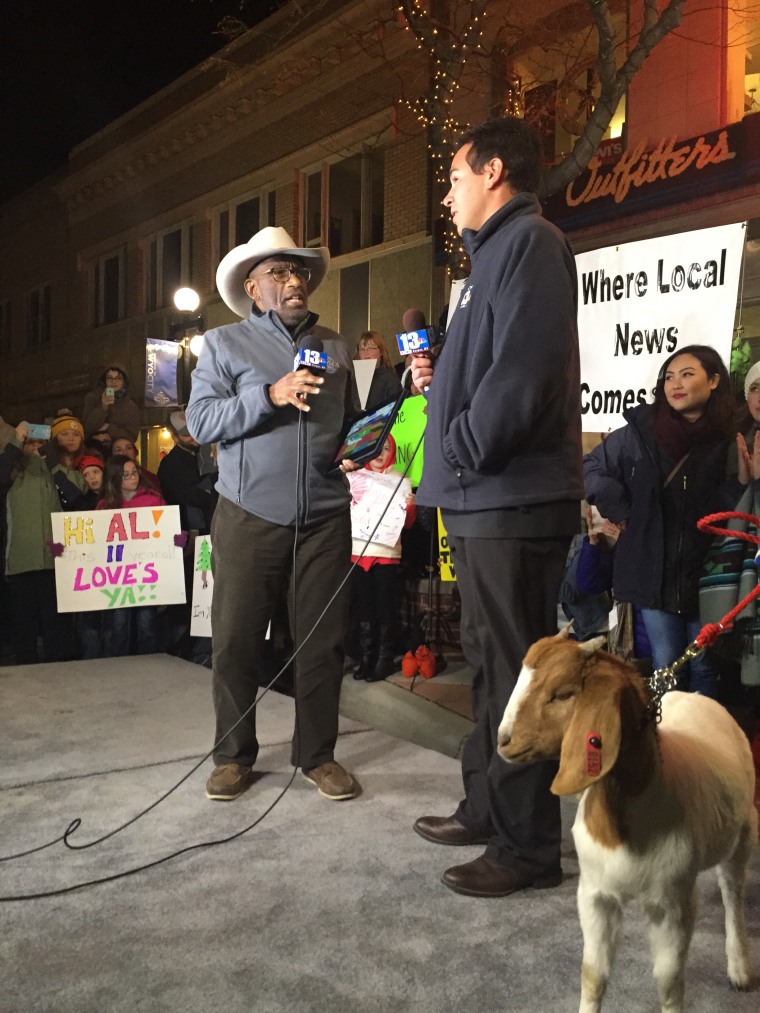 And, of course, he met a furry friend along the way.
Day 2: Alaska
From sunny Hawaii to chilly Alaska, Al stayed warm on the second day of his Rokerthon 2 adventure by spending some time with a crowd of locals from Anchorage.
There was even a local goat there to greet him — as there had been in Honolulu, too.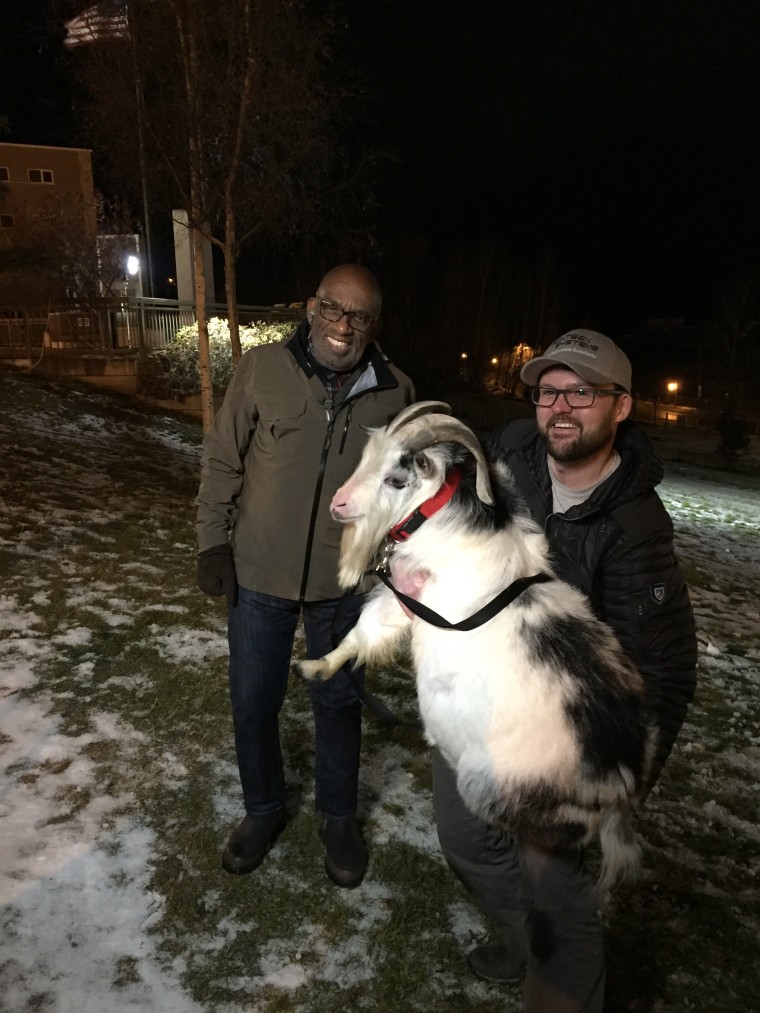 Can we expect one at every stop in the 'thon? "I think we will have a goat every day," Al said. "It's become our running gag."
We can't wait to see the next one!
Day 1: Hawaii
Where better to start Al's adventure than on the shores of Waikiki?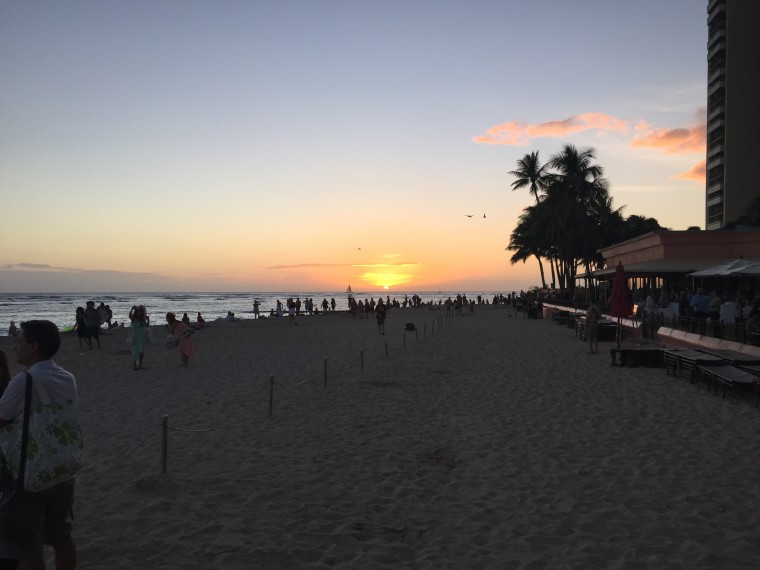 He delivered the forecast for Hawaii bright and early Friday morning — well, it was bright and early for some of us.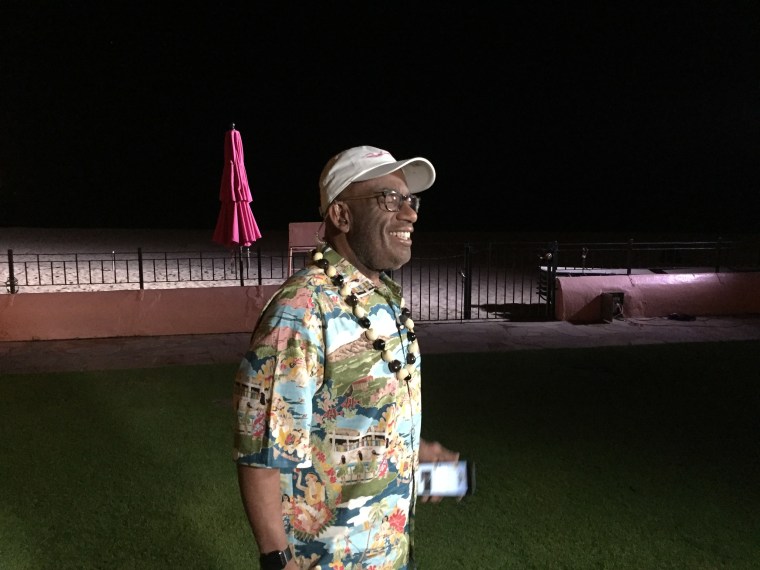 For Al, and the rest of the locals, it was still the wee hours of the day.
But it was a great day.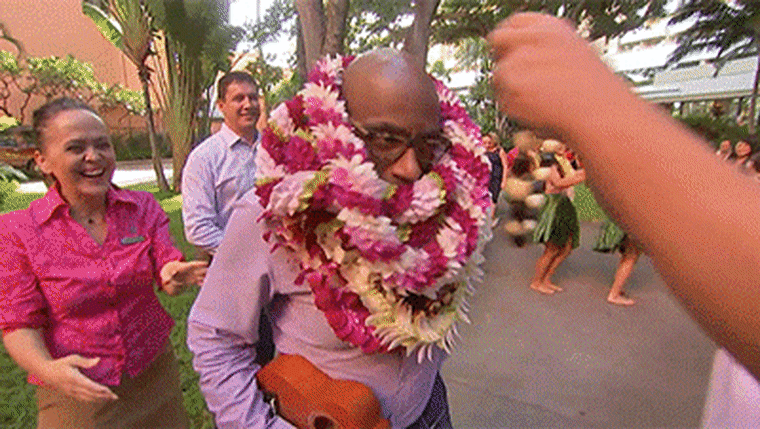 "Boy, did I get a royal Hawaiian welcome when I arrived," he told us. "Although they did go a little crazy with the leis."
RELATED: Rokerthon 2 is supporting Feeding America — learn how you can donate to local food banks
His trip to Oahu was just the first leg in his adventure.
Where to next? Well, if all goes according to plan where transportation is concerned, Al will be hitting eight states on the West Coast throughout Sunday.
Stay turned to his journey on TODAY all week. He's got a lot of ground (and air and water) to cover.
Good luck, Al. You can do it!