Savannah Guthrie makes it look easy: Mom to Vale, 2, and baby Charley, the TODAY anchor's day starts at 3 a.m. — and it's go go go from there. While she seems to have it all under control, she's the first one to point out life now comes with a different set of challenges. Like the time she dropped Vale off at school wearing her shirt inside out (again).
Guthrie recently chatted with Marie Claire about how she eats, moves and finds her "chill." The interview is featured in the magazine's Wellness 101 feature in the July issue, on newsstands June 20.
"I'm not anti-carbs; I just try to do my carbs early in the day, so by the end of the day, I try to be carb-free," Guthrie explained. "And then on Friday and Saturday nights, I eat and drink anything I want. I don't think you can do this job or parenthood without caffeine, a little wine and dessert."
For TODAY's "Summer of Yes," the busy mom of two who calls herself "a klutz" is trying to get back on the tennis court and improve her game.
In addition to striving to master a backhand like Roger Federer this summer, Guthrie noted she tries to make time for a different kind of fitness at least a few times a week.
"I do a class in New York called Bari. It's a hybrid of old-school Jane Fonda-type aerobics — because, in the '90s, I was an aerobic instructor — cardio bouncing on a trampoline and strength training, and I do that about three times a week," she said.
Early wake-up calls make for early bedtimes. Guthrie has frequently joked that she goes to bed at the same time as her kids.
"Reading helps me fall asleep," she said. "It has to be kind of boring, but also sufficiently captivating that you get into it. I read a lot of The New Yorker," she shared.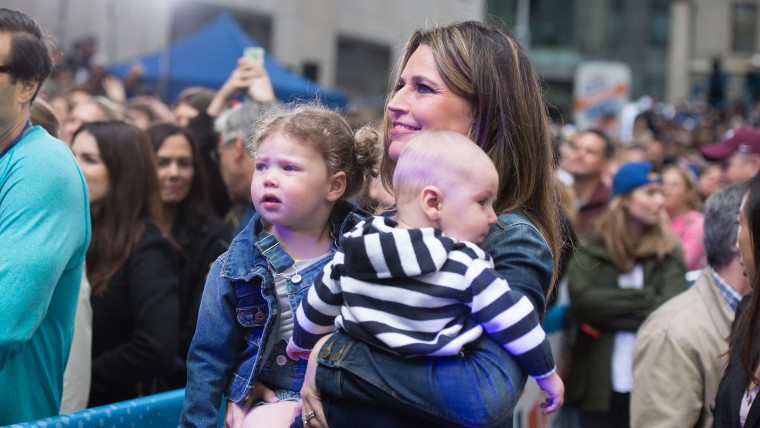 Where does she find her zen? The local nail salon.
"I get my nails done at the little no-frills place on the corner, and while they're drying, I get a 20-minute back massage," Guthrie said. "It's easy, and it doesn't take long, so I don't feel guilty for being gone for a half hour from the kids."
With her healthy routine and impressive work ethic, there's nothing slowing down Guthrie, who recently reflected on her success when she received a Matrix Award.
"I am a combo platter, of anxiety and calm, confidence and doubt, fear and courage, vulnerability and invincibility, fragile-ness and solid granite strength," she said. "I am all of these things at once. What I believe, as a woman in this business, it's good to be tough, but it's even better to be you."
We couldn't agree more!
For more, check out Marie Claire's July Wellness issue.