Nick and Vanessa Lachey fell for each other on the set of his "What's Left of Me" video in 2006. Today, they have three kids and have been married for six years.
For TODAY's One Small Thing series, they opened up about what makes their marriage work.
"For us, I think it was making time for each other," Vanessa said. "You have to remember why you got here in the first place. And you can't just kind of let the kids take over your world, which is our most important priority, don't get me wrong, but the family starts with our foundation. So for me, it's always been making time — to the point that if we don't make time, I'm then that high-maintenance wife, like, 'You haven't made time for me this month.'"
Nick added, "It's hard when you have a family, and you have so many different things pulling you in different directions. And you're on tour and all these things. I think for me the answer to that is that every relationship is different. So what works for one couple certainly wouldn't necessarily work for us. But it's just about having a long-term vision. It's easy to get frustrated. You're going to have highs and lows. You're going to have struggles."
"You have to be in it for the long haul," he continued. "I mean, you have to have that mentality. That 'Hey, no matter what it is, we're going to get through it.'"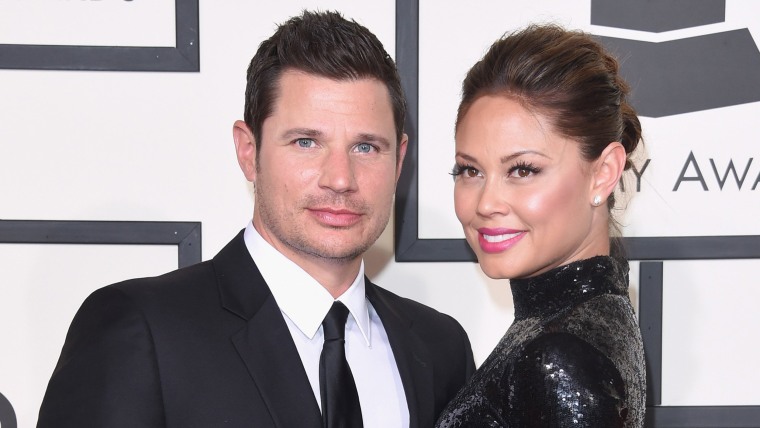 The couple, who spoke with us while promoting a partnership with Pampers, also revealed how they cope with arguments.
"Talk 'em through, but in a calm environment, not in the heat of the moment," Vanessa said. "I'll say, 'I just want you to know that I reacted this way.' Accept responsibility for your faults, but explain why you did that. And maybe the other person goes, 'Oh, I didn't know that.' Or, 'Yeah, you do that all the time. And it's kind of annoying.' Or, 'OK, I respect that, and here's what I thought.' So we just always talk it through."
Nick said he wishes couples were more open about their imperfections.
"I think people who put out that, 'Hey, everything's just bliss, bliss, bliss,' it's not true. I mean, I have a hard time believing that's true for anybody. You're two different people with different attitudes and different personalities, and so I think there's nothing wrong with saying, 'Hey, we struggle sometimes.' We know, we go to therapy. We get advice from people that we respect because we need to. And I think everybody needs to. I think there's nothing wrong with admitting that, acknowledging that, and being proud of that."
"It's work," Vanessa said. "Relationships are work. And to his point, before we got married, we did go see a therapist, just to have a third person kind of be the perspective of letting us understand how to communicate with each other, and it was super helpful."
While life can be chaotic for a family of five, Vanessa said it's important to plan dates — even when "you have to force it."
"We put a night on the week that we're going to go out to dinner," she said. "Every birthday we take a trip, and sometimes they used to be, like, a trip abroad. And now it's just down the street, which is still just nice to get away for an evening and remind yourselves why you wanted to get married in the first place."
For more easy tips on how to improve your life, sign up for our One Small Thing newsletter.