For what seems like the sixth time today, you've slammed your knee against your desk and it's throbbing. Is it time for a pain pill? Try a breathing meditation instead.
A new study finds that easy-to-learn mindful meditation significantly reduces pain.
"We see really dramatic reductions in pain after the four-day intervention," says Fadel Zeidan, assistant professor of neurobiology and anatomy at Wake Forest Baptist Medical Center, and an author of the study. "We seem to be surprised by the efficacy of the technique especially after a brief training."
It's in the breath
Mindful meditation is meditation that often focuses on the breath, where people let go of feelings in non-judgmental ways. Other types of meditation are more centered on a mantra or chanting.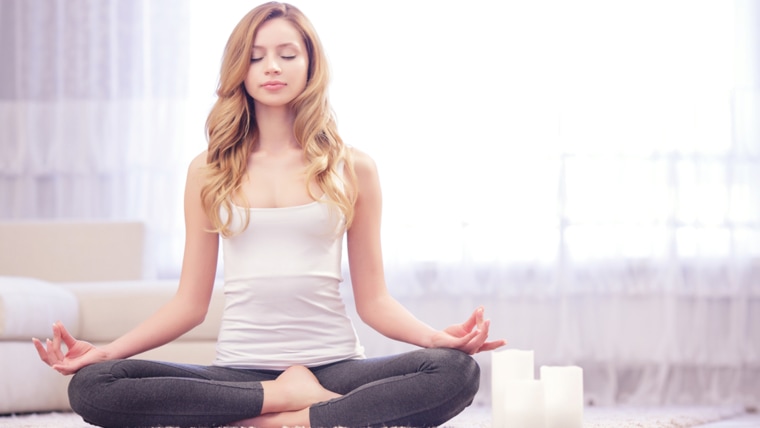 For the study, Zeidan first tested 78 participants' pain response by using a device that causes pain without real damage. Then half of the study participants learned mindful meditation for 20 minutes over four days; the other half listened to an audiobook. Afterward, the researchers again induced pain again.
Some people received a saline placebo while others received naloxone, which blocks opioid receptors. If mindful meditation worked by using the body's natural opioid system, then meditating while on naloxone would not improve the pain.
Related: New standards for prescription pain pills — go easy, go slow
But Zeidan found that both groups who meditated—whether they received a placebo or naloxone—experienced less pain than those who listened to an audiobook.
Mindful meditation "helps reduce your pain, helps you live with your pain," says Dr. Natalia Morone, an associate professor of medicine at Pitt School of Medicine, who was not involved in the study.
Morone's own research published in the March's JAMA Internal Medicine found that eight-weeks of 45-minutes of mindful meditation helped people manage chronic back pain.
But she says that Zeidan's paper is one of the first to show how mindful meditation works.
Most pain interventions — including the body's natural responses, medication, acupuncture, hypnosis, relaxation techniques — use the what's known as the endogenous opioid system, a network of opioid receptors in the brain which engage to blunt pain. [For example, endorphins, the chemicals which kick in during exercise or sex, are opioid receptors.] The proliferation of these receptors is the reason opioid-based drugs work well in humans.
But Zeidan found that mindful meditation works differently.
"What they are demonstrating is that this mindfulness meditation—and you can probably extrapolate to other styles—they do not work by releasing central opioids but they work by changing your attention to the pain," says Dr. Amit Sood, a professor of medicine at the Mayo Clinic, who was not involved in the study.
Because it doesn't rely on the opioid system, people who take medication can mindfully meditate and experience even more relief.
"Every person who has pain should have some sort of mind body approach," says Sood, adding that mind-body practices help people grapple with the emotional element of pain and "change their resilience and their ability to handle the pain."
As easy as a pill
Zeidan hoped the meditation would be as easy to use as a pill.
He's unsure if mindfully meditating for five or 10 minutes would be just as effective; there's no research on it. But, he does believe people can teach themselves how to mindfully meditate.