Fitting a workout in between work and family is no easy task. You may have every intention of getting in that early morning run, but your kid gets sick and you need those precious few hours for some extra sleep. Or, you plan to hit the gym after wrapping up at work, but have to take a client out.
Many of us are left having to decide between getting ahead or getting in shape, making the ever popular happy hour part of our daily lives.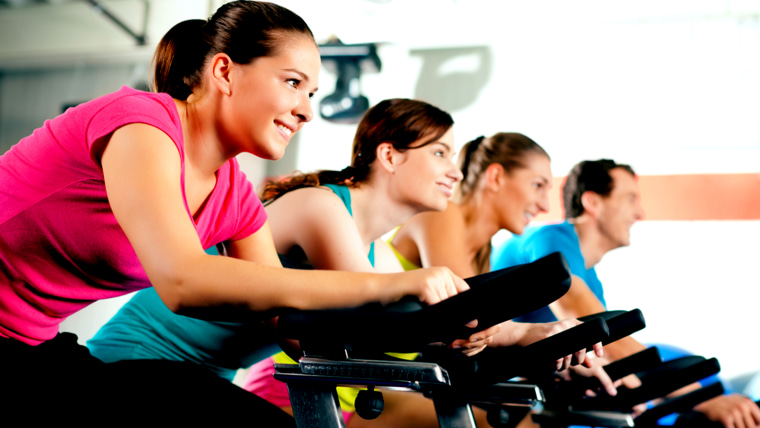 But, as more and more people are eager to make their health a priority, there's been a shift from cocktails to cardio to get business done. The growing practice of connecting with a colleague or client over a walk, run or fitness class — aka "sweatworking" — is elbowing networking out of bars and restaurants and into fitness experiences for travelers on the road. Now, group biking or hotel running paths have become the new nine holes of golf rather than a three-martini lunch for business travelers.
"Working in public relations, I am constantly entertaining clients or media. I find that starting the day with a workout and breakfast with someone is so much more productive than consuming unnecessary calories and cocktails at night," Shana Scala, founder of SRS Entertainment Inc. tells TODAY.com. "As I've gotten older and my career has progressed, I find less and less time and energy for the every night drink meetings. Trying a fun new workout with someone is a great way to bond and get to know each other."
RELATED: 4 reasons your workout fails
Even businesses are doing it for internal bonding and health management. In efforts to motivate his team to leave their office and walk through the hotel, Laurens Zieren, general manager at New York Hilton Midtown, gifted all Executive Level team members a FitBit to compete on the number of steps taken each day.
"I just knew I had to come up with an idea to create a constant reminder that meeting while walking was the standard and the only way to create positive service habits," Zieren tells us. "Fitbit trackers measure the amount of steps done during day and, as they are on your wrist, remind you continuously that you have to move and managers need to be out there with the team members and by doing so be that coach who creates good service habits and gets rid of the bad ones."
One business traveler hotel in Hawaii has even seen an increase in surfing meetings.
"'Board Meetings' enable business travelers to take advantage of the island water and spectacular setting at Hotel Renew overlooking Diamond Head while getting inspired by brainstorming with colleagues," says Theresa Lozie, Director of Promotions at Aqua-Aston Hospitality. "It's a great breakaway option that guarantees a trip that's all work, plus play."
RELATED: How to succeed everywhere: 10 tips for work, home, relationships
In 2013, author Nilofer Merchant gave a TED Talk about how a simple change to her work routine had a dramatic impact.
"Sitting has become the smoking of our generation," she said in the popular speech. "So, instead of going to coffee meetings or florescent lit meetings, I asked people to go on a walking meeting to the tune of 20 to 30 miles a week. And it changed my life. There's this amazing thing about getting out of the box that leads to out of the box thinking."
An hour spent doing something active not only prevents over indulging, but is also key in relationship building. "There's a trend towards people thinking about working out in a more social capacity," says sports psychologist William Wiener, Ph.D. "People like working out with others because it gives them the chance to really interact, it's more fun and beneficial that way." By working together towards a common goal in the gym, you're already setting a foundation that can only benefit a longer-term relationship in the workplace.
"I've always felt that it's positive to train with an associate or co-worker as the experience creates an immediate connection between the two as well as a sense of responsibility to one another," Marc Megna, Partner and Chief Body Architect at the "Anatomy at 1220" fitness center in Miami tells us.
"When you sign up to work towards better overall health with a partner, you are forced to deal with physical obstacles as a team and build an intimate level of trust the day-to-day office work cannot provide."