/ Source: TODAY Contributor
Tara Stiles is the founder of Strala Yoga, a global yoga studio that's headquartered in Manhattan. A former ballerina and model known for her unpretentious, nontraditional teaching style (she skips chanting and names poses in English, not Sanskrit), Stiles has written a cookbook and developed a yoga app with Deepak Chopra, whom she counts as a student.
In 2011, Stiles was also called "the coolest yoga instructor ever" by Vanity Fair after creating a yoga video aimed at Sarah Palin that she hoped would help her "reduce stress, focus, relax, and most importantly, increase brain activity." Read on to find her super simple morning routine. Spoiler alert: It involves coffee, guacamole and some mindful breathing you can do right from bed.
What time do you typically get up?
I'm up at 6:30 a.m. if I'm at home in New York CIty and it's a typical day. If I'm traveling, usually it's much earlier for a sunrise event or something fun and special like that.
RELATED: Top NCAA basketball coach shares his winning formula for conquering the day
Do you set an alarm? Snooze or no snooze?
Alarm for sure — I sometimes play around with fun songs like Diana Krall's "Isn't This a Lovely Day" or "Wake Me Up" by Norah Jones. Otherwise I stick to a not-too-invasive iPhone standard. No snooze.
What's your typical routine after getting up?
It's pretty simple: Hop in the shower, pull on the leggings, blend up a Green Dream smoothie (spinach, banana and almond milk) and head out with Mike [husband Mike Taylor] to Ground Support Cafe, our favorite coffee place. We get a morning walk and hang out, plus a great cup of coffee. We're at the studio [Taylor is a co-owner] a few blocks north by 7:30 a.m. and I'm usually leading an 8 a.m. or 9:30 a.m. class, depending on the day. My offices are next door, so in between classes I'm in there, working on book projects and planning things.
So you're obviously a coffee person…
Oh yeah. Only once a day though, so I'm down to a healthy amount for me. Left to my own habits, I can easily drink coffee all day long, so I'm proud of my once-in-the-morning ritual. Getting energized is just as much about the morning walk as it is about the cup of coffee.
RELATED: Stuck in a yoga rut? Add core and cardio training to up your workout
What's for breakfast?
I'll have my smoothie before I head out, and after my first class I'll have something more substantial, like a second breakfast or an early lunch, depending on the day. I love to make homemade guacamole and pair it with veggies like bell peppers or just eat it straight with a fork! My secret ingredient is olive juice. [Stiles shared her recipe with TODAY, below.]
Do you have a specific beauty routine?
If I'm heading to the studio, it's ridiculously simple. Brush hair. Toss it in a pony. Wash face. Add loads of moisturizer and go. I only wear makeup if I'm doing a photo shoot or going to an event, and even then I try to keep it as light as possible. I think my skin appreciates the chance to breathe.
How do you work yoga and/or meditation into your morning? Do you have any mantras or rituals that help you get energized?
On a good day, and I'm not claiming that I do this every day, I love to sit up in bed and spend a few moments connecting with my breath. This makes a huge difference in the day, and always gets me in a great mood. At Strala, I do plenty of yoga with the class schedule so I don't need to do as much at home. But when I get to the studio in the morning, I put on some great music and have some alone time with my own practice before classes start. We have a beautiful, big space, so I love to jam out and take up the whole room.
RELATED: 4 tips about self-acceptance from 'Big Gal Yoga'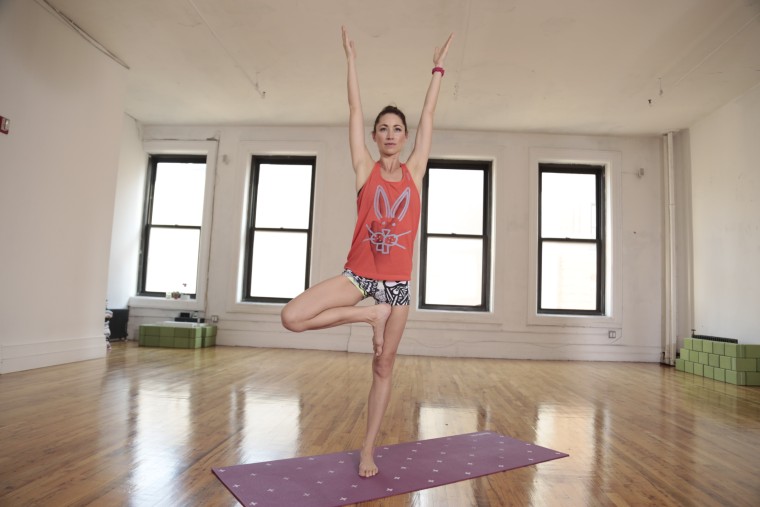 Any tips for helping people get centered and start off the day on a positive note?
Take a bit of time for yourself before you hop on the things you need to do. Just a few moments sitting up in bed, connecting with your breath is a game changer that will connect you to how you feel, and set a nice tone for the rest of the day.
What do you think the most energizing poses are for first thing in the morning?
For energy, I love poses that take up space, and require a bit of strength and focus to move through. It's a nice feeling to use my body a bit and have aspects of the movement that are expansive at the same time. Warrior 2, Extended Side Angle and Tree are some of my favorites for the morning.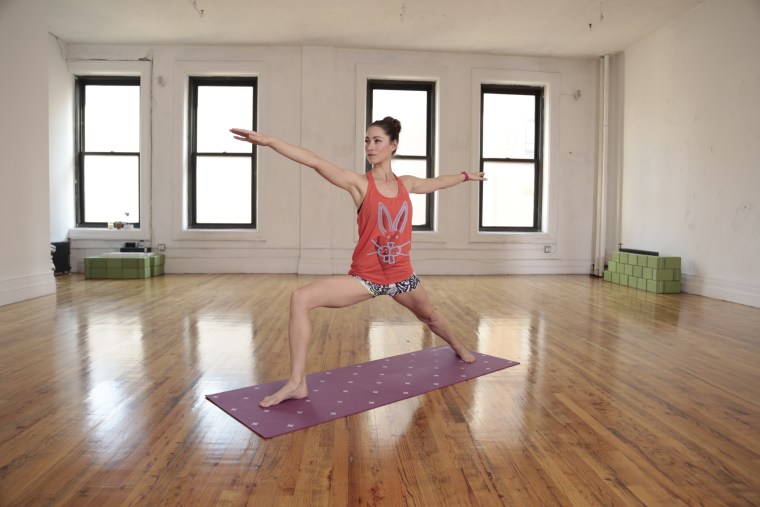 As you're getting ready before you leave, you get right into "work mode" (like answering emails) or are there certain things you need to do before your day can really begin?
I used to have the bad habit of always being on email. We have Strala Studios in Asia and Europe, so there is always someone awake I can communicate with. But I've resolved to find a healthier balance, so I let email wait until after I teach my first class, and I only respond during normal working hours. I find I'm more productive this way and able to relax more easily. For me, it's all about getting more done with less effort.