Tony Danza, best known as the "manny" from "Who's The Boss?" that we all wanted in our lives, stopped by TODAY to talk about his new cabaret show and gig on Broadway's "Honeymoon in Vegas." Knowing he's an avid food lover and cook (he wrote an Italian cookbook called "Don't Fill Up on Antipasto"), we chatted with him about food and his morning routine over breakfast.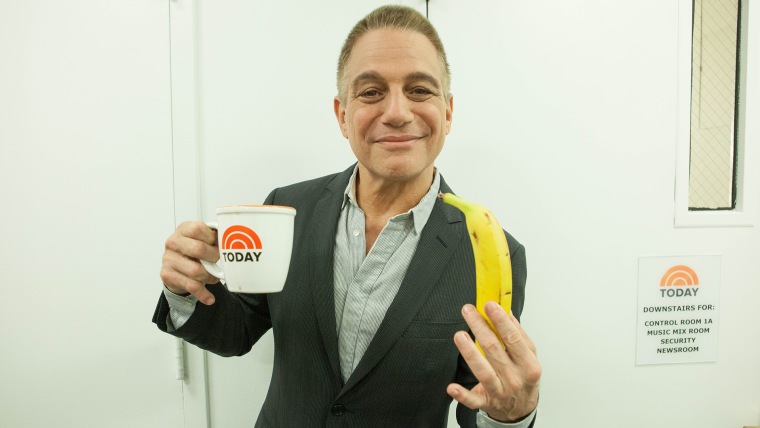 Breakfast: Coffee and banana
You went pretty light on breakfast! What do you cook when you go all out?
Breakfast is not a big meal for me. But I have been known to make a frittata — I'm a big frittata maker. Potatoes, onion, some kind of green — like broccoli — a little bean salad you can throw in, eggs and almond milk. I stopped using dairy.
But you love Italian food! How do you do that without dairy?
Every once in a while you break down, but even then you tell them, "light on the cheese." It's crazy how much cheese they put on those things! It's ridiculous. Marilu Henner would kill you. (Eds. Note: The actress turned health guru is staunchly anti-dairy).
Tell me about a guilty pleasure food you make.
I just like pasta. I can eat macaroni three times a week. This weekend for a bunch of my friends I made fusilli with a sauce of meatballs, pork ribs and pork sausage.
Are you a morning person, or do you hit snooze?
I wake right up. But as you grow older, it does take a while to get going in the morning. I have coffee, I hit the gym, and then I come to the Today Show!
How do you like your coffee?
I like it very strong – dark roast with just a tiny bit of almond milk.
Do you have a morning pep talk?
I have this Thoughts of the Day calendar that often times has an uplifting message.
Any that have stuck with you and that you've passed on?
One of the Thoughts of the Day recently was "Learn as if your life depended on it, because it does." Life is tough. I have children, they're out of college and working now and they face just what everyone else faces. You have to be resilient. There are times, TRUST ME, when your heart gets broken, but you gotta pick yourself up.