As an accomplished chef and restaurateur and a dad to three sons, Tom Colicchio has a busy schedule. The Crafted Hospitality founder has also been working to raise awareness around the issue of hunger in America and its effect on veterans and military families. And he continues to serve as head judge on Bravo's "Top Chef," which returns for its 15th season on Dec. 7.
So, how does Colicchio juggle it all? For TODAY's Morning Routine series, he revealed how he starts his day.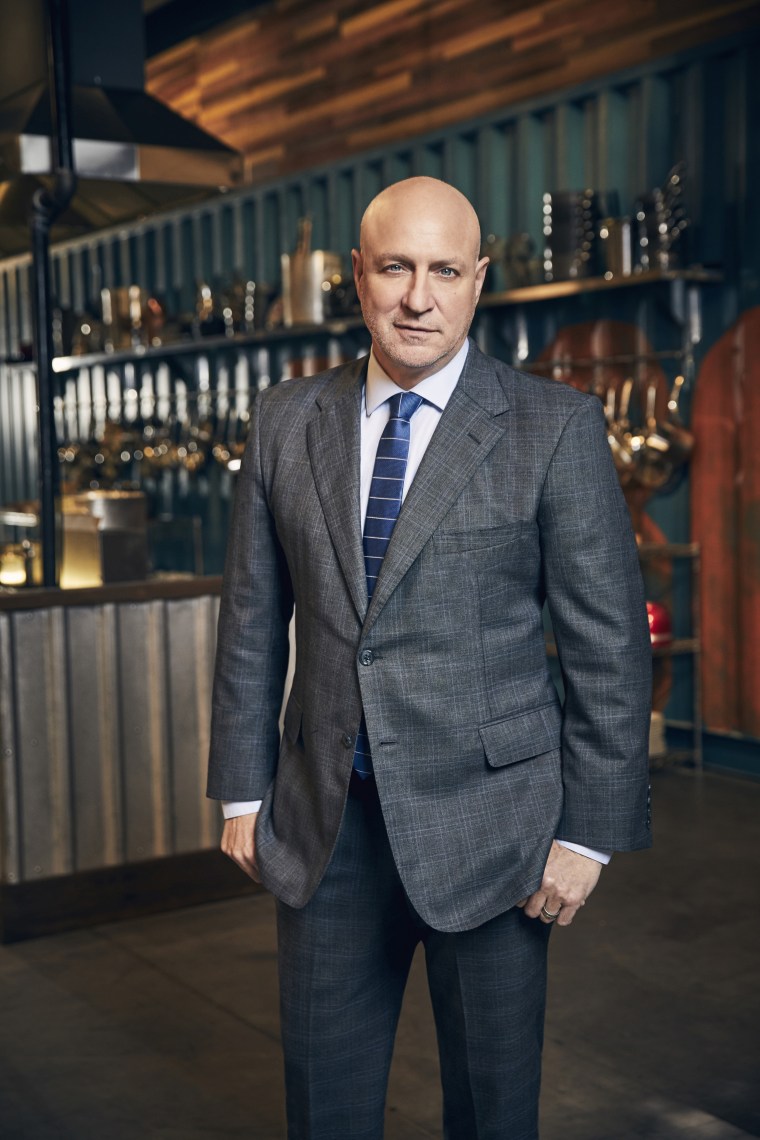 What time do you wake up?
My routine is forced on me, because my children wake up around 6 o'clock. So, usually they wake us up, and at some point, we roll out of bed, my wife (Lori Silverbush) and I, and I make breakfast. A good day is when they want cereal. Brew a pot of coffee, get breakfast going, make sure they're dressed, shoes on, teeth brushed, and then my wife and I trade off as to who walks them to the bus stop. Dog goes for a walk during that time, kids get to the bus, I come back home, and then my day starts.
Are you a morning person?
No! Yes, and no. Working nights at restaurants, I wasn't a morning person because I'm working till late at night. But I prefer to be a morning person. In the summer, if I take some time off, I'm up at 5:30 in the morning in the garden, working. So, I am if I'm not working late night.
What's your coffee preference?
I brew my own; I drink black coffee. I drink so much coffee that over the years, I decided that if I get rid of the sugar and the milk, there's just fewer calories, because I'll drink about six cups before I leave the house.
What is your typical breakfast?
I don't have a typical breakfast. Often, it could be just toast, jam, really whatever the kids are eating. In the summer, I eat more eggs because we have chickens and so we're getting fresher eggs. But as long as there's coffee involved, I'm fine.
What's your guilty pleasure breakfast?
There's nothing I feel guilty about eating for breakfast. Maybe extra bacon.
Who's your ideal breakfast buddy, if you could choose anyone from history?
I always thought it would be great to share a meal with FDR.
Do you work out in the morning?
I work out somewhere between 10 o'clock and 2 o'clock. I box for my workout three days a week.
Where do you get your morning news?
I use Twitter for my feeds, so I get the Washington Post, New York Times, and then various writers I'll follow.
Do you read or listen to anything on your way into work?
Sometimes I'm reading, sometimes I'll listen to a podcast — "Pod Save America," "WTF with Marc Maron." If I'm listening, it could be music. If I'm reading, it's just news; I'm kind of a news junkie.
Any morning shortcuts that you swear by?
Yeah, I set my coffee up before I go to bed at night, so in the morning I just press the button. The coffee's ground, the water's measured out.
What's your least favorite part of your morning routine?
I guess cleaning up after the dog. Walking down the street without a bag in your hand — good luck.
Any morning traditions with your family?
I wouldn't say traditions, but my wife tries to get in a good 10 minutes of reading in the morning. So, we get breakfast on the table, and then we have a little time for that.
What's the one thing you have to do every morning before it can really begin?
Coffee, brush my teeth. If I have those two things, I'm good to go. I can skip breakfast.