Beauty expert and TODAY Tastemaker Deepica Mutyala is certainly a rising star in the styling world.
In addition to sharing her tips and tricks with TODAY, the 26-year-old runs the wildly-popular "Beauty Decoded" website and uploads beauty tutorials for fans to follow on YouTube. One video demonstration on her channel, a solution to mask dark under eye circles, has received over nine million views.
Mutyala has tons of innovative and smart beauty tips, so it comes as no surprise that she has some great advice when it comes to pulling off a smooth morning routine, too!
We caught up with the busy YouTuber, stylist expert and TODAY Beauty Tastemaker, who shared her secrets and shortcuts as part of our ongoing series.
What time do you typically wake up?
8:30 a.m.
Snooze or no snooze?
100 percent snooze!!! I snooze until about 9 a.m.
RELATED: 7 secrets to becoming a morning person: Tricks from Al Roker, Tony Danza, more
Are you a morning person?
Absolutely not! Huge night owl. I typically stay up until 3 a.m., sometimes later.
What is your coffee routine? Brew at home or buy out?
I've recently switched to morning tea instead that I make at home.
What is your typical breakfast?
Greek yogurt, banana, honey and granola. I have a huge sweet tooth, so it allows me to get that craving in while still being relatively healthy.
What's your guilty pleasure breakfast?
Anything super sweet... creme brulee French toast I die for.
Bloody mary or mimosa?
Mimosas, hold the OJ. Just kidding... kind of!
Who's your ideal breakfast buddy?
Someone who orders something savory, and I get the sweet. That way, we can split and you get a little bit of both.
RELATED: Cronut chef Dominique Ansel's morning routine — and the juice that fuels him
Do you work out in the morning?
You know, to be totally honest, I really tried to be a morning workout person, but I think one of the biggest benefits of working for yourself is that I'm in control of my own schedule. I finally told myself, as long as I get the workout in during the day without letting it interfere with my meetings and workload, it shouldn't matter whether I do it in the morning or not.
What's your hair routine?
For someone who has had long hair their whole life, it is beyond liberating having it short! My morning hair routine is 5 minutes — throw in a hair wand to a few pieces here and there, some dry texture spray, and I'm done!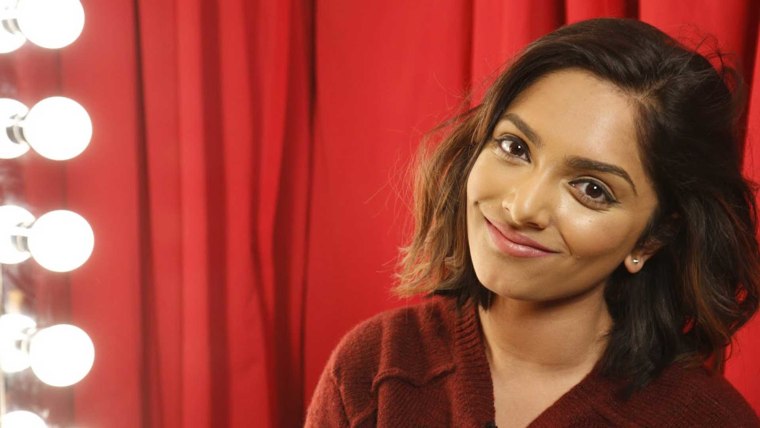 Any surprising steps in your beauty routine?
A lot of days, I will work out, shower, sleep with my hair wet and wake up with my hair naturally creating waves. It's a little messy, but I kind of love that look. I usually throw in some hairspray to tame it a bit, but I love the no-effort hair look.
Any beauty shortcuts or tips you swear by?
So many! My whole makeup routine consists of hacks to save me time and energy. I use lipsticks as blush, eyeliners as brow pencils, bronzers for contouring and eye shadows for highlighters. At the end of the day, makeup is all a bunch of pigmentations. Play around with the product, and you'll find ways to use it you never thought were possible.
RELATED: Jessica Biel dishes on her morning routine, from snoring to breakfast playlists
Do you have any mantras or rituals?
Being an entrepreneur, you experience the highest highs and lowest highs. I'll be the first to admit that it causes a lot of anxiety for me. Because of that, I recently started a breathing routine in the mornings. I was amazed how much better I felt from simply breathing.
What's your least favorite part of your morning routine?
I love doing my makeup. It's probably one of the things that brings me the most joy in my day. It's like my happy place, but real talk... if I could have someone give me a blowout every day of my life, I would be the happiest person in the world. I think that's why I'm such a fan of a low maintenance hair routine.
What's the one thing you have to do every morning before it can really begin?
Before getting out of bed, I check — in this order — my social media, emails and text messages. I know... so millennial of me, but I love taking the morning to respond to my followers on social media across all my channels. It's also a great reminder of why I love what I do and helps get me motivated to start my day. Everyone who supports me is literally the reason I get up every morning.