Tamera Mowry has been coming into our homes through her popular TV shows for decades. She first made a splash in the '90s with twin Tia on the hit show "Sister, Sister," then later with their reality show "Tia and Tamera," and now she co-hosts the Emmy-nominated talk show "The Real."
Despite her busy work schedule, the 39-year-old managed to get a college degree, get married and have two children. And now she's planning to pursue another dream of hers: interior design. She and husband Adam Housley are shooting their own HGTV show, but are giving fans a sneak peek of their Napa Valley home as part of the Febreze ONE video series, where she shows fans her secrets to keep her living space feeling fresh. We got the chance to catch up with the star to find out how she starts her day, for TODAY's Morning Routine series.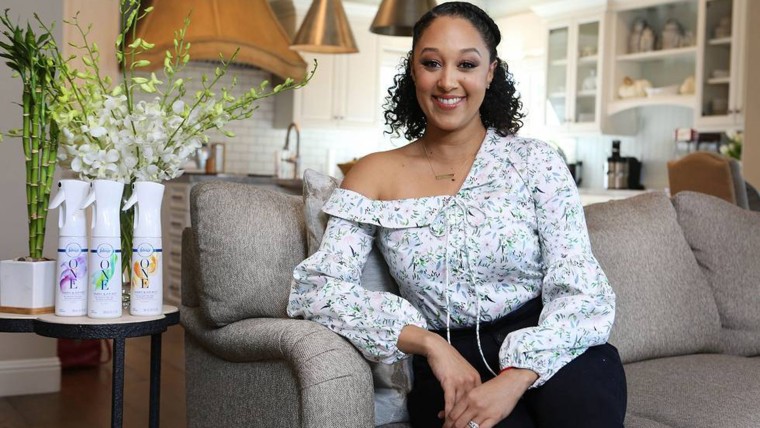 What time do you wake up?
It depends. If I am working, it's 4 a.m. I have to get up before the kids, and I go to bed with the kids. They are long days for me. On the weekends, I get up at 6:30 a.m. or 7 when the kids get up.
What's the first thing you do in the morning?
So I don't kill my kids or husband, I brush my teeth.
Do you have a morning ritual?
We all like to have breakfast together, so I will usually make that for everybody. Or, if I am really tired, we will have cereal. We will sit down and watch their favorite movies or television shows. We like to hang in the lounge area (I have that in both of my homes). I like those areas to be a free-for-all. I read the news, play with the kids and we will hang out until lunchtime.
Do you have any morning family traditions?
On the weekend, my husband loves taking the family for drives, and I grew up doing that too.
What were your mornings like filming "Sister, Sister" with Tia?
Tia and I were part-time at Pepperdine University. We would go to class, do a rehearsal or shoot and then come back to class. We would do two classes every other day and then the show on Thursday and Friday. I am happy I did; it taught me about prioritizing, and that education is important. It taught me dedication and hard work too. If you put your mind to it, you can do it. It took me seven years to graduate.
Speaking of morning routines and filming, you have a film crew at your house for this Febreze series. How long have you been into interior design?
It was in my blood. My mom wanted to be an interior designer, but she had us at a very young age. When I was 16, I realized I had the same gift. My sister and I shared a room for a very long time, and when we turned 14, we had our own rooms. Once I turned 16, I was like "Wait a minute, I don't just want my own room, I want to design it in a way that feels comfortable, warm, airy, and fresh." I've been designing since, and as I got older, it was bigger projects: my condo to my house. Now that I have kids and a family, I really get to have fun.
When you shared a room, did your sister cramp your style?
No! We dressed the same until we were 14, and we had all the same things. Once we got our own rooms, we were able to explore being individuals and express that. I had so much fun doing that, and I still have so much fun. I can't wait for you guys to see my home.