Nick Offerman is perhaps best known for his breakout role as lovable grump Ron Swanson on "Parks and Recreation." However, Offerman, 46, is a jack-of-all-trades. The comedian is also a writer with two New York Times best-sellers under his belt and a new book in stores this week. On top of that, he's a musician and carpenter, who even has his own workshop in L.A.
We sat down with Offerman to learn how he finds enough hours in the day to juggle it all, as part of our Morning Routine series, and discovered it often starts with early mornings.
What time do you wake up?
My wake-up routine is very sporadic depending on my job. Given my druthers, I get up at 5 a.m. and drive across town to my shop by 6. In L.A., if you can beat the traffic, that buys you like two extra hours of day. I love to have the lion's share of my work done by lunch. That's a great way to live. But it's rare these days that I get to just settle into a shop lifestyle. If I'm on tour with (my wife) Megan (Mullally) or I'm working on an acting job, you get up whenever your call time deems — if it's 4 in the morning, or sometimes it's 4 in the afternoon, depending on when you're shooting.
RELATED: Chip and Joanna Gaines reveal their sweet breakfast ritual (it's not just about food!)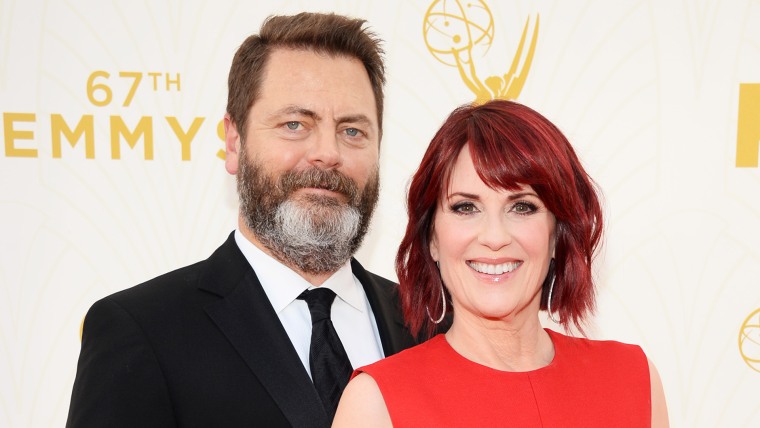 So you'd say you're a morning person?
I would say that I am, yeah. I grew up in a farming family, so I like to get out with the sun. What is it they say? "Up with the chickens?"
What's your stance on the snooze button?
I'm not a snooze person. I have to whip myself — when the alarm goes off, I jump. Otherwise I'm in danger of being a very complete snooze person.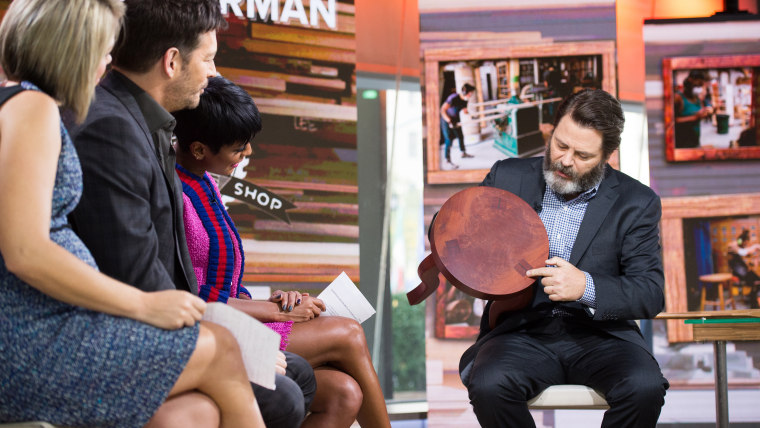 Do you drink coffee?
I'm absolutely a coffee person. I travel so much, I don't really have a routine for it. I don't keep a coffee maker in the house, though, because when I used to, I'd drink two pots a day. So instead, I get up and go to my shop and have coffee there.
RELATED: How this 'night owl' comedian conquers her mornings — without coffee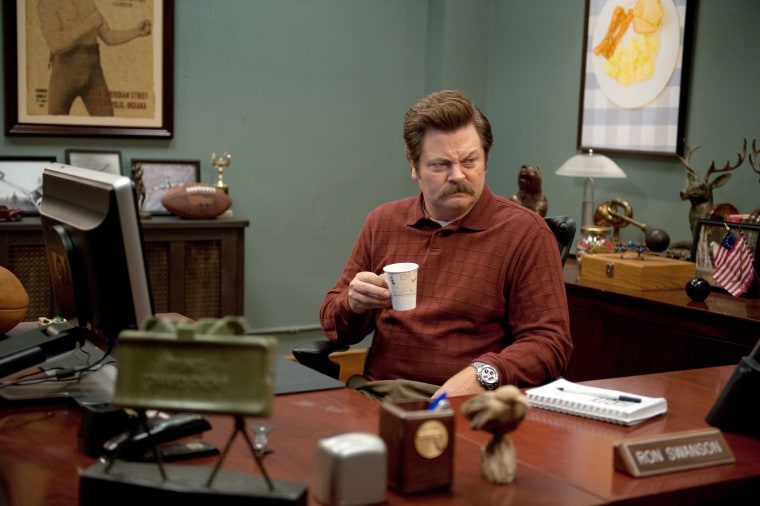 You're well known for playing Ron Swanson, a character who loved bacon, steak and eggs. Do you share his love for those kinds of foods, or what's your go-to breakfast?
That's basically it. My dad and I used to get up; make bacon and eggs every day. But once I got into my 30s, I realized my diet wouldn't afford daily bacon and eggs, so it's become kind of a weekend treat. Usually I keep breakfast a little lighter.
RELATED: Tech CEO Anne Wojcicki swears by this morning shortcut — for her kids
You're known for your shop and your passion for woodwork. How important is it to be able to work on that each day?
I'm not able to work on it hands-on every day, but it's something that I can give attention to every day. The nice thing about having a shop full of woodworkers is that even if I'm touring Europe or something, I'm still in touch with the shop and able to make decisions. So if I'm not there getting my hands dirty, I am in my imagination as I solve problems with them.