Mornings can be a challenge — especially when you have kids! New mom Hilaria Baldwin is up almost every two hours with an infant, and things really get going at 6:30 a.m. when her 2-year-old daughter wakes her and husband Alec Baldwin up. The yoga instructor and TODAY contributor has a busy routine, but relies on shortcuts and morning rituals to start the day right. We caught up with her when she visited Studio 1A to share healthy and kid-friendly recipes on TODAY to get her morning routine.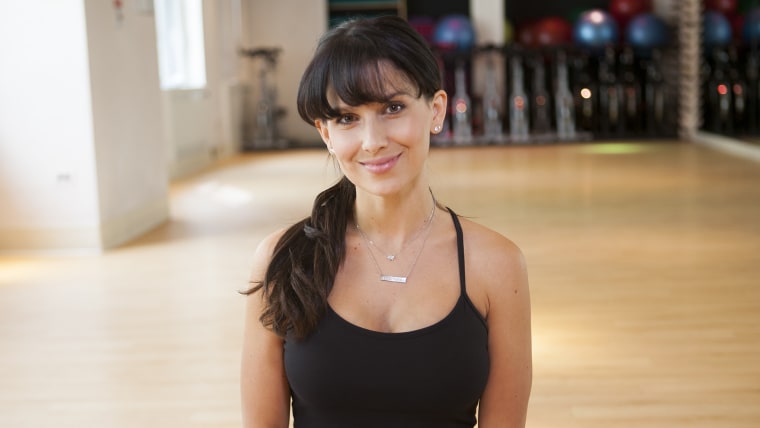 Snooze or no snooze?
I wish! I wish that snooze was an option. No snooze. There's an immediate "Mommy! Mommy! Mommy!" and I run into the other room to get her [daughter Carmen].
RELATED: Try Hilaria Baldwin's simple winter soup — that doubles as baby food!
Any morning shortcuts that you swear by?
My daughter is potty training right now. So, I'll get ready while she's using the bathroom. I'll be showering, but I reach out and wave to her to make sure everything's okay. We talk the entire time. I'll bring her with me to every single place. When it's time to get dressed, I'll put her next to me and let her play in my closet. The idea is that I don't want to be running back and forth. I try to occupy her with whatever I'm doing.
What do you eat for breakfast?
We're really into Rice Chex right now and we don't drink dairy in my house. So, we'll do almond or hemp milk. We really like granola, too.
RELATED: Easy breakfast! 4 healthy smoothie bowl recipes to start your morning right
What's your hair/beauty routine?
On a typical day, unless I'm shooting, I don't wear makeup. I'll wear a little bit of mascara and that's about it. I think that that's really good for your skin. I love the Tea Tree Oil products from The Body Shop. I used to wash my hair every day, and it got very damaged. So, I only wash it about three times a week now.
RELATED: Hilaria Baldwin shares pregnancy details and yoga poses
Do you have any mantras or rituals?
I make sure that my kids are set. Now having two — I'm jumping between the two of them. I would've loved to listen to music this morning, but even though everyone was awake at multiple times last night, they were all sleeping when it was time for me to wake up! I make sure that I eat, that I'm hydrated — I drink a coconut water every single morning. I do a little bit of stretching. But mostly, it's just staying sane that is my mantra!
What's the one thing you have to do every morning to make sure it can really start?
I'm big into taking a shower when I wake up. All of my babies and I take a shower in the morning. I do yoga, and actually, Carmen's being really cute, starting to do yoga with me. So that's starting to be our thing that we do together!
Check out more TODAY morning routines here.