Frankly we're amazed by Natalie Morales. She gets up before the crack of dawn and is the epitome of poise and perfection on air – meanwhile, we don't get into work until hours later, and we consider it a good day if we're wearing matching socks. So how does she do it? Here, we hope to make our mornings a little smoother by learning about her morning routine. You can also find more TODAY morning routines here.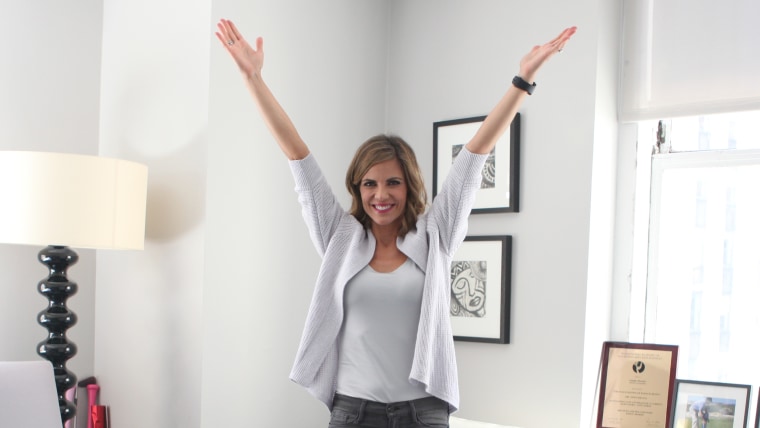 What time do you wake up?
4:10 a.m. on the dot. I need to be out the door at 4:45, so that's all the time I need
I'm getting tired just hearing that! Snooze or no snooze?
I never snooze – snooze is death!
Do you have any morning shortcuts to help you be more efficient?
Whatever I can do the night before, I do. I lay out my clothes the night before. I also make overnight breakfast or at least have everything ready so it shortens the process in the morning when it comes to deciding what I'm going to wear and what I'm going to eat.
What do you eat when you leave for work at 4:45 a.m.?
Usually for work days I don't have that kind of time so I make breakfast in under 2 minutes. I'm really into grab-and-go breakfasts that are healthy. So I'll toast frozen whole wheat waffles, put some natural peanut butter and sliced apples on top and that's keeps me going. I also like to do breakfast in a jar. I'll do eggs and bacon or overnight oatmeal. It's delicious, it's like muesli.
Natalie Morales' on-the-go breakfast recipes: Bacon and eggs, overnight oats
More often than not I do make a green smoothie in the morning for breakfast or an additional snack. It's typically mango, spinach, coconut water, and lemon juice. I just take the bagged spinach, frozen fruit and pop it all in – sometimes I like to put a little bit of avocado to make it creamy.
Just for kicks, what's your guilty pleasure breakfast?
When I get to just have a guilty pleasure breakfast, I love to make biscuits, biscuits with jam — my kids love biscuits too. Or homemade waffles with fresh fruit and bacon.
Do you ever have days when you just don't want to get up? How do you get over that?
I saw a speech by Amy Cuddy once, she's a professor at Harvard Business School. She gave this really great talk about simple things that you could do with your body to help you feel empowered – the one that stuck with me was the Victory Pose. If you want to start your day off right, she says, every morning when you wake up, raise your arms in the air in a V, take a deep breath, and give yourself a cheer that you can do it.
I do that now after I saw that. When you win a race, what do you do? You raise your arms and cheer for yourself. It's your body's natural reaction to celebrate something good happening in your life. So why not start your day with something good and empowering? I thought that was such a powerful statement.
There are days when I feel like, I'm so tired, I can't do this, I have such a busy day, and the minute I do the Victory Pose, there is some release of tension and some confidence that I'm going to make it a great day. Even if I feel like it's not going to be a great day going in, I fake it by putting my arms up in the air and then it actually works!