/ Source: TODAY Contributor
Rocco DiSpirito first skyrocketed to fame as the James-Beard–award winning chef and owner of Union Pacific, a popular Manhattan restaurant that became the darling of food writers like Ruth Reichl. The former New York Times dining critic famously began one of her reviews with, "The woman at the next table is moaning," thanks to the cured foie gras topped with wild strawberries.
But the rich, indulgent meals DiSpirito was used to eating himself eventually took a toll on his health and weight, and in 2006, at 6'1" and 216 pounds, he was told by his doctor that he needed medications to treat his high cholesterol and high blood pressure. Rather than take medicine, DiSpirito opted to "do it the old-fashioned way," as he says, and within the span of a year had dropped 30 pounds and finished his first Ironman triathlon.
His new lifestyle inspired him to shift his culinary focus to creating healthful but indulgent-tasting meals that he shares in his 12 cookbooks, most of which are New York Times bestsellers. As part of our ongoing morning routine series, TODAY asked DiSpirito about how he starts his day, which involves an impressive amount of eating and drinking.
What time do you typically get up? Do you set an alarm?
I'm usually asleep between 9:30 and 10:30pm most nights, and my body clock is pretty rigid and annoying, so I'm up around 5:30am every day, no alarm needed. Sleeping in doesn't really happen for me, unfortunately. My mind won't stop talking to me, so when I wake up I'm off to the races.
RELATED: Hoda Kotb's morning routine: 4 a.m. wake up, hit the gym – and 7 donuts?!
What's the first thing you do when you wake up?
I grab my phone and check email, because I have a bespoke meal-delivery service and a lot of clients that I am coaching and cooking for, usually about 30 at one time. I want to make sure they're OK. I not only cook for my clients but I also monitor their progress, which is really rewarding for me.
What's for breakfast and when do you eat it?
I try to have something immediately, like a vanilla mocha shake. I aim for 30 grams of protein and 30 grams of fiber within 30 minutes of waking up, and get going on a drinking a liter of water. After I've showered, I will eat something else as well—I usually have about 1,000 calories before I leave my apartment for the day.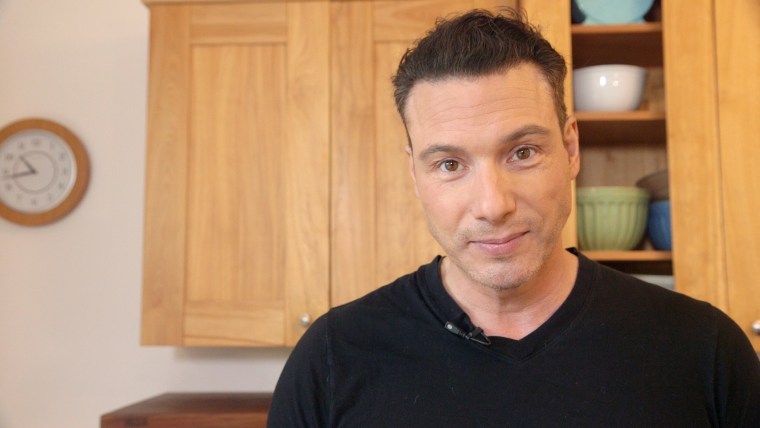 That sounds like a lot — what's the thinking behind that?
We call it "breakfast" for a reason. The fasting that occurs while sleeping has to be broken as quickly as possible so your metabolism gets started up again. The sooner you start it up, the sooner that engine starts burning fuel. Protein and fiber get your metabolic engine burning high and hot, kind of like optimum RPMs in a car.
RELATED: 'Just like my 4-year-old': Willie Geist shares his morning routine
Besides your protein pancakes, which are shown in our video, what else do you love to eat in the morning?
I love a classic Japanese breakfast, like slow-cooked eggs and miso soup, or a breakfast sandwich on a sweet potato bun. I'm really into savory breakfasts—fish is not unusual for me either. Or I will do eggs and fruit, or chocolate breakfast bars that I make ahead from scratch.
Let's back up to the shower...we saw that you got a facial during an appearance on FABLife. Any beauty products you love?
I'm all about the coconut oil: I use it in my recipes, on my skin and in my hair. Luckily I'm a chef so I can buy it in bulk.
Are you a coffee person?
I love coffee, but I only drink espresso because it's lower in acidity. I stick to one a day—I'll throw one shot in a vanilla mocha shake and I'm good to go. Before [I changed my lifestyle] I could easily drink 15 espressos throughout the day but now too much coffee makes me feel jittery, like I need to see a neurologist. As an alternative I will also put matcha [green tea powder] in my shake, which is very high in antioxidants.
Do you exercise in the morning?
I have a set of pull up bars between my bathroom and my kitchen, so I will do 10 reps each time I walk past it. [DiSpirito says he aims for a total of 100 reps over the course of a day.] A lot of my clients don't like to exercise so I'll suggest what I call "micro workouts," like doing 10 push-ups each time you visit the bathroom, or walking an extra subway stop, that kind of thing.
Any tips for starting off the day on a positive note?
Eating quickly after waking up provides a lot of energy, it will jack you up. And [if you eat something high in fiber and protein] you'll feel totally energized, as opposed to the flash of energy followed by fatigue that you get after eating something super-sugary like doughnuts.
About a decade ago you lost weight and committed to a healthier lifestyle—has this changed your morning routine?
It totally and completely transformed it. I used to be a night owl. I'd be cooking at Union Pacific until 1 a.m., then I'd come home and order greasy takeout chicken from my local Chinese place. I probably ate enough in my lifetime to feed a small country. My routine was totally the opposite end of the spectrum, but now that my business is healthy food, my personal priorities are about leading a healthy lifestyle.