Lauren Conrad's mornings became more hectic when she welcomed son Liam James last summer.
But the "Hills" alum has found ways to save time — for example, chopping her long locks into a chic and easy-to-style bob.
To find out more about how Conrad starts the day, for TODAY's Morning Routine series, we chatted with her at the launch of NYC's newly opened Kellogg's Café. (Conrad, a spokesperson for the brand, says her cereal preference is Rice Krispies with strawberries and almond milk.)
What time do you wake up?
I usually wake up around 6 a.m.
What's the first thing you do in the morning?
I go straight to my coffee maker and I make a cup of coffee.
What's the one thing that gets you out of bed every morning even if you're tired?
My baby crying.
Are you a morning person?
No. I'm becoming one, but I've never really been an early riser. You don't really get a choice.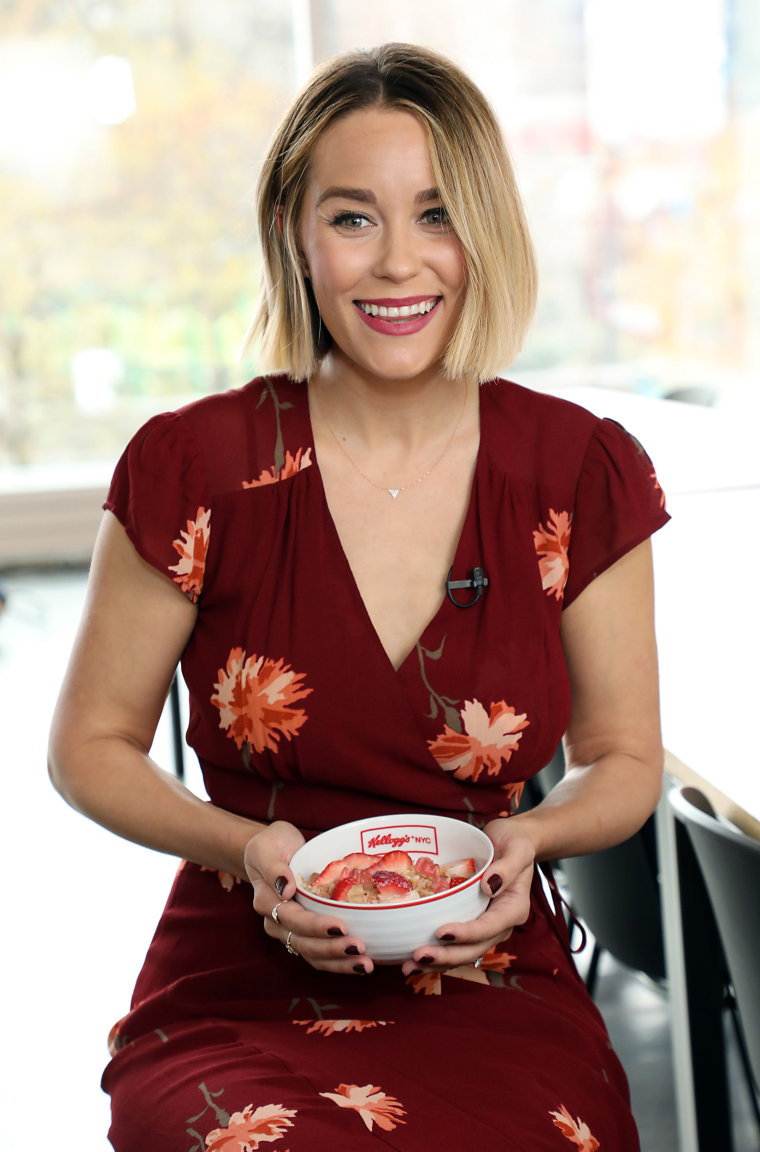 As a new mom, do you have any morning hacks or shortcuts?
I've definitely simplified my beauty routine and also before he arrived, I did a major closet clean-out just to make it a lot easier. I think just simplifying, whether it's products or things you're wearing, just makes it easier to get out the door.
What's your guilty pleasure breakfast?
If I go out to a restaurant, which I haven't done in a while, it would be waffles and pancakes, but we don't really have decadent options in my house. It's just boxes of cereal.
Who's your ideal breakfast buddy?
I like having breakfast with my husband (William Tell) — I know that's not a very exciting answer, but that's probably my first choice.
Any morning traditions with your husband?
We say "Good morning, I love you" right when we wake up every morning. It's the only tradition we have.
What's your beauty routine?
Typically, it's pretty minimal. If I'm just running errands and I don't need to be really put together, it's usually a tinted SPF that I have, mascara, blush, that's about it. If I'm going into the office, I'll layer in a bronzer and a little liner and a brow pencil to tame them. I just started using It Cosmetics — they do an SPF tinted moisturizer. It's actually pretty good coverage; it's really nice. So, I like that a lot. For mascara, I just have always liked Full 'N Soft. I haven't found anything I like more than that. I like Chanel's blushes. And for eyebrow pencil, I just started using Laura Mercier's and I like theirs a lot.
Do you work out in the morning?
No, I don't. If I'm able to work out, I either do it midday or at night. I know that's weird, but I actually like to work out, go really hard, and just crash.
Is there a song that pumps you up in the morning?
Recently, we've been listening to a lot of Beach Boys. I just like happy music, if you can flip it on. My husband's really into music, so he's constantly going through phases and I just let him control the Sonos.
What's your favorite and least favorite part of your mornings?
I don't really have a least favorite part of my morning — maybe when I have to get up really early. And my favorite part of my morning is picking up my kid. He's very cheery when he wakes up and it's super cute.
Any holiday traditions with your family?
We spend a lot of time with our family. Both of our families are close by, so the whole week of Christmas, we're with them every day. We always have a really nice Christmas day. We have mornings with my in-laws all in matching pajamas and then that evening, my in-laws and my parents all spend Christmas together, so we do a big gift exchange.
TODAY has affiliate relationships, so we may get a small share of the revenue from your purchases. Items are sold by the retailer, not by TODAY. All prices are subject to change and items could sell out based on the merchant's inventory.