Raise your hand if you've ever found yourself running out the door with hardly a minute to spare. All of you? That's what we thought.
While it's tempting to try and cut corners, skimping on a morning grooming routine can leave us looking like a hot mess. TODAY Style consulted a few experts for tips on how to save time on blowouts without damaging the hair follicle (or the final result).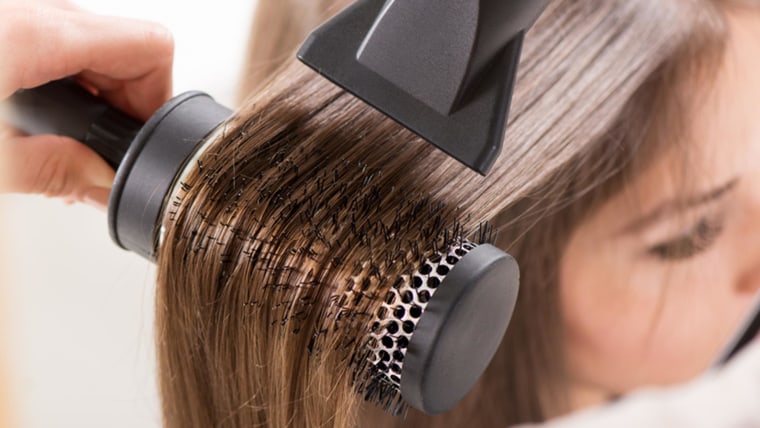 1. Start in the shower
Be sure to thoroughly condition your hair in the shower. "Conditioners apply a coating that helps repel water so you have less moisture to dry," said celebrity hair stylist Kristan Serafino. "It also helps prevent frizz caused by excessive high heat." Begin the drying process before you leave the shower by gently squeezing excess water from your hair, then run a wide-toothed comb (or your fingers) through your hair. Lastly, fluff at the roots so air begins to flow through the strands.
RELATED: I gave up and got a 'mom haircut' — and here's what I learned
2. Use proper towel technique
Be sure to avoid these common mistakes when towel drying your hair after a shower. "Never create friction between the towel and your hair. Always rake toward the ends and pat dry," said Gina Capano, co-founder of The Luxebar salon. "Never wring the hair. Friction will raise the cuticle and make your hair more susceptible to damage." Pro tip: Find a great microfiber towel since it will reduce friction.
3. Create a setting
Set up an at-home "blowout bar" outside of your bathroom, suggested Gregory Patterson, FHI HEAT global spokesperson and celebrity stylist. "As you blow dry in the bathroom, you will be fighting against the steam that is lingering from your hot shower. This will not only add dry time as you'll be fighting double the moisture, but if you have curly or wavy hair, it will undo all of the hard work that you just did," said Patterson.
4. Section your hair
Dry your hair in sections no wider than the comb or brush you're using and concentrate on removing water from the roots to mid-shaft. The ends require much less heat and will dry faster, said Serafino. For more volume, use a round brush and dry the from underneath to provide maximum lift.
RELATED: Using the wrong hairbrush? Find your perfect match with this guide
5. Choose your tools wisely
Great tools matter, but choosing the right tool for the right job is the most important. "Thermal brushes act like irons or hot tools because they conduct and retain heat, while boar bristle brushes do not conduct heat," says Capano. "Boar bristles are great for women with coarser hair who want more polish and stretch and less curl. For coarser hair, a boar-bristle brush can also speed up your blowout." Just make sure to look for a true, high-quality boar-bristle brush rather than imitations that contain synthetic bristles.
6. Product matters
There are a variety of products on the market that can cut down on dry time. Primers and concentrated serums can help speed up blowout times, protect your hair and, in some cases, provide longevity in-between blowouts, said Capano.
RELATED: Hair salon etiquette questions, like, how much should you tip?
7. Invest in a great blow dryer
Last but not least: A high-quality blow dryer will save you a ton of time because it will heat up quickly and provide powerful, consistent air streams. Some of the latest technology can additionally save energy, said Capano. Note: Use the nozzle that comes in the box, too! It will concentrate the stream of air and help speed things up.
This story was originally published on June 29, 2016.