Wrangler, a Yellow Labrador, is the newest member of the TODAY family. Our Puppy with a Purpose joined us in January, and he's in training to become a guide dog through Guiding Eyes for the Blind, a New York nonprofit organization. As he gets trained, you can find him here in the TODAY studio every morning, where he's learning important social skills that will be critical for his job! Here, he shares his morning routine.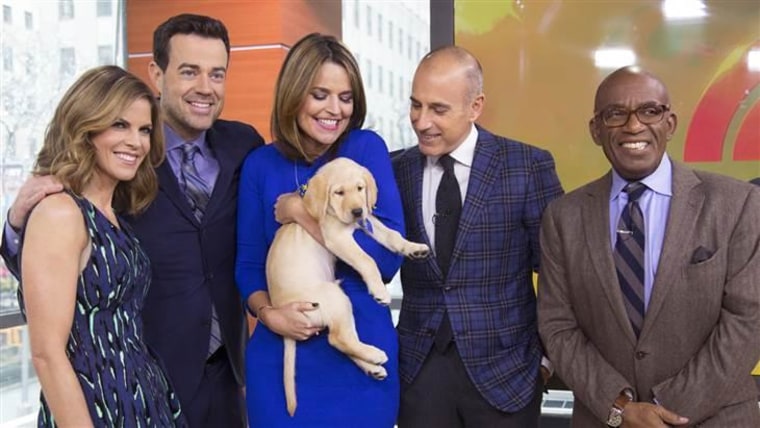 Even though I'm just a little pup, I get up super early every day to make it to TODAY. At 3:15 a.m. the alarm goes off, and I'm ready to start my day.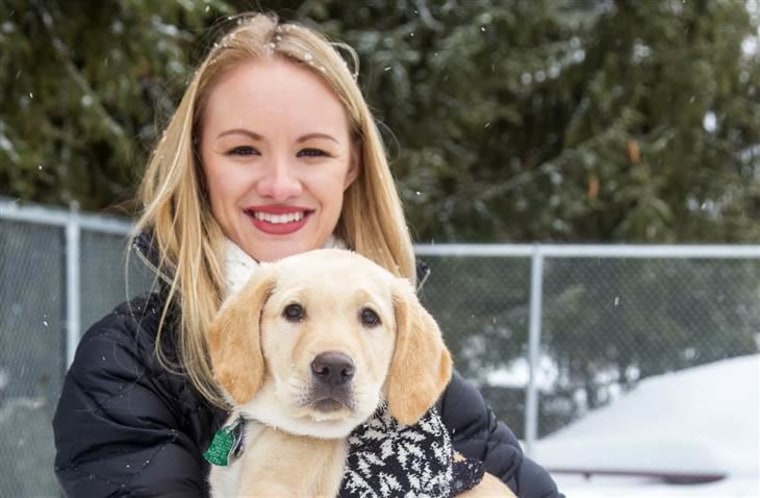 First I watch my puppy raiser, Saxon, get ready. She does lots of funny things like brush her hair and put on makeup. I especially like to watch her dry her hair. The hair dryer makes a lot of loud noise!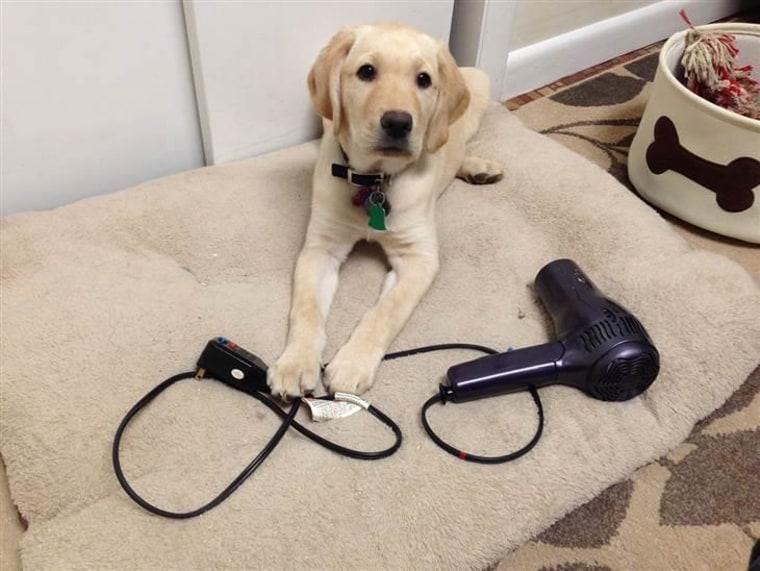 Next is my favorite part of the morning: breakfast! My brother, Vincent, and I wait patiently while Saxon measures kibbles into our bowls and tells us we are "free" to eat.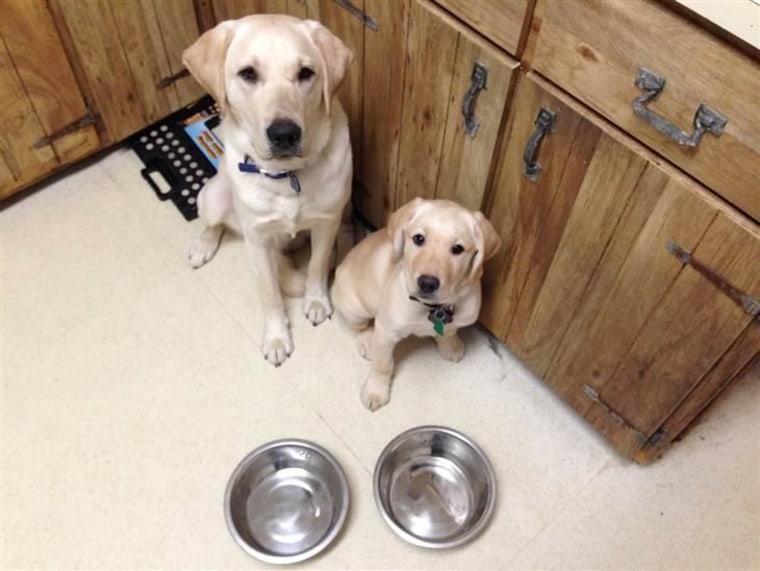 After breakfast, it is time to pack up my toys, treats, and leash, and get on the road to New York City. It is about an hour drive from home to Studio 1A, so I take a nap on the way.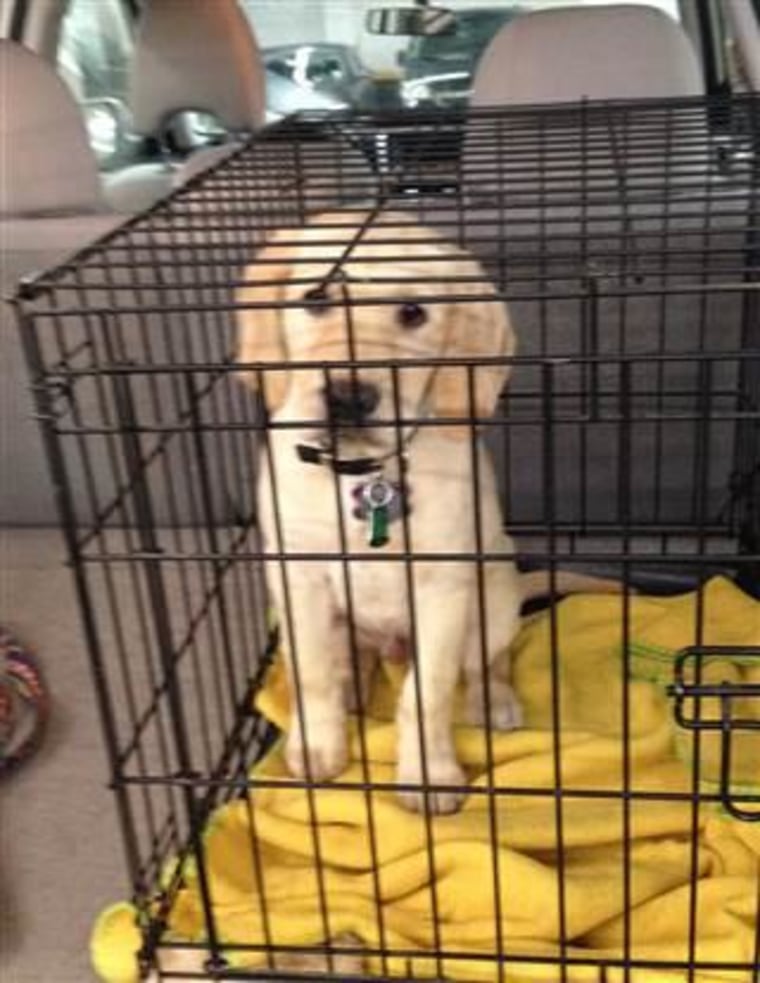 I am so excited when I arrive at the studio! I love saying good morning to Matt and Carson, and all my other friends, and running around in my pen in the Orange Room.
My rope toys are fun to play with first, but after a while I like to settle down and chew my nylabones.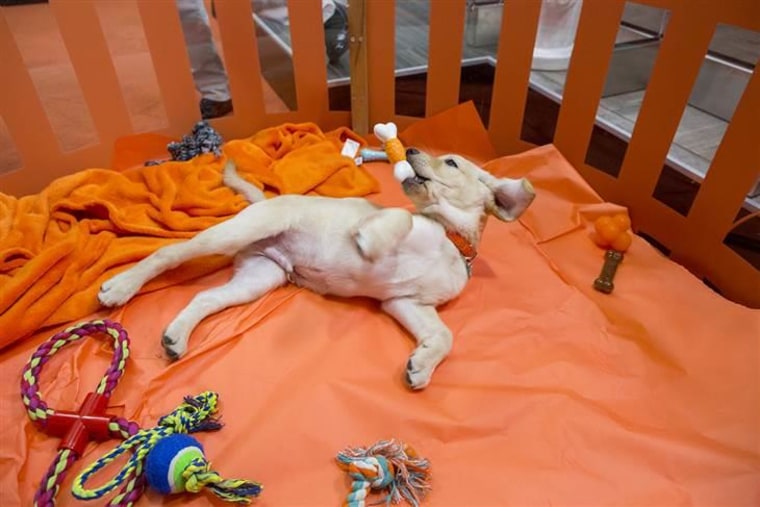 When I'm not busy saying hi to celebrities, Saxon and I practice my skills. I've become pretty good at "sit" and "down," and am working on learning to be quiet while Carson is doing his hit!
My time in the Orange Room has been teaching me a lot of important lessons that will be helpful when I become a guide dog someday — most importantly, to be adaptable. As a guide dog, I will be traveling everywhere with my handler, experiencing all different types of environments out in the world.
On the TODAY set, there are always a lot of different noises and strange objects, and being in New York, I am exposed to everything the city has to offer. Having these experiences as a puppy will help me stay focused in the busy world when I am responsible for guiding someone and keeping them safe.
I also get to greet, be held and loved on by many different people who come through the Orange Room. Though I won't be visiting with people when I am guiding someone, it is important that I am very social and not phased by the people around me. Also, being held and petted by all the different celebrities helps me with my body handling. Someday, my handler might not be able to see where they are touching me when they reach out for me, so it is very important that I am accepting of being touched anywhere on my body.
Though I love my puppy raiser a lot, I will have a big job to do someday, and need to know how to work and focus for anyone. Being around everyone at TODAY is helping me learn to form relationships with lots of different people, and to be a happy, willing pup no matter who is on the other end of the leash.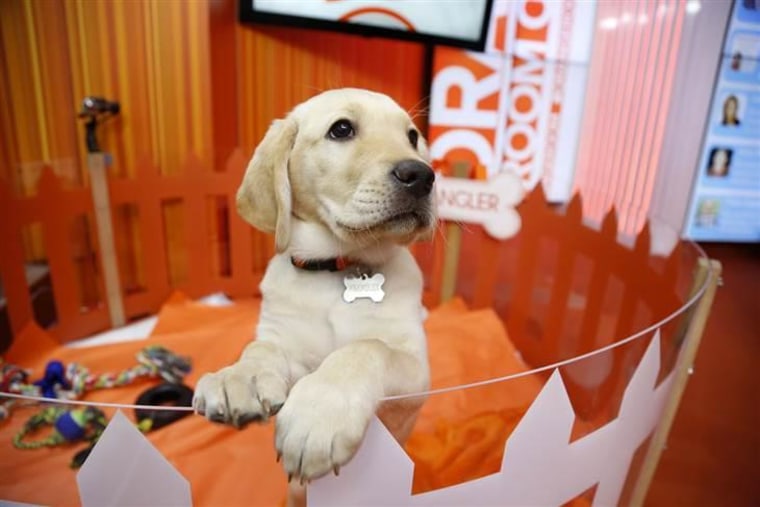 Though I have a lot of fun in the Orange Room, I'm still a baby and get tired pretty easily.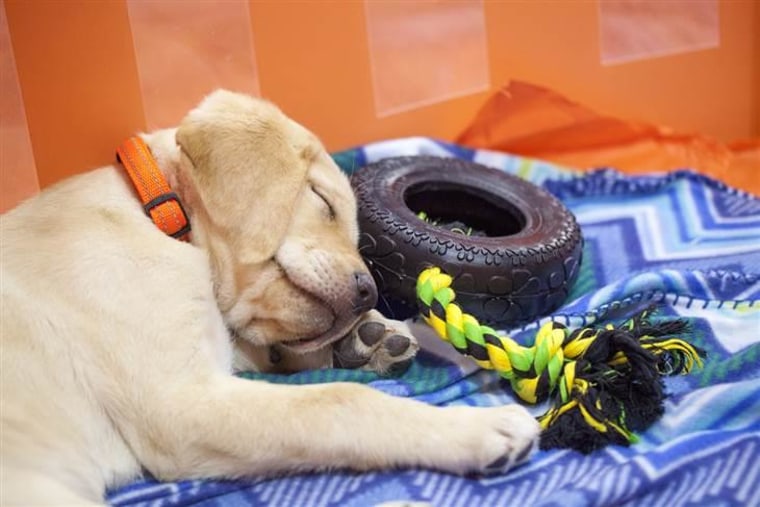 I usually start my mid-morning nap sometime around 8:00 a.m. Sometimes, after I take a long nap, it's already time to head home when I wake up!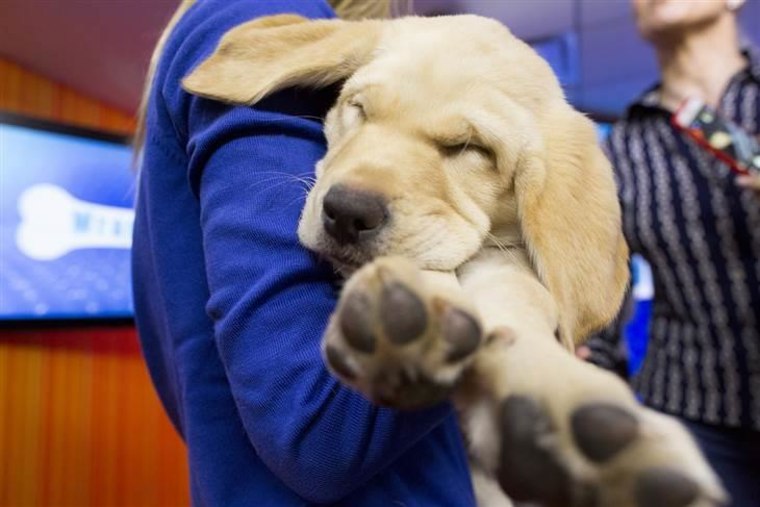 Once I'm all packed up in the car, sometimes I take another nap, knowing that when I get home, it will be my other favorite part of the day: lunch time!
For more from Wrangler, follow him on Twitter, Instagram, or check out his weekly photo album on Facebook.