Two decades after 98 Degrees released their first single, they're hitting the road with their new holiday album, "Let It Snow."
Nick Lachey, Drew Lachey, Jeff Timmons and Justin Jeffre have been performing all over the country, but now have to balance a grueling tour schedule with raising children back home. While they're looking forward to some time off during the holidays, the foursome still loves drawing huge crowds of screaming fans and even treated unsuspecting New York City tourists to a private holiday performance on Dec. 18 as part of TripAdvisor Attractions.
It was there that we caught up with the boy band to find out how they start their days on the 98 Degrees At Christmas tour, for TODAY's Morning Routine series.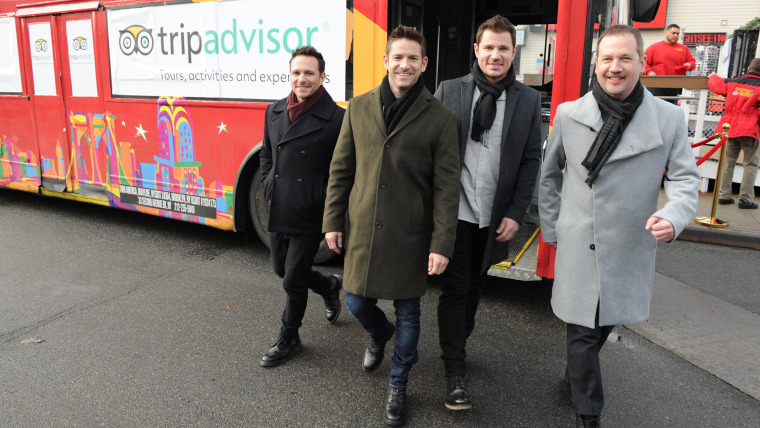 What is the first thing that you do in the morning?
Drew: My morning usually starts around noon, because we are on completely different schedules. We get off stage at 10 o'clock, and then you have a couple of hours where you unwind, and then you have bus call, and then you get on the bus and then you have to unwind again, so by the time you get to bed it's usually 2 o'clock in the morning or something. And bus sleep is not the greatest sleep in the world, so you tend to need a little bit more of it. I get up, and I try to figure out which door of the building I am supposed to go into right when we get off the bus.
Nick: That's the thing — you wake up, and you have no idea where you are, so I stumble out, and I look out the window to figure out where we are and where are we going. We just brush our teeth and get our bearings and start your day. It's a bizarre way to start the day on tour.
Do you guys have any morning rituals as a band?
Nick: No.
Drew: We usually don't see each other in the morning. Jeff is usually at the gym.
Jeff: I usually go to the gym; sometimes Nick will come with me.
Nick: If I am up in time.
Jeff: I don't sleep very well anyway, so I am usually up pretty early, and I will go to the gym. We have been going to lunch a lot together on this tour, so we will find a little local bar or restaurant, have a couple of beers, watch the games. It's an awkward and strange schedule. You lose track of what day of the week it is, what date it is traditionally, and what city you're in. You've got to look at the schedule each day and go, all right, this is where I am going to be tomorrow.
Nick: Our midday is like our morning and usually just consists of us just wandering around whatever town we are in and finding someplace to eat, which is kind of cool because you get to discover places.
Do you have an ideal breakfast buddy?
Nick: Well, Drew — you order room service a lot.
Drew: This is my quiet time. I don't want to look at their faces when I don't have to. I see them every hour of the day, so if I have a couple of hours where I don't have to see them, that is awesome.
So your breakfast buddy is yourself, Drew?
Drew: Yes, yes. And I will FaceTime with my wife, and sometimes we will just be out, and she will be drinking her coffee.
Nick: I guess the three of us are brunch buddies. We find a place for lunch. Your morning just starts a little bit later, that's all.
Justin: It's brunch when he gets an omelet.
Who out of the group is the biggest morning person?
Jeff: Me. I get up pretty early in the morning because bus sleep is pretty rough. If we hit a bump or something, then I will get up and will pretty much be up.
Who is the grumpiest in the morning?
Nick: Probably Justin.
Justin: I don't do chit-chat or anything in the morning. We can talk when I am awake.
Do you guys have any songs that pump you up in the morning or to get you going?
Nick: In the mornings typically, I am taking my son to school. Then it's "Thunderstruck" by AC/DC — that is like our "get pumped up for the day" song.
Drew: My son and daughter are the DJs in the car. So, I just hand them my phone in the back and they just literally go through and pick whatever. Sometimes it's showtunes; sometimes it's heavy metal. Sometimes it's rap; it just kind of depends on the day. Usually, it has some tempo, or it's "Hamilton." My kids are obsessed with "Hamilton."
Do they ever listen to your music?
Drew: My son thinks it's hilarious. He loves it, but he thinks it's funny to just like have the phone and will go from Metallica or MC Hammer to 98 Degrees. He thinks he is so sneaky because he is punching it in the backseat and then I am like, "all right, dude, seriously come on."
Won't you sing along?
Drew: I mean, it depends on which song. Sometimes I am like, I haven't heard this one in a while, and other times I am like, "Dude, I have been singing this song for 20 years, come on, man, help me out."
How do you balance being on tour and spending time with your families?
Nick: Yeah, it's tricky. We discovered the best thing to do is for the kids to stay in their routines and stay home and we go back and forth. So, usually, it's kind of a scenario with five or six shows in a row and then a day or two off to come. You just make the best of your time with them and show up to remind them you're still their dad and then you go back out and tour. It's not a schedule you want to keep for a long period but for six or seven weeks, it is what it is.
Drew: It's a lot easier with FaceTime too. I mean, kids talking on the phone versus being able to see you and interact with you and stuff like that, it makes it easier.
What are you guys doing for the holidays?
Nick: We are touring! We've got another five or six dates and then we are going home to our respective families to celebrate, relax and sleep.
Do you have any family holiday traditions?
Drew: My wife and I have the kids coming downstairs and turn the corner and see everything that Santa brought them. That is my favorite moment of every year, and you never know how many more of those moments you have, while they are still wrapped up in the joy of Christmas and all the mystery of it.
Nick: I have shown up at his door, and he has turned me away. He's like nope.
Drew: No, drunk old Nick, you cannot come in!
Nick: I think one of our traditions that we started is the matching pj's on Christmas morning. So all of the kids are wearing pj's, and Vanessa and I have the same matching pj's, and we all sit around and watch the kids open presents. It's become one of our mainstay traditions.
Justin: I come from a big family, so Christmas is always the time of year that we all get together. It seems like the older we get, the less and less we have get-togethers, but Christmas time is always that special time.
Jeff: Christmas Eve is almost as fun as Christmas Day for us. We bake fresh cookies for Santa, leave them out and that is the one time I eat cookies that night. The kids get to open one gift that they know is from us and not Santa Claus.