With their colorful costumes, legendary kicklines and seemingly boundless energy, the famed Rockettes of Radio City Music Hall's "Christmas Spectacular" spread holiday cheer like no one else can.
So, how do they prepare for a performance? For our Morning Routine series, we caught up with Rockettes Megan Levinson and Danni Heverin to learn more about how they start their day.
What's a typical breakfast for you?
Danni: I love an acai bowl. You can throw so many things into it: Chia seeds, almonds, bananas, anything you can — you can't go wrong with an acai bowl. And avocado smash.
Megan: Oh, I love avocado.
Danni: Yeah, it's so good. You gotta get the healthy fats. But really, we can eat kind of anything we want.
Megan: I usually have avocado, turkey bacon, eggs on an English muffin. That's usually my go-to, and I buy that out, usually. I should make it, but I buy it out.
Danni: It's really important to eat things that are going to give us energy throughout the day, because we can do up to four shows in a single day, and up to 17 a week.
Megan: Yeah, food is definitely important during the season, because we're dancing so much. We do about 300 kicks a show, so times that by four, it's a lot of energy we need.
Danni: A lot of Christmas cookies, too.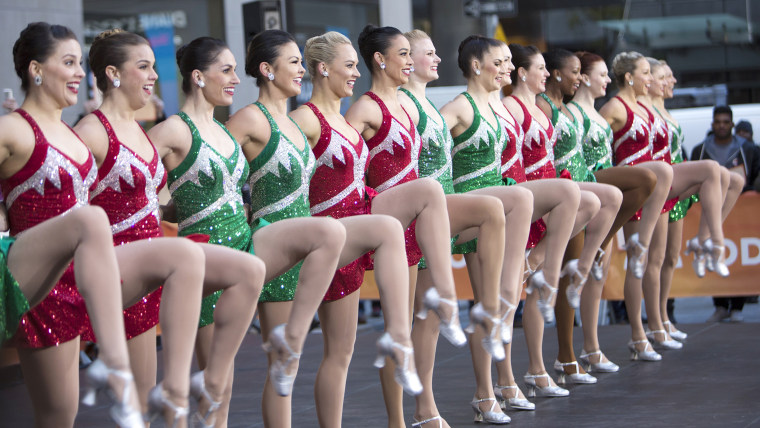 Do you work out in the morning?
Danni: Yeah, it's really important to get the blood flowing in the morning. Heating the body — doing something dynamic to get our bodies going — so I love to do planks, push-ups, maybe run on the elliptical for a little bit.
Megan: Before the first show, I always do, like, 30 minutes on the treadmill, just like a fast-paced walk, not running. And then I always do some lunges and some squats, some balancing things, and then planks — I always make sure I do planks.
Danni: Core. Core is so important, because we actually don't touch in our kicklines, so when we are kicking we have to use our bodies, our cores.
Megan: To stay still, yeah. And I always do my makeup and hair sitting on a heating pad, too, which really warms my body up.
Danni: That's smart. I'm gonna steal that. I'm going to start doing that.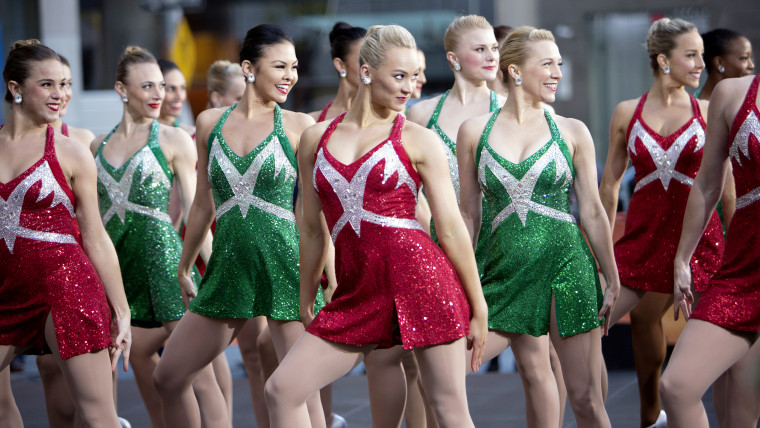 Do you listen to music on the way to work?
Danni: I wait for the holiday music until a little more into the season, but I love all music. So some days it will be rap, some days it will be Top 40, just depends on the mood.
Megan: Yeah, I usually like something more chill: Sam Smith or Ed Sheeran — love Ed Sheeran.
Danni: And we blare music in our dressing rooms.
What's something that makes you feel festive if you're not in a great mood?
Danni: Hot chocolate.
Megan: I think just being around my friends, and the energy in the dressing room always makes me — like if I'm a little, like, tired or run down, just walking into the dressing room, we decorate it with lights, like hanging from the ceiling and garland everywhere, and I'm like ooh, I'm in a good mood.
Danni: Yeah, it's our home away from home, so we like to make it as homey as possible during the Christmas season. Our friends, the girls in our dressing room, the girls in the line all become our family because we're away from our own, so it's really nice.
Megan: Yeah, it does feel so good walking into the dressing room being like, "Ah, comforting."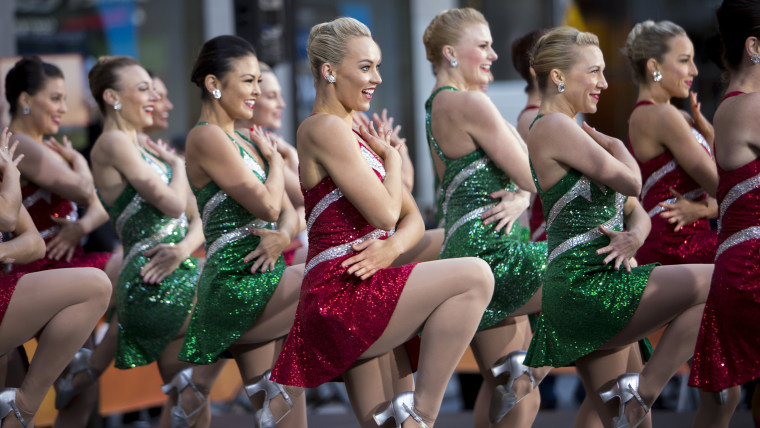 What's that red lipstick you're wearing?
Danni: I use LipSense. Fly Girl is the color.
Megan: And I have blue-red on today, but I did order the Fly Girl. I'm waiting for it in the mail.
Danni: So in the show, we have a lot of headpieces, and we wear a beard in our Santa Claus number, so we like to have something that stays. So when you put the beard on, it won't smear and go all over your face.
Megan: And the "Christmas Spectacular" is only 90 minutes with no intermission, so we never go back to our dressing room. We can touch up in between the changes, but they're really quick, so it's important that we have a lipstick that's going to stay for the 90 minutes, so at the end of the show it looks just as fresh as it did when we started the show.
Do you and the other Rockettes have any morning rituals together?
Danni: Definitely dance parties.
Megan: Dance parties and music, for sure. And in between shows, we have games. We have Twister in our dressing room. Sometimes we'll whip out the games, and that helps us on the four-show days to keep the energy up.
TODAY has affiliate relationships, so we may get a small share of the revenue from your purchases. Items are sold by the retailer, not by TODAY. All prices are subject to change and items could sell out based on the merchant's inventory.