"Unrealistically small" clothing sizes have led one woman to slam fashion-giant retailer H&M.
Ruth Clemens, 25, of Leeds, England, posted on H&M's Facebook page on June 13 to complain about a pair of size 16 jeans — the largest size they carry in stores. She included a snap of her dressing room fiasco, proving that she's unable to zip the jeans around her hips, which normally fit a size 14. (For comparison, a size 16 in the U.K. is comparable to a size 12 in the U.S.)
Her post, which has received more than 12,000 shares, 10,000 comments and 94,000 likes at publish time, has clearly resonated with others.
"I am not overweight (not that that should matter) and although I'm 5 foot 11 my body is pretty average shape-wise," Clemens wrote. "It's already difficult enough for me to find clothes that fit well because of my height, why are you making jeans that are unrealistically small? Am I too fat for your everyday range? Should I just accept that accessible and affordable high street and on-trend fashion isn't for people like me?"
Thousands of people chimed in on Clemens post complaining about their own issues with the retailer's sizes, both in Europe and the U.S.
"The response I've had has been amazing," Clemens told TODAY Style. I've had some lovely and affirming messages from women telling me they have the same problem, that they left the changing room in tears, that they starved themselves, that it really affected their body image."
H&M replied to Clemens' initial post with the following comment: "Hi Ruth, thank you so much for your feedback. We are sorry to hear about your experience in store recently. We always want our customers to have an enjoyable time when shopping in store and to leave feeling confident in themselves. At H&M we make clothing for all our stores around the world, so the sizing can vary depending on the style, cut and fabric. We value all feedback and will take on board the points you and other customers have raised."
According to Clemens, their response simply isn't enough.
"So many women have reached out to say that I'd made them realize that it isn't just them, that they're not alone, that we need to take a stand against unrealistic sizing standards," she said.
A woman named Victoria Sponge wrote, "I used to love H&M but I rarely shop there now for the same reason you highlight here. I'm a size 10 and have often taken several sizes in to a changing cubicle and a 14 doesn't fit me either."
Another commenter, named Tess Gwynne, wrote, "I'm another person who rarely buys clothes from H&M because the sizing is so small. It's depressing when you have to buy not one but often two sizes bigger than everywhere else."
"I have this problem in H&M too," said Facebook user Emily Zahra Afshar. "Could you please specify now what measurements you are using for a 16 please? Because ALL of your 16s measure a 12/14 on average as other uk high street stores."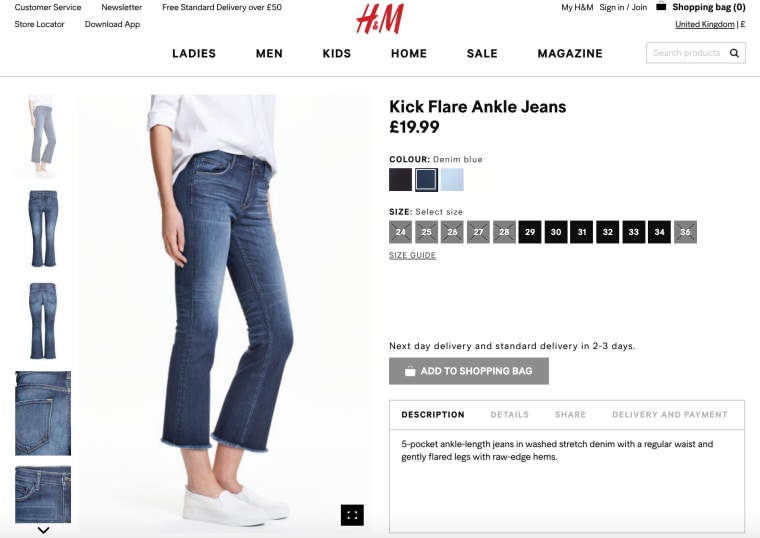 Their site does provide a designated page for plus-size items, up to 24 in the U.S. and 28 in the U.K, however, when shoppers click on the sizing guide, there is only information up to size 16 in the U.S. and size 20 in the U.K.
A spokesperson for H&M responded to TODAY's request for comment and shared the following statement: "Everyone is welcome at H&M. H&M works with the same measurements and sizes within all concepts and we work with the same sizing system on all 62 markets and online. However, the fit of a garment may vary depending on fit and style, cut or fabric."
For Clemens, the issue is more about how deceptive sizes can affect a woman's self-esteem. "On another day it could have really shaken my self-confidence," she said. "If my body is too big, too tall, takes up too much space for H&M's clothes, then it's them who need to change, not me. And the same goes for everyone else out there."