There are only two "rules" we follow here at TODAY Style:
Fashion and beauty are forms of self-expression, so wear what YOU want.
Everyone is included.
There isn't one look, trend or style (or body shape, skin tone or religious affiliation, for that matter) — and how boring would it be if there were?
That's why we live by our motto #WearWhatYouWant and honor those who do just that. Our second annual TODAY Style Heroes list celebrates 40 fearless, bold and influential men and women who don't need permission to live out loud and be exactly who they are.
We're proud to celebrate these heroes and hope their stories encourage you to follow their lead and do the same.
As much as "wearing whatever the (heck you) want to wear" — as Style Hero Chrissy Metz puts it — is a worthy goal, it can often be difficult to enact in everyday life. Just look at all the controversies over dress codes in schools and workplaces (or ask Style Hero Nicola Thorp).
To find out what people really think about dress code rules and regulations, TODAY Style conducted an original survey — and the results are fascinating. One overwhelming trend? Dress codes are more confusing than ever.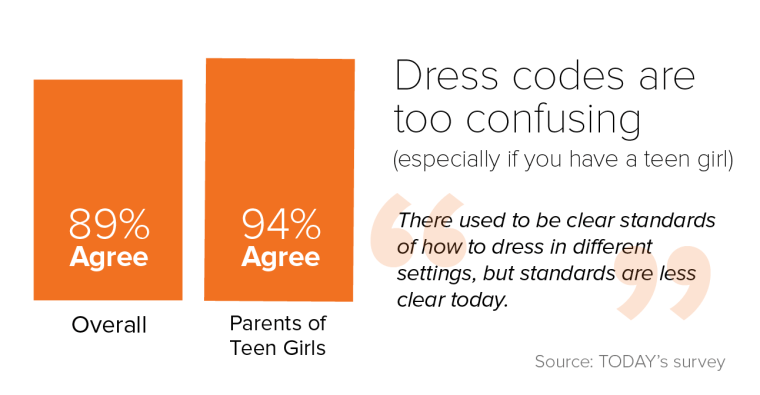 Check out the most interesting findings, and be sure to share what you think. And if you're not certain how to break a particular "rule" on your own, watch our Style Squad break it down on Wednesday morning with a very special edition of their monthly Style Squad Edit.
Stay tuned with us throughout this week as we share interviews with our favorite body-positive champions, learn about the importance of breaking the mold and hear from the next generation of leaders.
While bullies, body-shamers and trolls are still out there, we hope these stories (and this list of kick-butt responses from Style Heroes, celebrities and other role models) will arm you next time someone throws hurtful words your way.
And, as always, we'll be staying true to our #WearWhatYouWant mission all year long. Sign up for our weekly newsletter and follow us on Facebook, Instagram and Twitter for so much more.
To all you Style Heroes out there I have yet to meet, I'm looking forward to hearing from you.
Emily Sher
TODAY Style Editor