A woman claims she was kicked out of her apartment complex's pool for wearing an "inappropriate" one-piece swimsuit.
Tori Jenkins, 20, had just arrived at the pool with her fiancé, Tyler Newman, at Smoky Crossing Apartments in Seymour, Tennessee. Within minutes, an employee from the complex approached Jenkins and said that some residents had complained about her attire.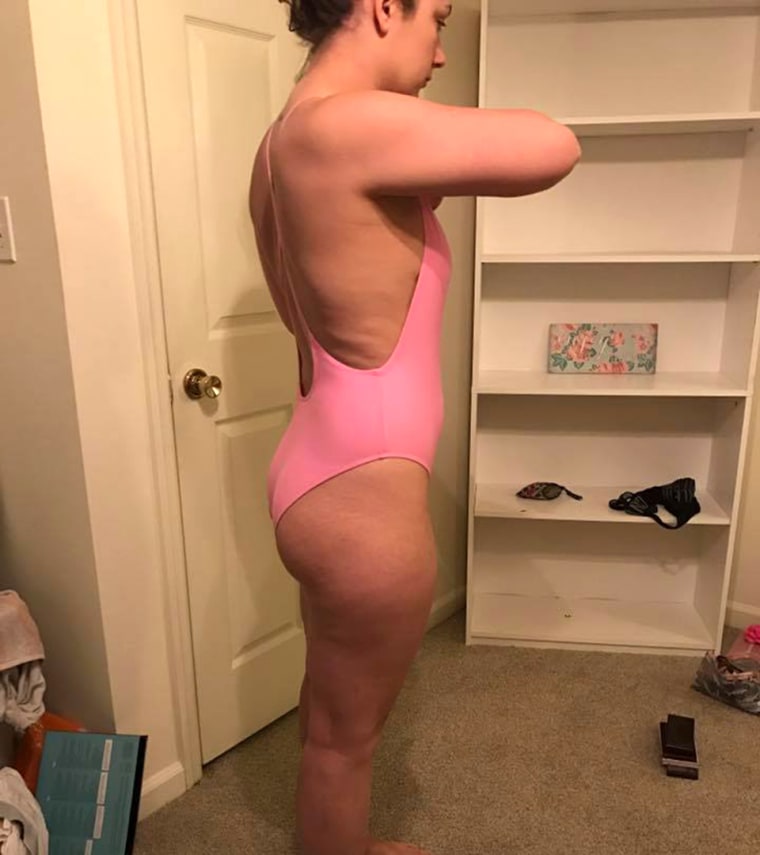 "Today my fiancée was faced with either changing her bathing suit, covering up with shorts, or leaving the pool that we paid a $300 fee to maintain," Newman wrote in a Facebook post about the incident, which has since gone viral. "Tori was accused of wearing a 'thong bathing suit' .... We both kind of sat there in disbelief."
Newman shared photos of the pink, one-piece swimsuit Jenkins was wearing that day.
Jenkins decided to go to the apartment office to resolve the matter privately. Once in the office, the apartment representative apparently doubled down on her initial stance.
"In the office, the leasing consultant (who, for now, I will not name) insisted upon letting Tori take her picture to show 'how inappropriate' her bathing suit was, and instructed her to look into a mirror at her own body," Newman wrote. "When my fiancée replied with, 'I know what I look like, I bought this myself, it's not a thong,' the consultant told Tori that if she didn't have kids herself, she wouldn't understand. She was told that the leasing consultant wouldn't want her own kids around Tori."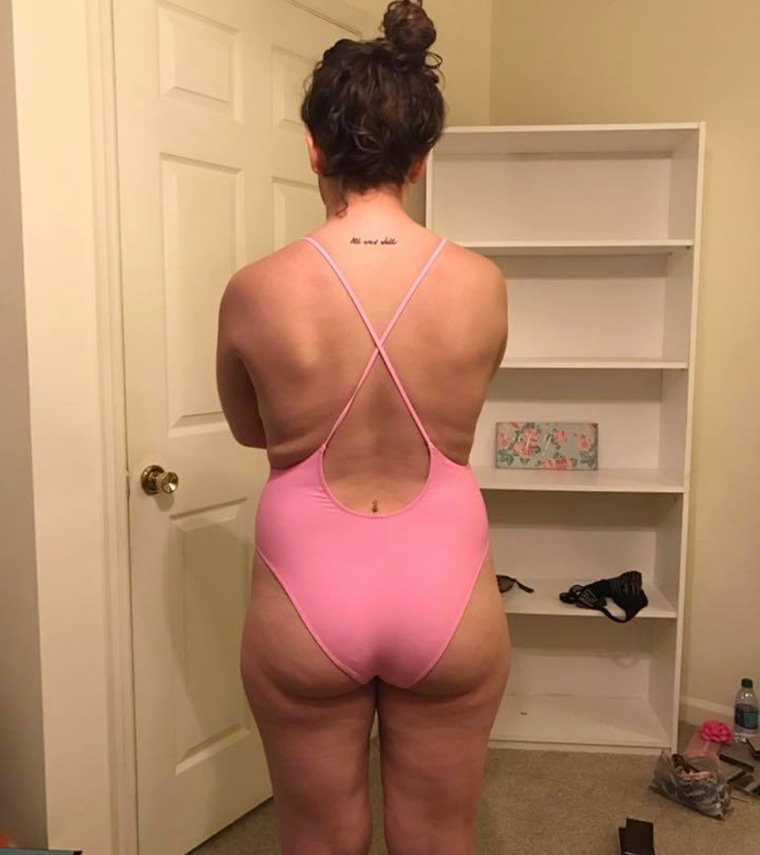 The leasing consultant also told Jenkins that her body is "too inappropriate to be around," Newman added. "She was told 'there are a lot of teenage boys in this complex, and you don't need to excite them.'"
The incident left Jenkins feeling upset and humiliated, Newman said.
"Today my fiancée was told that she is less important than how men feel around her. That Tori is less important than a man's urges to be sexual towards her," he wrote on Facebook. "I've never seen my fiancée embarrassed to the point where she can't even look her best friends in the face. I've never seen her cry like she did in our apartment today. Never seen her want to be isolated like that … I've never seen a woman so disrespected."
"I will not stand for this," he added. "My fiancée should be able to wear a bathing suit without being sexualized and demeaned."
The Smoky Crossing apartment complex denies the couple's account of the incident.
"Smoky Crossing is a welcoming family community," a spokesperson for the complex said in a statement to TODAY. "Multiple residents within our community complained and expressed concerns regarding Ms. Jenkins' swimwear. In accordance with our pool policies, which are posted near the swimming area, one of our leasing consultants requested Ms. Jenkins wrap a towel around herself when she was walking around the pool.
"Ms. Jenkins was never asked to leave the pool," the statement continued. "In addition, our leasing agent did not state that Ms. Jenkins' swimwear would 'excite teenage boys.'"
However, Jenkins maintains that her version of events is accurate, and she is now pursuing legal action against Smoky Crossing. She also wrote on Facebook that the pool's clothing rules just state that "duly appropriate attire must be worn at all times, no cut offs."
The couple's posts about the incident have racked up thousands of likes and shares, and supportive comments have been pouring in from people around the world.
"I am a mom and grandmother that has worked in aquatics for over 40 years," one woman wrote to Jenkins on Facebook. "I work at a public pool now. I have seen the good, the bad, and the ugly, but you are not it! Your suit fit you very well. It is not a thong. It is high cut, but that is what manufacturers are making for women … As a mom and grandmother I would not have issues with my children grandchildren seeing you in it."
"As someone who loves to swim and has seen a lot of inappropriate suits in my lifeguarding days, (yours) is nowhere near!" another man commented. "It is a normal one piece."
Jenkins said on Facebook that she is amazed and overwhelmed by all the support she's received online, but she also admitted that the entire situation has left her "tired, and frankly a bit beaten down."
However, she said she felt compelled to speak out and stand up for herself publicly.
"No man or woman has the right to make me feel uncomfortable in my own skin," she wrote. "No right to police me or any other human."