A young woman with a rare condition that causes one of her legs to balloon to more than twice its normal size is sharing her story — and her bikini photos — to inspire confidence among other girls.
Isa-Bella Leclair, a 19-year-old college student in Canada, suffers from Parkes Weber syndrome (PWS), a vascular disorder that can lead to lymphedema, which causes the enlarged limb. But Leclair told TODAY.com she won't let her condition stop her from being a teenager — and sometimes that means wearing shorts and posting swimsuit selfies.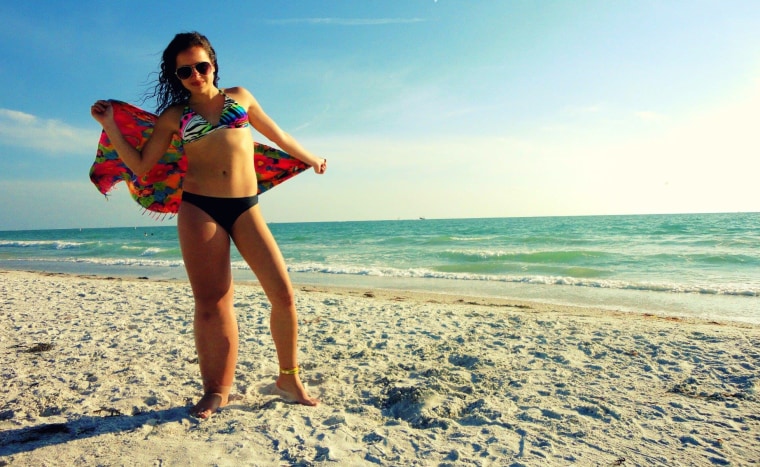 "Personally, I can't remember a time when I have not been confident about my body," she said. "I remember for sure feeling a little disappointed when perhaps I was shopping for pants or shoes, but I always find a way to make it work and find something that I love."
"I've always looked at it like I have two choices," Leclair added. "Either be ashamed and hide my body while feeling terrible, or be confident and understand that people will be curious. But that's good, because that's how I can make a change and switch what many would see as a negative thing into a positive."
RELATED: Woman's 'real' body bikini photo stirs backlash against body-shaming
She said people are generally kind when it comes to her condition.
"The worst that happens is I get stared at, and honestly, I think it makes my friends more uncomfortable than it makes me," said Leclair, who recently underwent a series of intensive lymphatic drainage massages and wears a compression stocking as treatment.
Despite her confidence, Leclair admitted it hasn't always been easy — shopping for clothes is often difficult because of the swollen leg and her lymphedema causes frequent painful infections. Plus, PWS is so rare that most doctors haven't worked with patients who have the diagnosis, she said.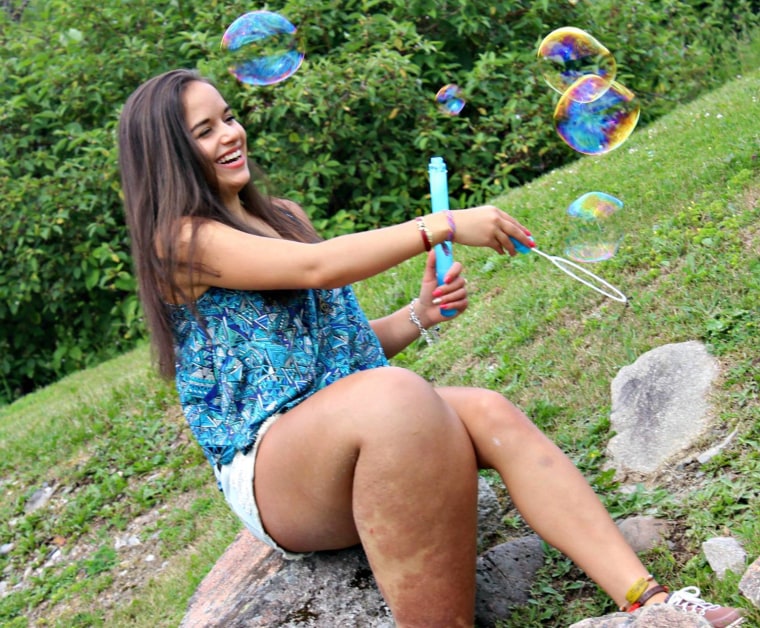 PWS is a very rare congenital condition that is present at birth and causes someone to have a large number of abnormal blood vessels, according to Boston Children's Hospital, which has treated more children with the condition than any other hospital in the world. Bleeding from the capillaries can cause marks on the skin often called "port-wine stains" and the excess blood can also lead to heart failure.
"So I know how it can be hard for other people with PWS or any sort of rare disease to live in the moment," said Leclair, a student at the University of Ottawa in Ontario. "That is why it was so important for me to share my story, to raise awareness about PWS and also about body image and self-confidence."
RELATED: Cleveland Browns sign 9-year-old boy with rare disorder
The young woman's story — and her bikini photo — have recently gone viral. She was interviewed by The Telegraph and featured on a blog called The Lymphie Life, the chronicles of another woman with lymphedema. Leclair is happy for the attention.
"I hope that by seeing someone with a handicap being confident and happy with her body, that people who deal with low self-esteem will tell themselves, 'If she can do it, why can't I?'" she said.
And some advice for anyone struggling with body image this summer? "Wear whatever makes you happy and what you are comfortable in, because a confident woman can rock anything she's in," Leclair added. "Try as much as you can to just live in the moment."