Love feeling fierce in a killer outfit but not sure if your picks are the most flattering for your body type? Fear not!
Stacy London, the style guru and host of TLC's "Love, Lust or Run," stopped by TODAY Thursday to help us choose the best clothing options for our shape.
After all, she says, just 8 percent of women are symmetrical on the top and bottom. For the rest of us, that means we can use styling tricks to help create the appearance of having a proportional, balanced shape. Remember, the hourglass shape is always the goal!
"That is the classic cut for women's clothing," London told TODAY's Savannah Guthrie. "So if you don't have that body shape, you've got to figure out a way to work with the clothes to create it for yourself."
It's all about symmetry and geometry, knowing where to add and subtract volume in our clothing.
On the show, London offered tips to find the best choices for four body shapes.
Larger on top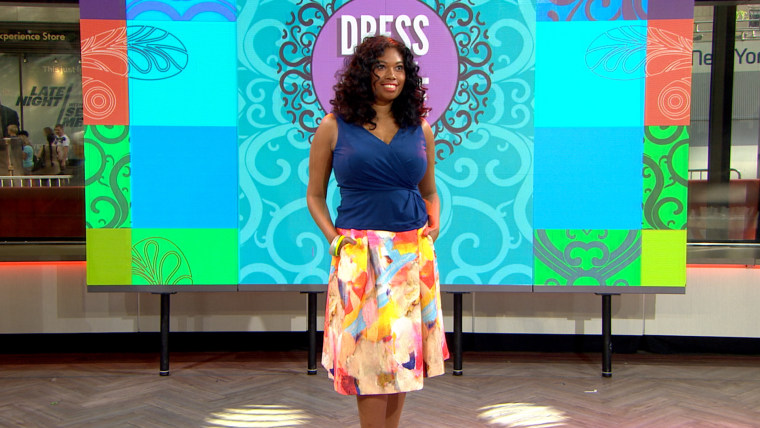 "You definitely want to do darker color on top, a brighter color or print on the bottom," London said. "The idea always is to create a classic, feminine shape, which is to create a waistline."
For this top-heavy shape, she chose a solid blue top and a full, printed skirt with a little bit of extra length. Volume on the bottom? Yes!
"Do volume on the bottom, stay closer to the actual shape on the top," London says. "That way you get a much more balanced frame all together."
Curvy on the bottom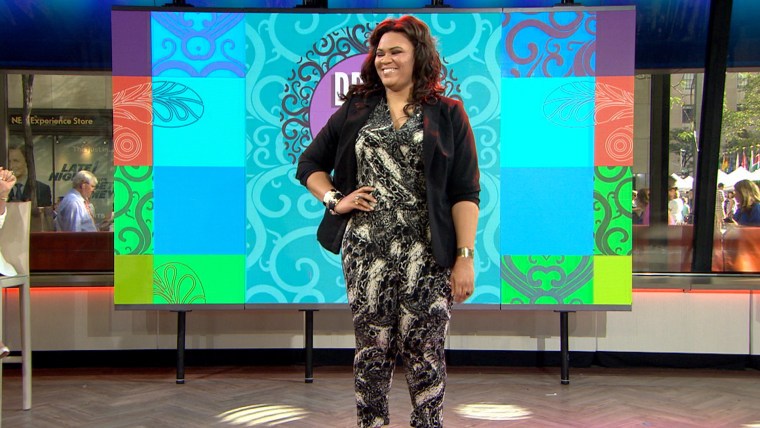 If you've got a booty, slip on a jacket.
"The jacket is a woman's best friend when you're trying to kind of consciously camouflage a little bit of your bottom half," London says.
But don't use the jacket to completely cover up. "You want something that cuts across it."
She dressed our model in a jacket that nips in at the waist over a printed jumpsuit.
"The jumpsuit, that's a vertical line," London says. "It forces our eye up and down, so she looks taller, longer and leaner."
Bigger in the middle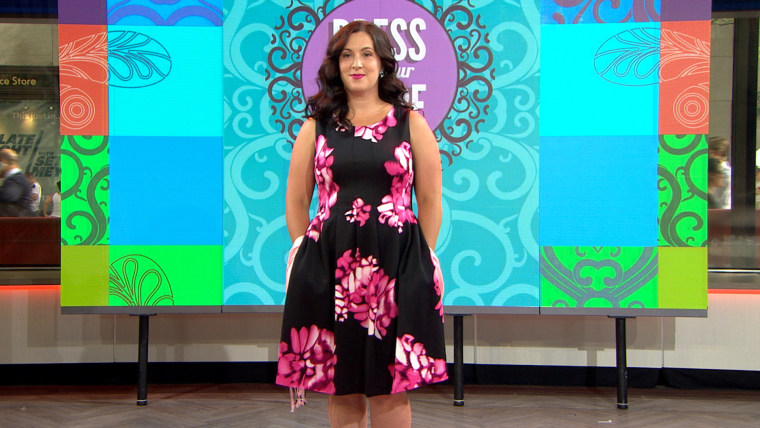 Try a trendy fit-and-flare dress.
"This is a look that is actually flattering on every figure," London says. "The idea is that it fits more at the top, it creates a very small waist and again flares at the bottom."
Petite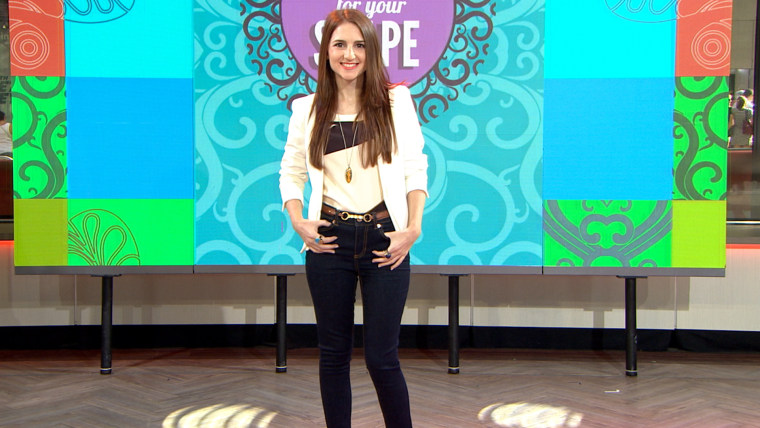 When it comes to clothing for petite women, it's not just about size but the ratio and making sure the clothes are proportional and appropriate.
"You really have to use petite clothing," London said. "You don't want to look childish. You don't want to look too old. You have to look for things that are very modern."
TODAY.com contributor Lisa A. Flam is a news and lifestyles reporter in New York. Follow her on Twitter.