For most women, feeling beautiful is a journey — and Shonda Rhimes, known as the force behind TV hits such as "Grey's Anatomy" and "Scandal," is no exception.
"It's a struggle for women," she told TODAY Style, adding that even the concept of wanting to be seen as attractive is somewhat befuddling. "Frankly, the idea that we need to be beautiful, if you really think about it, it's odd. But if you can turn it inward and see yourself as beautiful, that's what changes the world."
All of that isn't to say Rhimes, who recently revealed that people treated her differently after her weight loss, is immune to the pressures women face. When she was younger, she struggled with loving her body.
"I spent so much time picking it apart and trying to hide it and make it be shapes it never was going to be, that I missed a lot of things," Rhimes said.
That might be why her latest project, Dove's Real Beauty Productions, is aimed at reminding women that beauty doesn't look a certain way.
She partnered with the brand for a series of videos. The latest features a woman named Kylee Howell who opened a barber shop — for men and women — in Utah. The debut film starred a woman named Cathleen Meredith, founder of a group called Fat Girls Dance.
Rhimes is well aware of diversity issues in Hollywood. The writer and producer has been applauded for casting black women in complex leading roles — Kerry Washington as Olivia Pope in "Scandal," and Viola Davis as Annalise Keating in "How to Get Away With Murder," for example. And while representing women of all shapes, sizes and colors on TV is something she considers to be crucial, it's hardly groundbreaking.
"I move through the world as a black woman," Rhimes said. "It's not been a conscious effort because, simply, I see other people who maybe don't get seen in the normal world. It never occurred to me that there was an issue with thinking a Hispanic woman was interesting, or a black woman was interesting, or an Asian woman was interesting, and we should tell a story about her. It never occurred to me that that was something that was revolutionary."
And yet, there are real consequences when women don't see themselves represented on TV or in movies or magazines.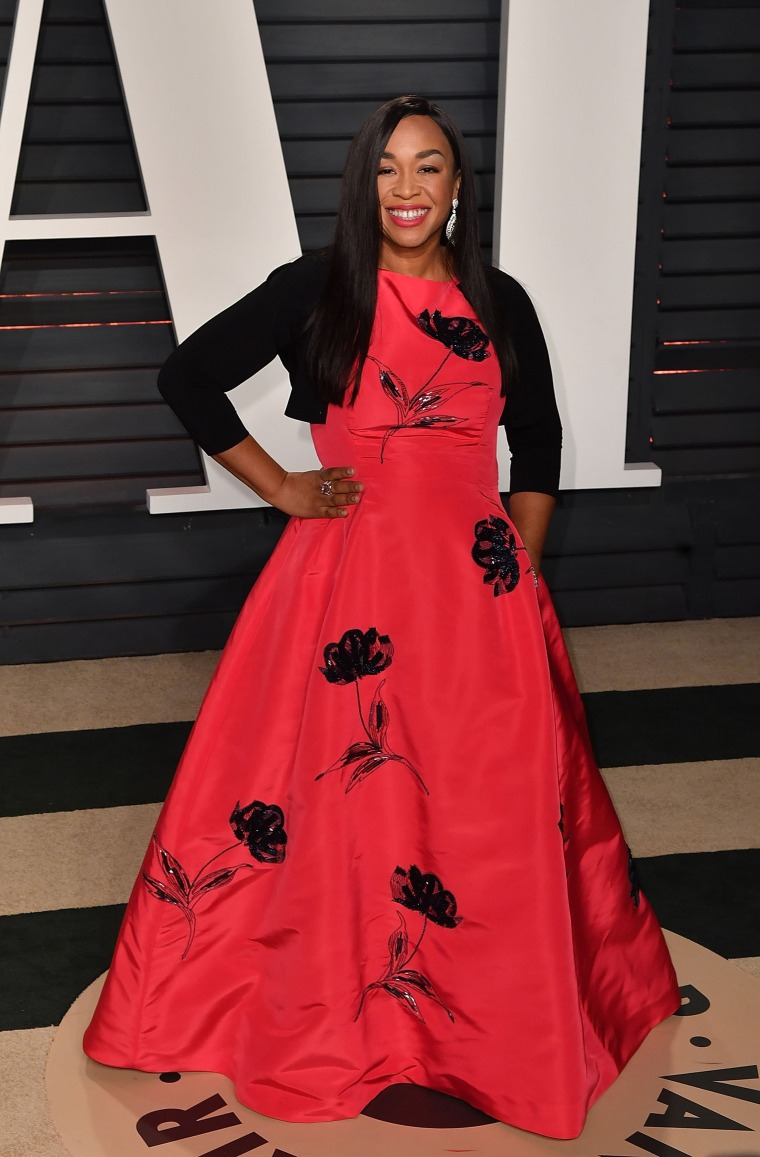 "I think the effect is actually fairly devastating," Rhimes said. "I think that if you don't see yourself, there is, to me, a clear understanding that you have no value."
"I think any time you allow someone to see themselves reflected in another person on screen, there's validation there," she added. "It's hard to feel strong and sure of yourself when you're 15, but if you can turn on your television or computer and see someone who makes you feel like, 'I can be that strong' … there's validation there."
Funny enough, Rhimes didn't actually grow up watching much TV.
"My parents are professors, they're intellectual," she said. "I spent a lot of time reading books. To me, everyone always looks like they do in your imagination. And in my imagination, the characters always looked like me. So in a weird way, I was spared that."
Now her goal isn't to cast more plus-size women or more black women, for instance, but to simply portray the real world as she sees it on screen. And in the process, to remind women that how they perceive themselves — not what other people think — is what's most important.
"That's really what I've learned from the women I've been interviewing for Dove," she said. "They've just stopped worrying about other people, and focused on themselves."