Rachel Hollis has become a swimsuit role model.
Over the weekend, Hollis proudly embraced the battle wounds from her pregnancies by posting a photo of herself on the beach in a bikini.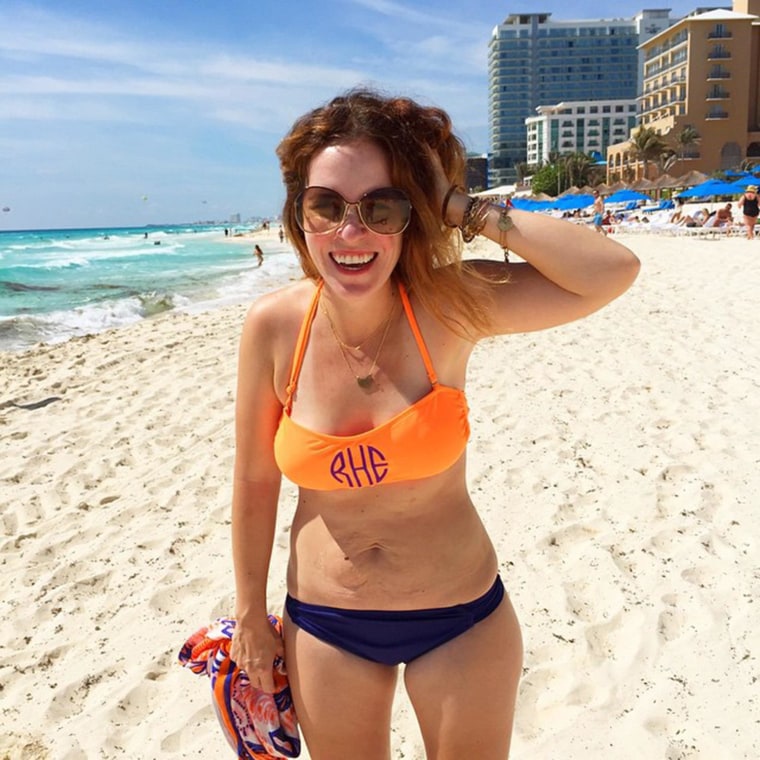 "I have stretch marks and I wear a bikini. I have a belly that's permanently flabby from carrying three giant babies and I wear a bikini. My belly button is saggy... (which is something I didn't even know was possible before!!) and I wear a bikini," she writes in the caption. "I wear a bikini because I'm proud of this body and every mark on it. Those marks prove that I was blessed enough to carry my babies and that flabby tummy means I worked hard to lose what weight I could."
The caption ends with a message to other moms: "Flaunt that body with pride!"
The photo has gone viral, racking up more than 10 million views and 325,000 likes on the Facebook site for her business, The Chic Site. It also prompted thousands of comments, mainly from women empowered by Hollis' message. A few even posted their own belly-baring photos in response.
"It touches my heart that people are having this reaction to it," Hollis told TODAY.com.
Hollis, 32, posted the photo Saturday from Cancun, where she tagged along with her husband on a business trip and a rare getaway without their three kids, ages 8, 6 and 2. The photo was taken one week after Hollis had completed her first marathon.
"I thought, it's not going to get better than this. You ran the 26 miles, and I had been training for six months. My body is never going to be smaller than it is right now, so if there's ever time to show off your belly, this is probably it," she recalled.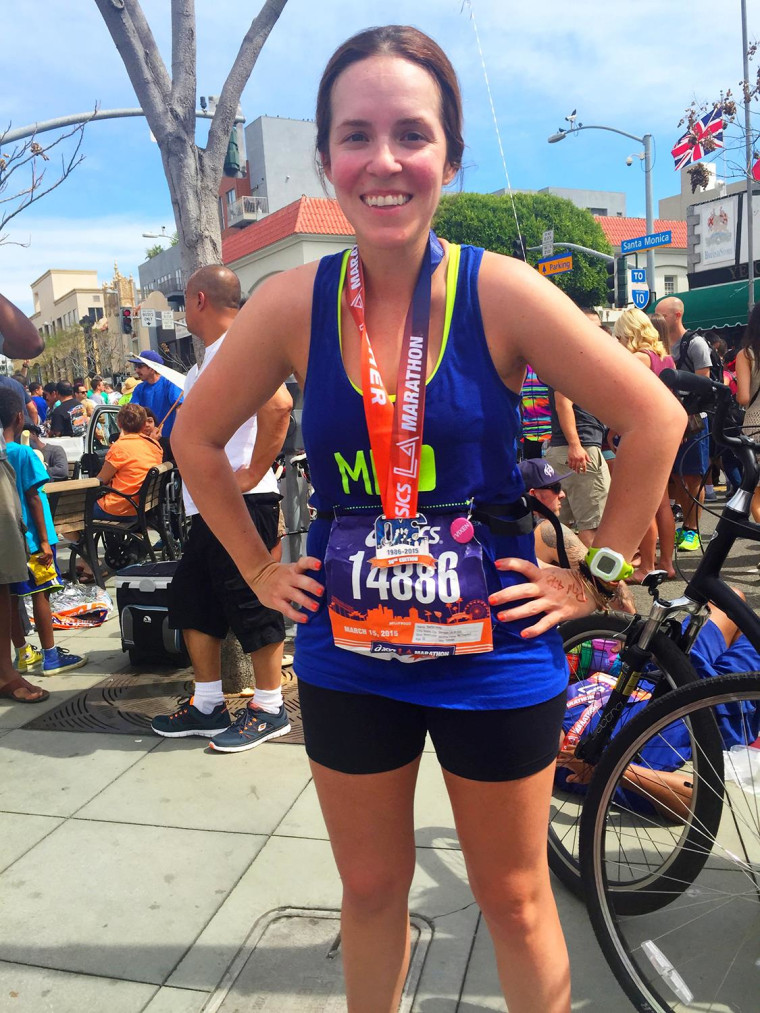 Hollis initially had her husband take a photo of her because the bikini top bore her initials, which she found amusing. She also features a monthly color theme on her Instagram account and March's hue was orange, just like the bikini top. She instructed her husband to "just take 100 photos" and they could pick one she liked — but that didn't happen.
"I had tried to take this posey, pretty shots, and I looked so awkward that it didn't work. I started laughing, and that's when he happened to get that picture," she said.
While she had some thoughts about cropping out her stomach, she quickly decided against it after realizing, "This looks pretty good." Apparently, hundreds of thousands of other people agreed.
Hollis said even though she grew up "a little chubby," she never tried to lose weight until after she had children. She gained 45 pounds on her 5-foot-2 frame with her first pregnancy, and soon got pregnant again before losing her initial baby weight. Because she has been open about her life's struggles, including postpartum depression, she felt comfortable sharing her victories, too.
"I feel like I've worked so hard to lose the weight. Those marks are always going to be there. Without plastic surgery, there's no way I'm getting rid of that extra skin. It is what it is," she said. "I had been working so hard training for this race and I felt so proud of my body. It's never ever going to be like a Victoria's Secret model, but I think I look good and my husband wants to make out with me, so I'm doing something right."
Still, she said she was caught off guard and has cried from the overwhelming response to her photo, including one from Facebook user Samantha Bain.
"Wow, well done mamma! You look amazing. Perfect child bearing tummy. We shouldn't shy away for the sake of an imperfect tum. Gorgeous! Here [is] my imperfect tummy but from it I have a perfect daughter xxx," she wrote, attaching a photo of her own belly.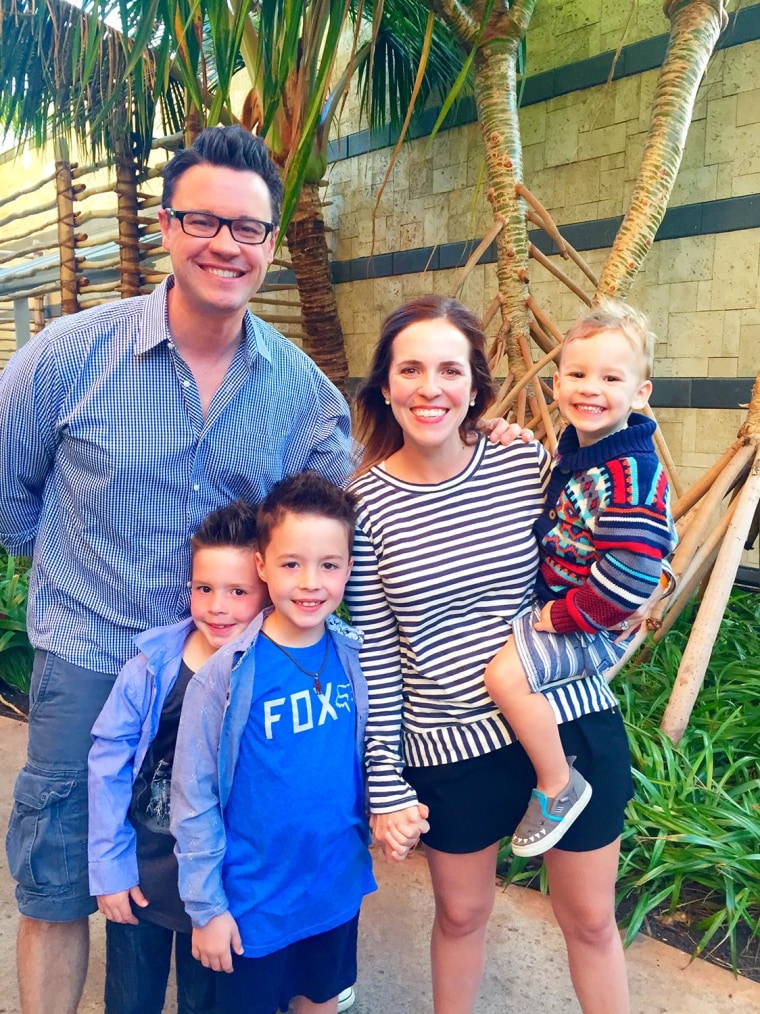 Although most of the comments have been from women, Hollis said men also have spoken up.
"There were so many men who said, 'Whenever I see such marks, I'm reminded of what she did for us,'" she said. "Or a lot of guys who said, 'Just so you women know, we don't even notice that in the photo. We just see a girl on a beach, so stop second guessing yourself."
Hollis said she's glad that the photo she posted, and the message in her caption, reflects the same tone she's always used for her blog and website.
"I'm so grateful that it's a photo that is on brand, because I do post stuff like this all the time and I do speak like this all the time," she said. "If it was a picture of $800 shoes that went viral, we'd be in trouble, because they're never going to see that again!"
Follow TODAY.com writer Eun Kyung Kim on Twitter.