Lauren Hutton is already a style icon 10 times over, but we found ourselves in awe of her beauty even more after seeing her appearance in Calvin Klein's latest underwear campaign ... at 73 years old!
The moody ad shows models and actresses (including Kirsten Dunst and Rashida Jones) posing in the brand's stylish skivvies and ends with the slogan, "Calvin Klein, or nothing at all."
Hutton is featured near the end of the video, lounging on a bed in an unbuttoned silk blouse with a white bra underneath. Later, she's seen standing in the same slouchy shirt, showing off her mega-watt smile.
RELATED: Beyond Brooke Shields: 10 iconic faces you forgot modeled for Calvin Klein
In a separate video that accompanied the campaign, Hutton also tells a story about the pick-up line that actually worked.
"You wanna go for a ride in my truck?" she recounted the man saying. "I mean that was the corniest pick-up line I had ever heard in my life. And it was fabulous ... so I said 'OK, but just one block.'"
Who knew a simple line like that could snag a supermodel!
Hutton's been easing her way back into the world of fashion for years now — and reminding us that classic never goes out of style.
She posed for a few recent J.Crew ad campaigns and walked the runway for Bottega Venetta this past September, showing the current crop of youngsters how a legend struts her stuff!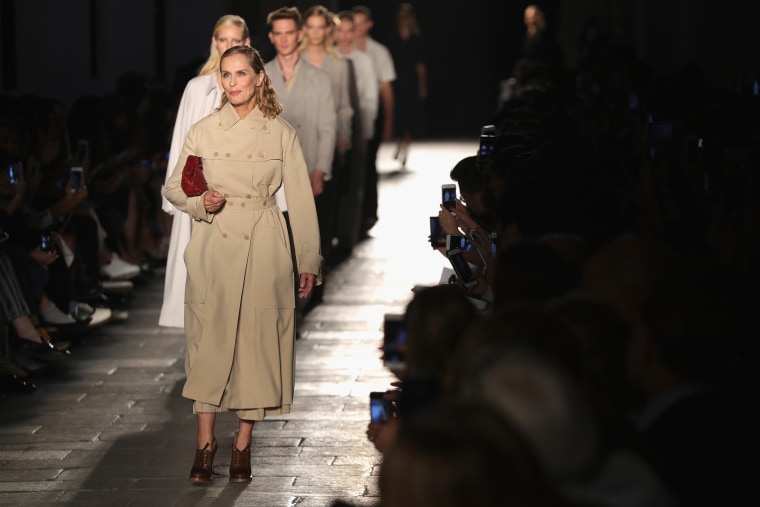 In early 2016, Hutton sat down with TODAY and talked about getting back in front of the camera. She told Natalie Morales that it's "scary."
RELATED: Jane Birkin and other older icons star in new fashion campaigns
"To be a great model, it's practice and it's work but I want to do it because I think it's important for my whole generation of women," she said.
After seeing Hutton's sultry Calvin Klein campaign, all we can say is that 70 is still sexy!