Jameela Jamil is one of our 2018 TODAY Style Heroes. Click here to see the full list!
You may know Jameela Jamil if you're a sitcom fan — her hit show "The Good Place" will soon return to NBC for its third season.
But if you're a true fan, you know that her passion lies beyond the screen. In recent months, Jamil has become a symbol for female empowerment, encouraging women to reconsider what makes them valuable, through her campaign, I Weigh. And here's a hint: It's not their dress size.
Her mission was in part sparked by all the self-loathing she saw on Instagram.
"Everyone is selling these diarrhea teas and these gummy bears that aren't FDA-approved and we don't know what they're doing to our health in the long run," Jamil told TODAY Style. "The people who peddle these products ... they're brainwashed to think that all they should care about is their weight."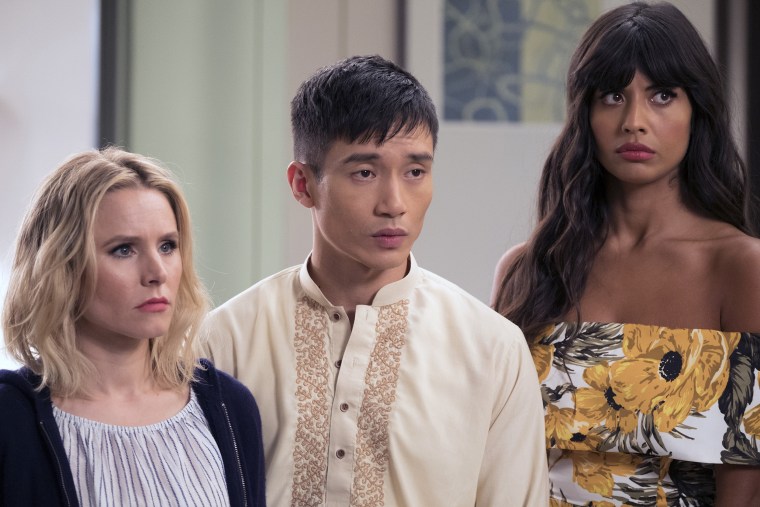 Of course, Jamil is referencing the social media influencers whose sponsored posts may very well be taking over your own feeds. Earlier this summer, Jamil called out Kim Kardashian for a post in which she advertised appetite-suppressing lollipops, calling her a "terrible and toxic influence on young girls."
While the Kardashians are arguably the original and most successful family of influencers out there, Jamil insists her argument isn't about them, specifically.
"It's not just the Kardashians, and this is the problem with every interview I do," she said. "It's all influencers. They're just the best at it. There are so many people in this game promoting weight-loss products and they're being paid a lot of money by these companies to promote an ideal that you should be neurotic about your weight and that having a flat stomach is the most important thing you can think about all day.
"(The media has) pitted me against the Kardashians as if I'm on a one-woman mission to tear that family down," Jamil continued. "We have hurt women like them from the very beginning of time. The media doesn't want to take account of that. The way that people fat-shamed Kim Kardashian throughout her pregnancy — of course she's going to become obsessed with her weight. But what is sad is that she takes that obsession and sells it to other women. I don't even know if she knows that's what she's doing."
A representative for the Kardashians did not respond to TODAY's request for comment on this story.
Jamil pointed out that many of the same magazines and news outlets that have reported on her criticism of Kardashian include advertisements for the very same weight-loss products she's speaking out against.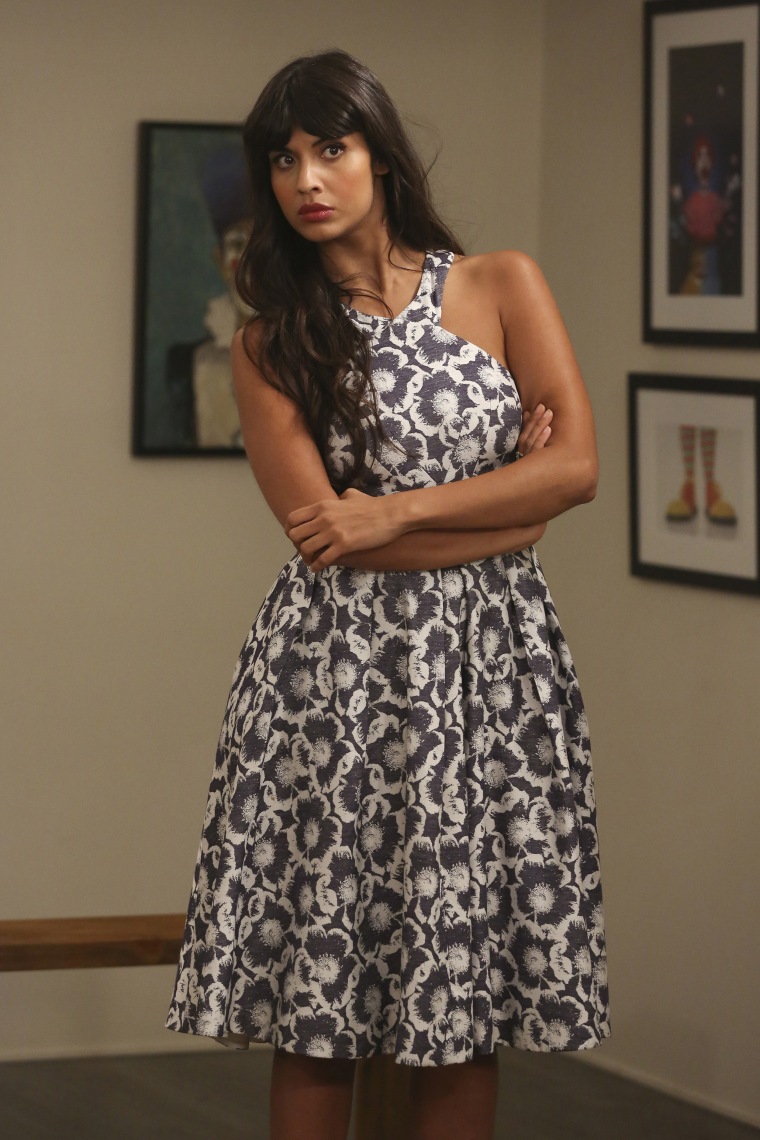 The actress, who grew up in London, said her goal isn't to dissuade women from being interested in beauty and fashion.
"I don't have a problem with women enjoying the way they look," she said. "I enjoy fashion. I enjoy makeup. But that is one small part of me. I'm just saying, don't let that be the only thing you're about, because frankly, that's boring."
It's also dangerous: Jamil herself had a severe eating disorder as a teenager.
"For about three years, I didn't eat a meal, I couldn't menstruate and I would get bed sores," she said. "I thought that was the only way I could ever be worth anything in this world, because that's what society was telling me. It was 'heroin chic.' We were all trying to look like drug addicts."
Even today, the star struggles with society's unrealistic expectations.
If you can't make clothes that fit someone who isn't a size zero, you're not very talented.
"Just the other day, I did a fashion photo shoot and almost none of the clothes they brought fit me," Jamil said. "I'm a U.S. size 6 to 8 and 90 percent of the clothes didn't fit. For the first time ever, I didn't think, 'Shame on me, I better eat less next week.' I thought, 'Shame on them.' I got really pissed. I wasn't a diva about it, but I said it was outrageous that at 5-foot-10, I should be expected to be smaller than a U.S. size 6. We really need a huge shift."
As Jamil sees it, that shift starts with the designers and the magazine editors who feature their clothes.
"If you can't make clothes that fit someone who isn't a size zero, you're not very talented," she said, adding that she admires designers like Christian Siriano, who have made it their mission to design for all sizes.
Jamil launched I Weigh, which she describes as a "rebellion against shame," this spring, after coming across a startling post on Instagram.
"I was in the explore page, which I highly advise against, and I saw a picture of all the Kardashians and it had their weights written across their bodies," she said. "And I saw thousands of comments from girls, some worrying that they were the same height as one of the Kardashians but weighed more. And once I clicked that one post, because of the algorithm, all these other posts came up. I went nuts."
Jamil thought about her own weight, but not in pounds. She considered her achievements, experiences, values and traits, and shared her own post. "I laugh every day, I love my job, I make an honest living," she wrote.
Jamil opened up even further in a second post, writing about her anxiety, eating disorder and depression.
Her post prompted other women, including fellow stars Emmy Rossum, Padma Lakshmi and her "The Good Place" co-star Kristen Bell, to consider their own value and share posts listing their "weight." There were so many submissions that Jamil started an Instagram page to share them all, thus launching her "I Weigh" campaign. She looks at her own list every day.
"I know it sounds silly, but it's honestly changed my life," she said. "It's made me a stronger and more confident person. But I don't just look at my own list. I look at all the other amazing women's lists, people who have survived cancer or the death of a child or lost a leg. You just remember, there is so much more to me than what society projects onto me. Society tells women we can't and I Weigh reminds me that we can, and we must."
Notably absent from the women featured on I Weigh's page? The Kardashians — and any other of the celebrities who are are promoting diet products to fans. And while Jamil is vocal about her criticism online, she said she hasn't had a chance to have a conversation about her concerns with any of them in person.
"I'm not like Tahani," she joked, referencing the name-dropping socialite she plays on "The Good Place." "I don't really hang out with that many famous people."
However, she does believe that celebrities have an important role in changing the conversation around body image and teaching women to value themselves; she urges them to set an example.
"Stop endorsing terrible companies that sell these weight-loss products to girls," she said, sending a message to celebrities with influence. "Stop (retouching) your photos. Stop allowing your photos to be airbrushed in magazines."
After all, she knows the damage people in the spotlight can have on young girls. To her 14-year-old self — or any girls struggling with eating disorders and self-confidence issues — she has one piece of advice.
"Spend less time thinking about having a small waist," she said. "And think about having a bigger brain, a bigger heart and a bigger bank account."