Heidi Klum has no plans to stop modeling anytime soon.
During her visit to "The Ellen DeGeneres Show" on Monday, the 44-year-old supermodel said she doesn't pay attention to critics who say she should step aside to make room for younger models.
"Sometimes people say, you're 44, you're turning 45, why are you not giving the baton to someone else? But I always think there's a lot of women my age, 50, 60, 70," she explained. "What? Do we have an expiration date? Like, can we not also still feel sexy?
"I feel sexy in my skin," she added, as audience members roared their approval.
The "America's Got Talent" judge, who currently appears in ad campaigns promoting her new Heidi Klum Intimates collection, wondered aloud why beautiful women of all ages don't regularly appear in fashion advertising.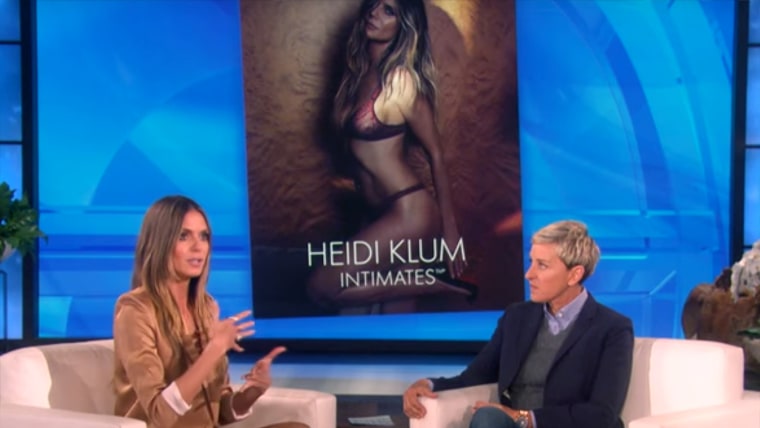 "Why do we always have to see 20-year-olds or 30-year-olds — nothing against 20-year-olds or 30-year-olds in campaigns, but why cannot an older woman also be in a campaign?" she asked to more cheers.
"I'm still doing it," she said defiantly, snapping her finger for added sass.
As the newly single mom of four made her case to DeGeneres, sexy photos of her modeling her collection's bras and panties lingered on a screen behind them.
"As long as you keep looking like that," DeGeneres said, nodding to the stunning pics, "keep going."
Watch the conversation in the video above!