The pressure on Olympic gymnasts isn't limited to nailing the perfect backflip or sticking the perfect dismount. As five-time Olympic medalist Nastia Liukin points out, they're under immense stress to maintain perfect appearances, too.
In an interview with StyleCaster, the former gymnast opened up about the body-shaming she faced after she retired from the sport in 2012. She says that after she stopped competing and gained 25 pounds, the internet became cruel.
"People remembered me as this petite blond gymnast in a leotard, and then I go through the normal body changes and people are like, 'Oh, my God. You're so fat,'" Liukin, 28, said, noting that the shaming didn't stop when she lost weight.
"No matter what, you're still being body-shamed," she explained. "On my Instagram yesterday, someone was like, 'Jeez. When are you going to start eating again?' It's like, 'Trust me. I eat just fine.' I am healthy. That's frustrating. It can put you down. It hurts the same, whether it's one way or another. No matter what, you're never going to be what people want."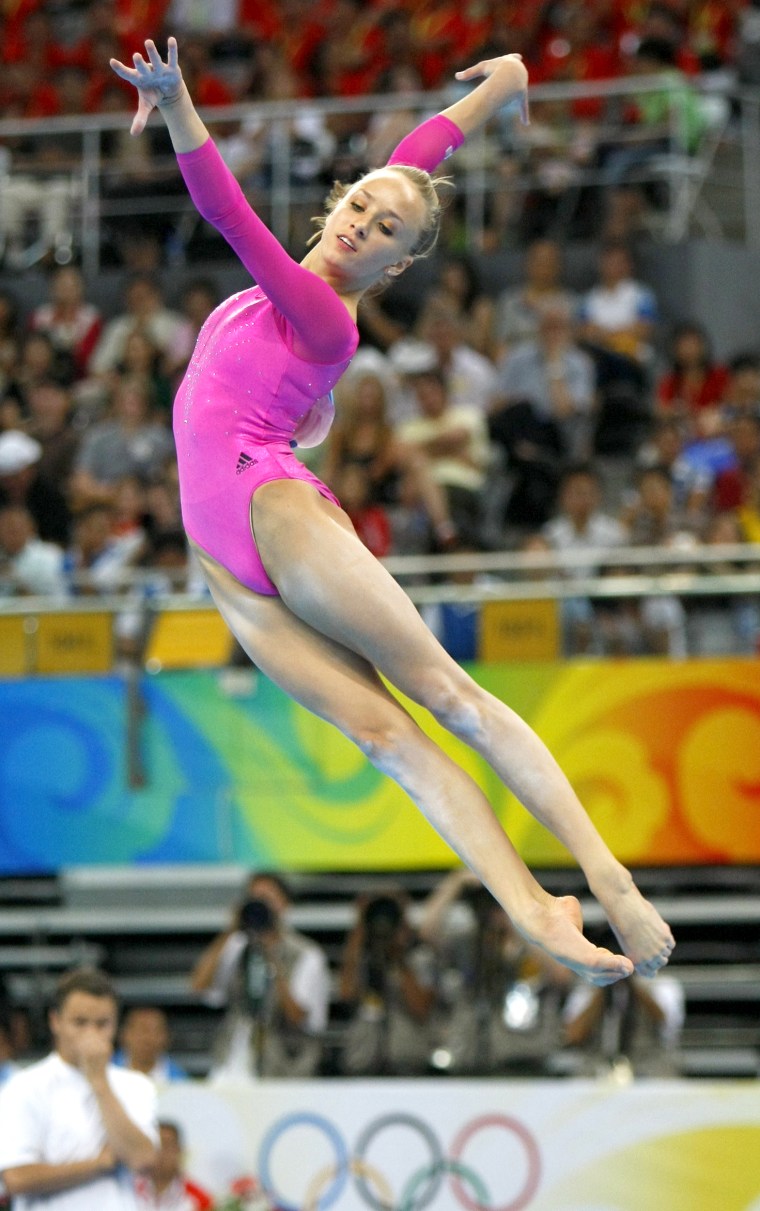 The most frustrating thing for Liukin, though, isn't the back-and-forth critiques over the fact that she's "too" anything — it's the fact that her male counterparts don't have to deal with the same commentary on their appearance from internet trolls.
"I can't remember the last time, to my knowledge, that a male athlete was criticized for his hair," she said. "It's like, 'You're watching it because you love the sport. So focus on the incredible routine that they're doing instead of on their hair or their makeup.' At the end of the day, we're competing in the Olympics because of our gymnastic abilities. We're not competing for our looks. We're not in a beauty pageant. We're representing our country at the Olympics."
During her competitive days, the 5'2" gymnast was also frequently described as "icy" or "b-----" because of her facial expressions, which she found to be overwhelmingly sexist. "When a lot of men compete, they can be serious, but that's not perceived as being b----- or having a b---- face. For a female, it is," she said. "It was hard for me when I was younger because people were like, 'Oh, my God. She seems like a b----.' I was like, 'No. I'm really not. I'm just focused.'"
Even with the immense amount of negativity she's had to deal with, she's found a way to rise above. Her most inspiring takeaway? "It's important to be happy from within. Don't focus on what other people want you to look like or to be or to work on or to say," she said. "If I'm happy with my body, and I know that I'm healthy, I need to stop worrying about everybody else. Happiness is strength."