Forget the filters and "perfect" posts — TODAY Style is getting real! This week is all about being honest, authentic, transparent and, well, real about everything from wrinkles and body image to dressing room anxiety and aging. Use the hashtag #RealWomenHave _____ to share the topic about which YOU want to get real.
At 64, Christie Brinkley is thankful for every hour, every minute and every second of her life.
"I celebrate every birthday. I celebrate every day. I was in a terrible helicopter crash, and I really thought I was dying," she said, referring to a 1994 crash in Colorado. "When I made it through that, I really have looked at every single day of my life as a gift."
To achieve that mindset, the mother of three — daughters Alexa Ray Joel and Sailor Brinkley Cook, and son Jack Brinkley Cook — lives by a simple credo, what she calls an "attitude of gratitude."
"I think that that enters the room first," she said, "and all the rest comes later."
That's not to say that the supermodel, who has her own Christie Brinkley Authentic Skincare line, isn't into maintenance.
"My job expects me to look a certain way. And I'm an older mom, so I also want to look as good as I feel," she said.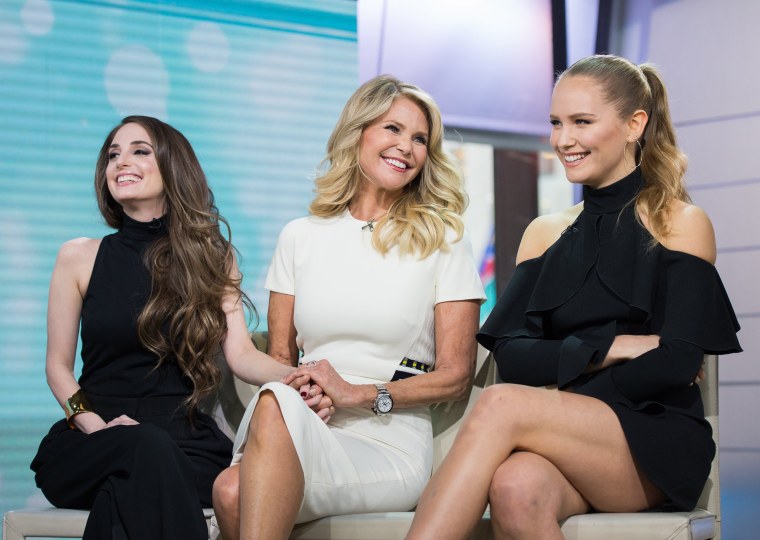 And she's adamant about representation of older ladies in the media.
"I have to constantly be reminding people that my age group matters, that we are relevant, that we want to be represented. I hear women say to me all the time, I don't know what I'm supposed to be wearing at my age because I don't see anybody my age in a magazine. And I always say you should wear whatever you want," she told TODAY Style.
Brinkley has seen positive changes in the modeling industry through the years — noting that models like 69-year-old Maye Musk are changing the game — and is proud that it's becoming more inclusive of ages and body types.
"Look at Ashley Graham, she has really made women feel gorgeous. Where as before our society and our magazines and everything were making women feel like they didn't stack up," . "I think that's really powerful, what's happening."
When she was younger, Brinkley remembers complaining that her legs looked too "jiggly," but her mother wasn't having it, saying, "'Don't you dare, don't you ever let me hear you talking badly about yourself.'"
Now, she's passing on those lessons to her own kids.
She's especially aware of the issues for her daughter Sailor, an aspiring model herself, who recently appeared in the pages of the Sports Illustrated Swimsuit issue alongside her mom and sister.
"Looking back, I realized that at a certain age when you're growing up, you're very, very aware of external demands," Brinkley said. "I look back at old pictures of me, and I can remember standing there feeling like, I'm squirming because I feel like, 'Oh, my hips are too big. Oh, I don't know what to do.' And I look at it now and I go, 'My gosh, I was fine. Why didn't I realize that?' But you see that all the time with young girls. There's more pressure today to look a certain way than there ever was."