Actresses are often praised in the media for making a fast transition from baby bump to big-screen-ready body after giving birth, but two of Hollywood's leading ladies are urging women to accept their post-pregnancy bodies and celebrate what they've accomplished instead.
Anne Hathaway, who gave birth to her first child in March, and Blake Lively, who's currently pregnant with her second, have both spoken out about accepting the changes that come with motherhood.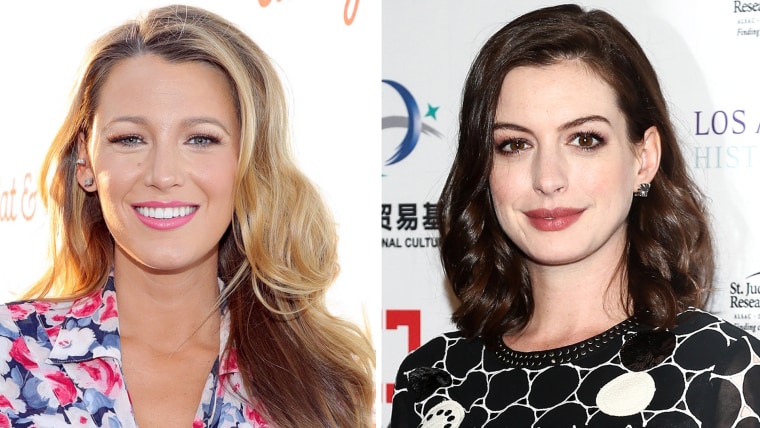 Lively's comments came during an visit to Australian morning show "Sunrise," after an interviewer suggested that those who see her bikini-clad in her upcoming film, "The Shallows," will say that's it's proof of how quickly she bounced back from baby No. 1.
"I know but it's so unfair though, because it's so celebrated," she said.
Lively underwent "a lot of endurance training" to prepare for the movie, which she made eight months after giving birth to daughter James. She doesn't think that's a standard anyone should be cheered for or held to.
RELATED: Blake Lively calls out Instagram moms who make motherhood look easy: 'What?!'
"I think a woman's body after having a baby is pretty amazing," she said. "You don't have to have be Victoria's Secret-ready right away, because you've just done this incredible miracle that life has to offer. You gave birth to a human being! I would really like to see that celebrated."
And Hathaway agrees.
The "Devil Wears Prada" star shared a pic of one of her post-baby fashion choices — a pair of jeans she cut into shorts — and explained why no woman should feel bad about her body.
"There is no shame in gaining weight during pregnancy (or ever)," she wrote. "There is no shame if it takes longer than you think it will to lose the weight (if you want to lose it at all). There is no shame in finally breaking down and making your own jean shorts because last summer's are just too dang short for this summer's thighs."
RELATED: New mom Anne Hathaway tells Ellen why she 'cried a little bit' at the gym
After all, she added, "Bodies change. Bodies grow. Bodies shrink. It's all love (don't let anyone tell you otherwise.)"
Follow Ree Hines on Twitter.