When Amy Schumer was on the press tour for her recent comedy, "I Feel Pretty," she struggled to find outfits she really loved. Leesa Evans, her friend, stylist and costume designer, ended up making a lot of her clothes because the actress had trouble finding items off the rack that felt comfortable and looked great.
Schumer often joked to Evans that she only wanted to wear clothes that felt as light as a cloud.
"(Amy) would always say to me, 'Now, does this feel like a cloud?' And I would laugh and I would say, 'No, it doesn't feel like a cloud, not everything feels like a cloud,'" Evans told TODAY Style. "And she was like, 'Well, what if it did?'"
From there, Le Cloud was born.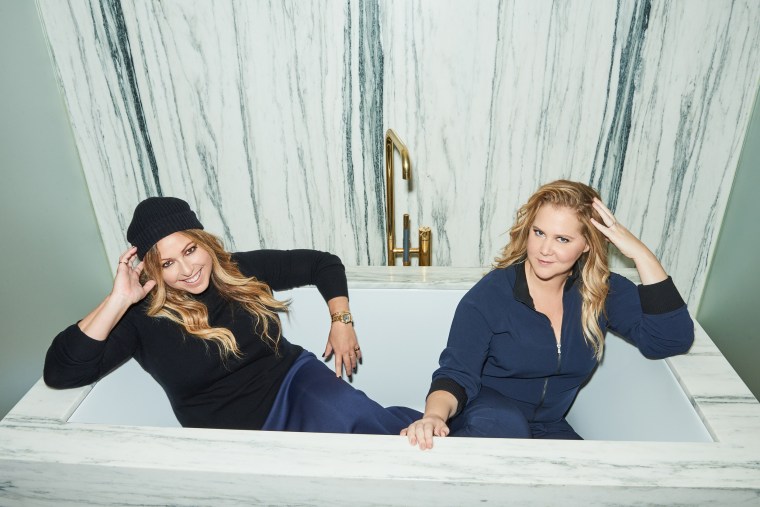 Schumer and Evans decided to design a full collection of comfortable yet stylish clothes that women of all different ages and sizes could wear in their everyday lives.
The 23-piece collection (available on Saks Off Fifth) includes a range of flattering basics that can be mixed and matched easily. The pieces have playful names like Le Sweater, Le Pant and Le Hoodie, and they come in a range of neutral shades including navy, camel, hunter and charcoal.
Le Vee Top, $72, Saks Off Fifth
Prices range from $38 to $248, and sizes range from size 0 or XS to to size 20 or XXL. Schumer also said on Instagram that she and Evans are planning to extend the collection to size 40 "as soon as we can."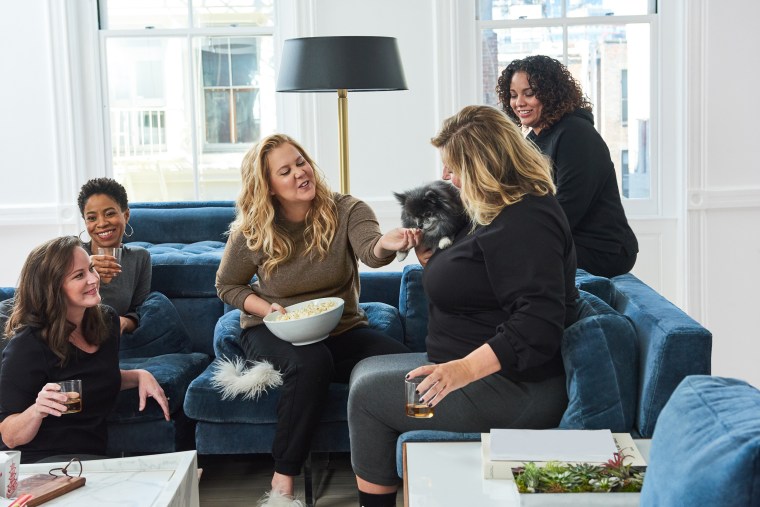 Thirty percent of net proceeds from Le Cloud will support Stylefund, a charity that Schumer and Evans co-founded to give women confidence through their style choices.
For Schumer, the collection reflects her personal journey toward feeling more comfortable and confident in clothes. For years, Schumer felt frustrated with fashion because wasn't sure what kinds of pieces worked best with her body type.
"Amy is somebody who's been very comfortable in talking about how much clothing has been a struggle for her in her life," Evans said. "It was something that she still gets choked up about because it was such a vulnerable thing to her, and it is to so many women."
Evans, who also designed Schumer's costumes for her 2015 comedy, "Trainwreck," helped changed the actress's perspective on fashion. She showed her how to pick out the basic shapes and cuts that would flatter her proportions to create a streamlined silhouette.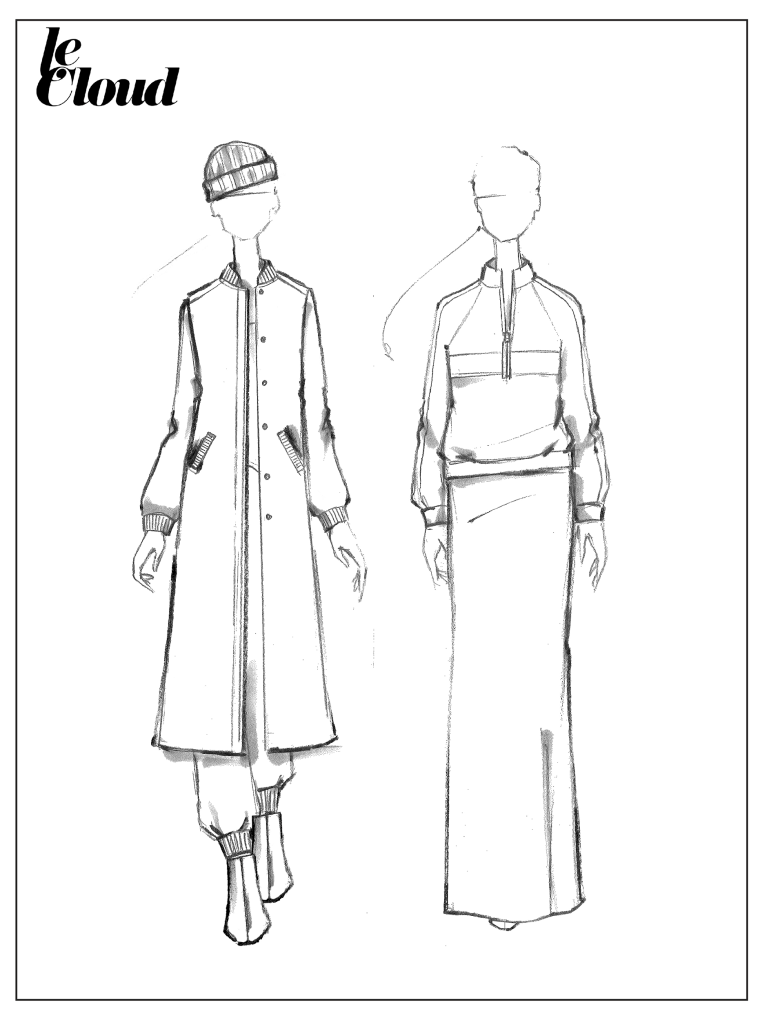 "I just explained that each one of us has our own really unique proportion and it's so much about the shapes that make us feel good," Evans said.
Having that style knowledge made a huge difference for Schumer.
"She was like, 'I feel so much more confident. It doesn't stress me out anymore to get dressed. I actually really enjoy it.' Which is not the norm for the average person," Evans said. "There's a lot of intimidation when it comes to getting dressed."
With Le Cloud, Schumer and Evans want to give other women the same kind of confidence when picking out clothes — starting with figuring out which shapes and cuts that work best for their figures.
"The shapes in Le Cloud are definitely these sort of universal shapes that are incredibly easy to wear for almost anyone. And a lot of that is because the length and the width of certain garments are what create this sort of natural elongation," Evans said. "That's really where we started with Le Cloud … What are the basics that everyone needs for their day-in, day-out lifestyle?"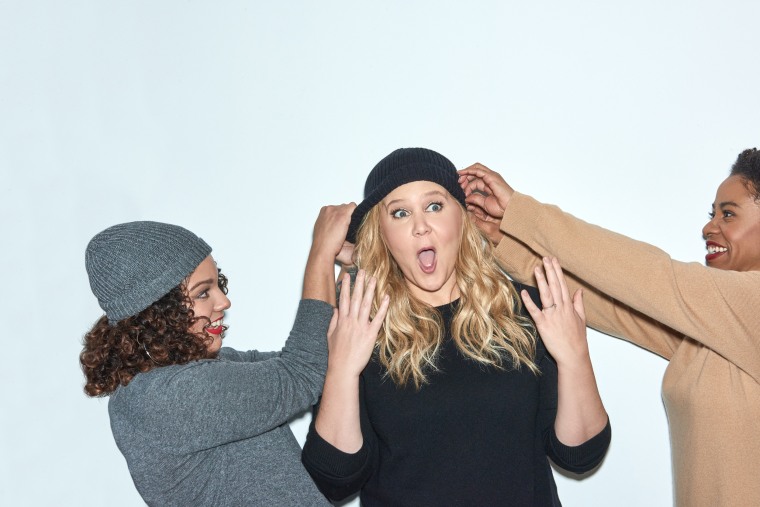 Schumer and Evans also wanted to make every piece in the collection comfortable and versatile for different occasions.
"Amy really genuinely wants to wear sweatpants every day (but) she's aware of the fact that oftentimes that's just not appropriate to go to meetings, dinners and parties and wherever it is that she may be going," Evans said. "So it's really, what's a version of something that feels that comfortable that you can wear anywhere from taking a walk to work, to a party or a dinner, or an event and beyond … Maybe it's a shoe change, really.
"We don't have to have clothes for each thing that we do in our life," Evans added. "We can have clothes that cross over into all areas of our life."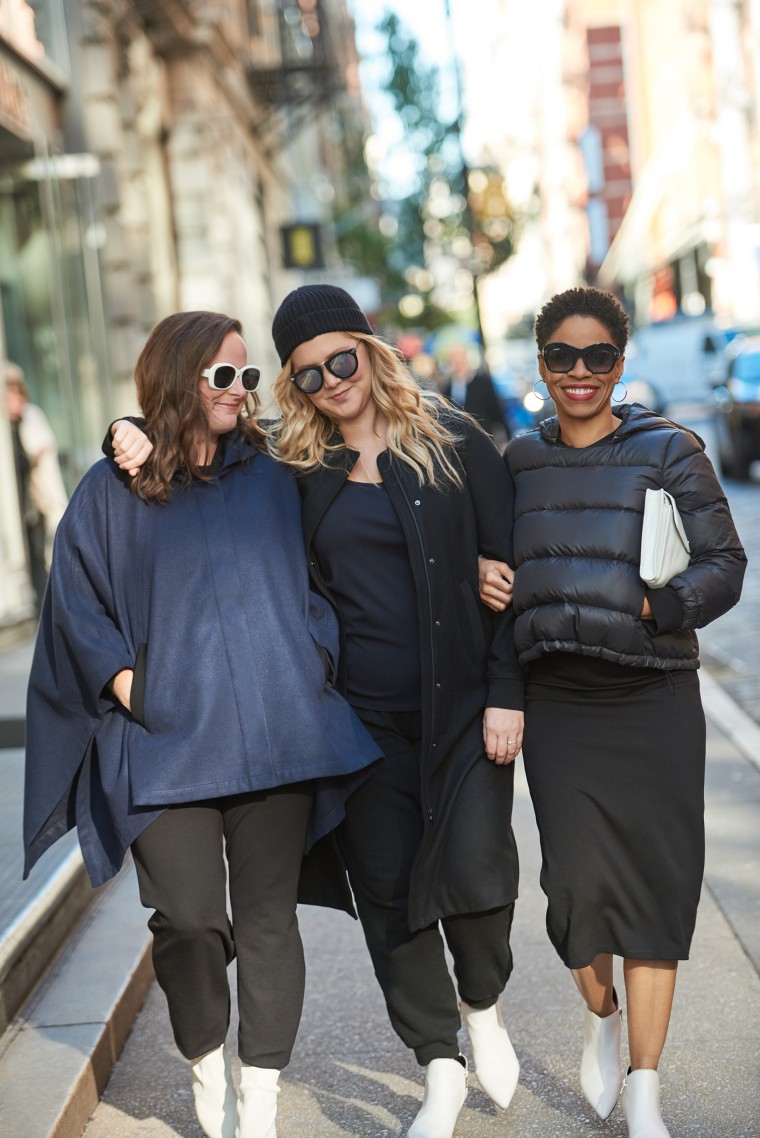 Schumer is pregnant with her first child, and Evans says they may add maternity pieces to Le Cloud down the line.
"We would love to do it all," Evans said. "We're excited to take it to every aspect of where we could take it."
The Le Cloud collection will be available online on Dec. 13 from Saks Off 5th, as well as at Saks Off 5th's flagship store in New York City and the Beverly Connection location in Los Angeles.
For both Schumer and Evans, the Le Cloud line is about a lot more than just clothes. It's a way to help women feel more confident in their style choices, which can translate to other areas of their lives.
"(Amy) just genuinely deeply wants to share it and just say, hey, we're all in this together," Evans said. "It means so much to her and to me that we will be able to, through Le Cloud especially, connect with so many women and just give them a boost of confidence that we all need."