When it comes to body positivity, Alyssa Milano is "the boss" — and she has a refreshing message for new moms struggling to lose the baby weight in a hurry.
"Be kind to yourself," the actress and mom of two told TODAY. "And remember what your body is put on this earth to do, which is nurture, feed, take care of a child. Everything else is sort of irrelevant."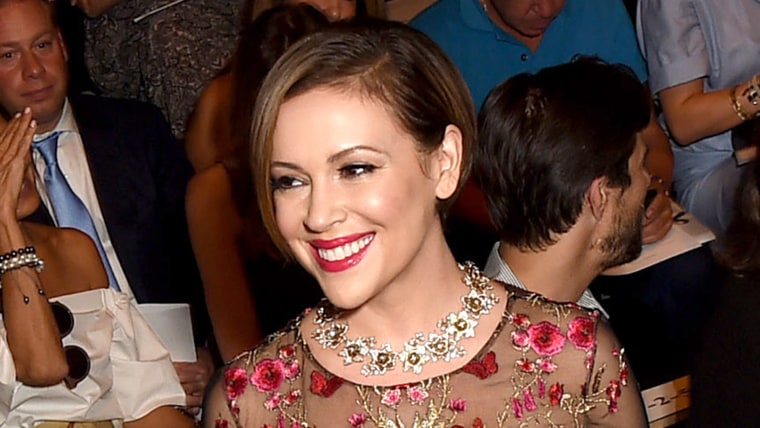 She added, "I do believe that the weight does come off in the right time. I really do. When I gave birth both times, I didn't rush myself to lose the weight, but eventually it did come off. Sometimes it's hard work, but to me, it took such a backseat to being a new mother and what that meant and how special and physically demanding that was alone."
In fact, Milano has embraced her post-baby body.
"I love my C-section scar, because it's where my babies came from," she said.
Milano, who spoke with us at a kickoff event celebrating the latest NFL women's apparel collection for her line, Touch by Alyssa Milano, also opened up about the brand's recent foray into maternity gear.
"I feel like maternity wear, in general, is never really taken seriously as its own fashion category, so really we just tried to do what we do with Touch, which is give the female fan something fashionable and cute to fly the team colors and cheer on their team."
RELATED: Alyssa Milano shares sweet breastfeeding photo for World Breastfeeding Week
As for her own everyday style, Milano explained, "I'm really into clothes that you can throw something on over and completely transform the occasion. So, jeans and a cute top during the day, and then I have an awesome coat that I throw over or put on a great heel. I don't really have time to go home after the gym and change four times a day like I used to, so I like being able to add layers for the next move."
Milano, 43, said becoming a mom later in life made her feel more prepared for parenting, but motherhood still brought surprises, such as "how your capacity to love transforms and it feels like your heart just grows."
However, she does wish people talked more openly about "how hard it is."
"I think the media portrays this very romantic idea of being a mom and we see all these ladies on the white sheets loving their babies and they have on makeup and they look so pretty," she said. "And there's an element of it that's romantic, but it's a very small part. It's a really, really hard job. And I think if more women were honest about that, it would help."
RELATED: Alyssa Milano embraces 'breastfeeding advocate' role on 'Wendy Williams Show'
"People would be able to commiserate more," she continued. "But I think we see how the media and even celebrities portray motherhood and then when it's not like that for us, we feel like we're doing something wrong. We're not as good as. And I think people need to talk about how, not only hard, but terrifying it is."
Milano's son, Milo, and daughter, Bella, recently turned 5 and 2, respectively, and fortunately there's no sibling rivalry — yet.
"They have birthdays that are four days apart, so I did a joint birthday party for them," she said. "And Milo also made sure that if someone was giving him a present that they also had a present for his baby sister, which was very sweet. They're really in love right now, I think because she's young enough that she's not taking his toys yet, so there's no rivalry going on, so they still have that very sweet baby sibling relationship. The only time they ever get into it is if Milo gives her too many kisses, she's like 'ehh.'"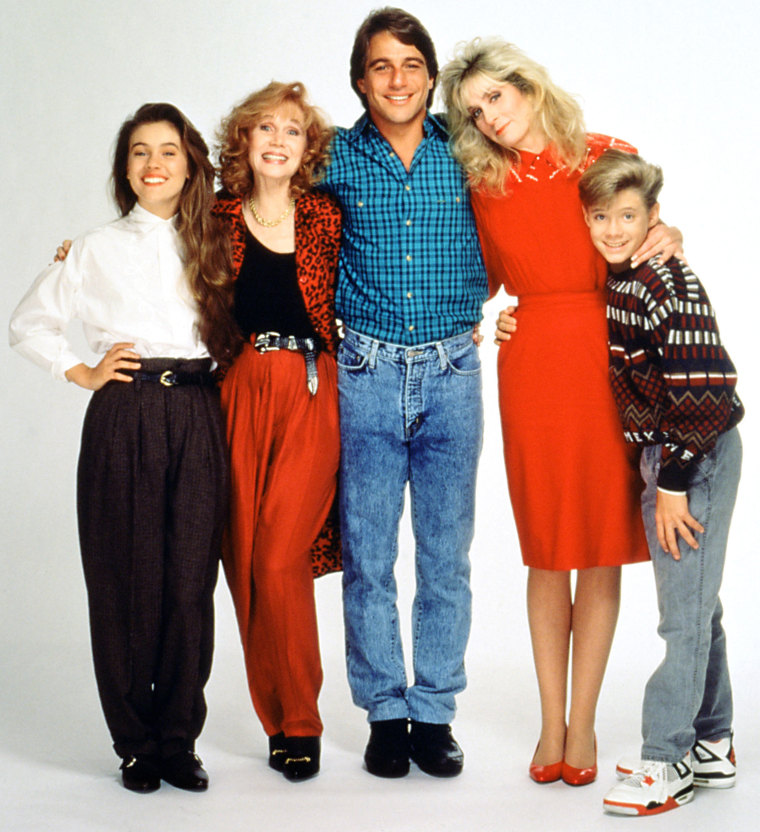 And speaking of family dynamics, who — as fans have long wondered — was really the boss on the long-running sitcom that launched Milano to fame?
"I think that was the beauty of 'Who's the Boss?' — it always shifted," she said. "Right? I mean sometimes it was Tony (Danza) and sometimes it was Judith (Light) and sometimes it was Katherine (Helmond) and sometimes it was the kids. That's why it was a question, 'Who's the boss?' Because it was always rotating and fluctuating, just like in life."
This story was first published on Sept. 16, 2016.