Food trends may come and go but let's face it, when it comes to holiday meals there are several staples that we just can't live without.
Sure, that kale and cheese soufflè might have been a great idea in 2016 ... but everyone still wants a green bean casserole, too. Thanks to Google, we now know exactly what people have been searching for this year when it comes to Thanksgiving dinner.
Ten top chefs stopped by the TODAY kitchen to shed some light on how to prepare and serve some of the most-searched for holiday foods.
1. Turkey
Thanksgiving turkeys can weigh anywhere from 10 to 30 pounds, so it's no surprise that millions of people want to know how they can tell if their bird is actually done. Bobby Flay recommends testing your meat thermometer for accuracy to make sure you don't end up with poultry that's too pink. Check the accuracy of a meat thermometer — especially an old one— by placing it in a large cup of ice and water (half ice and half water) for 10 minutes. It should read 32 degrees. Thermometers are considered accurate if they are within two degrees on the plus or minus side.
2. Gravy
It's all gravy, baby ... except when it's not. Making gravy isn't always easy if you don't know what you're doing but don't worry, Jet Tila has you covered. One of the best ways to easily thicken gravy is to make sure your roux (a mixture of equal parts flour and fat) — or cornstarch slurry (a 50/50 mixture of cornstarch and water) — is cold when adding into a hot stock, or use a hot roux or slurry poured into cold stock. Just think opposite temperatures, either way. Your gravy will be lump free!
3. Stuffing
There are thousands of ways to make Thanksgiving stuffing — or dressing, depending on where you live in the country — but Lidia Bastianich has an easy way to infuse some Italian flavor into your recipe this year: use porcini mushrooms! Add dried mushrooms to a spice grinder and pulverize them as finely as possible. Then use this delicious, umami-packed powder as a dry rub for meats or add it to your Thanksgiving stuffing and sauces for more flavor.
4. Wine
Some like cocktails, other just prefer water to wash down their Thanksgiving feasts, but plenty of hosts will be serving wine. It's not easy to keep everything at the ideal serving temperature with so many dishes and drinks on the table but how do you keep whites cold without committing the ultimate faux pas by adding ice to your glass? Joe Bastianich recommends chilling wine with frozen cranberries! They look festive and they won't dilute a good vintage. Just throw a few bags in the freezer on Thanksgiving morning and you'll be good to go by (early) dinner time.
5. Cranberry sauce
There are so many ways to prepare cranberry sauce that it can actually be pretty overwhelming. But if you don't have enough to go around and all the stores are closed, what should you do? Sunny Anderson recommends adding some dried fruit to jazz up the tangy red side. Dried cherries, cranberries, chopped apricots, chopped bits of apples, and raisins all work well. While your cranberry sauce is cooking on low, you can add any of the dried fruits to plump up your condiment while the sauce cooks. Not only does this tip use leftover pantry items to extend the yield of the sauce but it adds another layer of texture.
6. Brussels sprouts
Brussels sprouts are fast becoming a major Thanksgiving staple in large part because they're so incredibly versatile. Whether you like them roasted or pan sautéed, Brussels sprouts always taste good with a little extra salt. That's why Geoffrey Zakarian recommends saving any fat from cooking bacon to cook your sprouts. The smoky richness will ensure this fan favorite tastes great ... all from something you'd normally throw away!
7. Green beans
Green bean casserole is undoubtedly one of the holiday's most popular veggie sides. But all recipes are not created equal. Alex Guarnaschelli recommends adding a pinch of baking soda to salted, boiling water. Why? It makes for super green green beans. Cook them for just 2-3 minutes, rinse under cold water and drain. Now they're ready for use in casseroles or you can just serve nice and hot.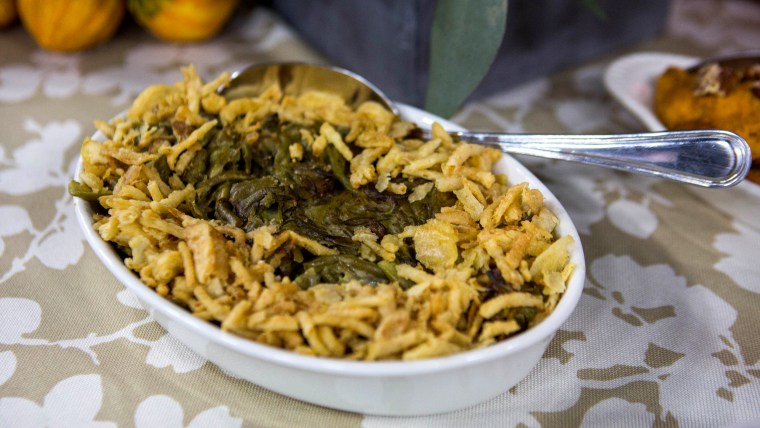 8. Mashed potatoes
Thanksgiving just wouldn't be Thanksgiving without creamy mashed potatoes. But mastering this comfort food isn't as simple as it seems. Michael White to the rescue! This award-winning chef recommends using a baking rack to skin potatoes for easier prep time. To make yours extra-creamy, select similarly sized tubers and boil them whole in salted water with the skin on. When they are fork tender, drain, let cool slightly and cut in half. Place a baking rack over a pot and place the cut side of the potato face down. Then, using a clean kitchen towel, push down on the skin side of the potato —the meat will go through and not the skin. Genius!
With this method, you limit the amount of extra water that the potatoes absorb, ensuring they won't get thin when mashed.
9. Pecan
With their naturally roasted flavor profile, pecans make a wonderful addition to plenty of holiday dishes but let's face it, they're best served in a sweet and creamy pecan pie. But with all the turkey and side prep you've got to do, sometimes dessert can be a challenge. Chef JJ Johnson recommends jazzing up a store bought pie (think outside the box — mix it up with pumpkin, apple or even sweet potato!) with delicious mixture of caramelized sugar and roasted pecans.
10. Pie
From pecan to pumpkin, apple to sweet potato, it just wouldn't be Thanksgiving without pie! Since we love all types of pie, we would never advise choosing just one to end your holiday meal but whatever you're serving deserves a good base. Chef Laura Vitale knows a good pie starts with a great crust. For a beautiful flaky crust, use frozen sticks of butter, grated with a box grater, to make a spectacular dough. This allows for the ideal distribution on pockets of butter in the crust which is what makes a good pie crust flaky and buttery.