Here's a little something to be thankful about this Thanksgiving: the price of a classic American Thanksgiving dinner is actually cheaper than it was last year.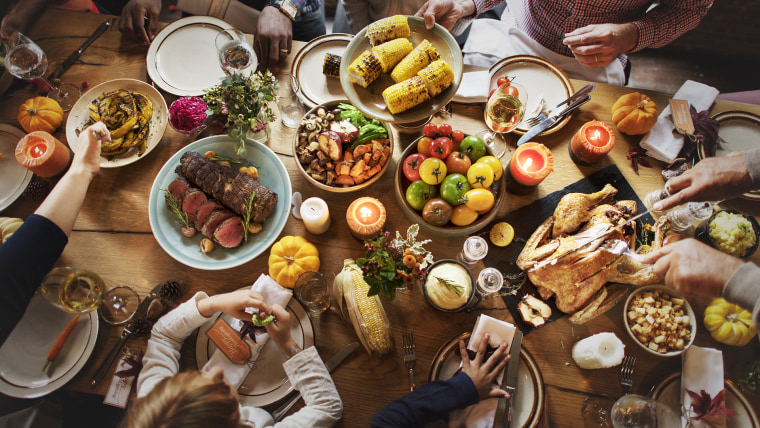 According to the American Farm Bureau Federation's annual study, the average cost of a full meal for 10 diners will be about $49.12 — 75 cents less than last year. That's less than $5 a head!
This year, the federation had 141 volunteer shoppers in 39 states go out and buy staples for a Thanksgiving dinner for 10 people (plus leftovers) — without using any coupons or promotions.
The feast purchased included a 16-pound turkey, stuffing, sweet potatoes, rolls, green peas, cranberries, a veggie tray, pumpkin pie mix, pie shells, whipped cream, milk and some additional staples like butter.
If you're giving your holiday table the full Martha Stewart treatment — or just happen to be living in New York City or Honolulu — this number probably is not realistic. And while some have suggested that the amount of food covered at this price wouldn't actually satisfy 10 people, the AFBF has been conducting this informal survey for 32 years, so it offers a useful point of comparison. The peak price was in 2015, when the meal cost $50.11 but that has steadily gone down the last couple of years.
This year, the price of turkey is down to by two cents per pound, thanks to a high inventory of frozen birds, says John Newton, the American Farm Bureau Federation's director of market intelligence. The survey found that the average cost of a 16-pound bird is a little over $22.
"Even as America's family farmers and ranchers continue to face economic challenges, they remain committed to providing a safe, abundant and affordable food supply for consumers at Thanksgiving and throughout the year," Newton said in a statement.
Just because you're trying to save money doesn't means your spread needs to be boring. Check out these tips for dressing up store-bought items and affordable wines to wash it all down!