It sounds like free money, and who couldn't use some of that this holiday shopping season?
But 28-year-old firefighter Dustin Werner learned the hard way how unpaid store cards debts ding your cheer.
When his ex-fiancée broke off their engagement six years ago she took all the home goods with her. He found himself without a bed or pots and pans. He quickly racked up thousands replenishing his nest across three store cards from Bed Bath & Beyond, Sears and Best Buy.
"I wasn't really thinking about the future and how to pay them off," said the father of four from Dallastown, Pennsylvania. "More like how to cook things in the kitchen and sleep." At first he made his monthly payments, then he stopped keeping up as his new life got underway.
Now he has new wife, a growing brood of children, and they'd like to buy a house. But the old cards are in collections, damaging his credit. Until they get the debt from the cards straightened out, there's pretty much no point in trying to get a mortgage.
Werner tries to not let it bother him and said it doesn't hurt them in everyday life much. It doesn't stop them from buying groceries. But they're largely on a cash-only basis.
"It's something I knew I'd have to take responsibility for," said Werner. "It's just money. And when you die, you don't have any of it."
Experts warn that the store credit cards like the kind Werner signed up for may entice with offers of 10 to 20 percent off for signing up, or several months of zero interest, but can have hidden dangers.
CreditCards.com points out in a new report that these cards can carry interest rates several points higher than the national average APR for credit cards.
That means if you don't pay them off right away, any potential savings will quickly be wiped out by higher interest.
"If you get a 20 percent discount but are paying 25 percent interest rate, that doesn't make a whole lot of sense," said CreditCards.com senior analyst Matt Schulz.
Their survey found Zales store credit cards have the highest interest rates at 28.99 percent, almost as high as the highest penalty rate credit card companies charge when you fall behind on your bills.
The jewelry store was followed by Staples at 27.99 percent and about a dozen cards that had interest rates at 26.99 percent, including JCPenney, Toys R US and DICK'S Sporting Goods. And two-thirds of all cards they looked at had APRs of 19.99 percent or higher. In contrast, the national average for non-store credit cards is 15 percent.
The complete list of the highest interest rate cards includes:
Zales Jewelers credit card: 28.99%
Staples personal credit card: 27.99%
T.J.Maxx Rewards Credit Card: 26.99%
T.J.Maxx Rewards Platinum MasterCard: 26.99%
JCPenney credit card: 26.99%
Toys R Us credit card: 26.99%
Toys R Us MasterCard: 26.99%
DICK's Sporting Goods credit card: 26.99%
DICK's Sporting Goods MasterCard: 26.99%
GameStop PowerUP Rewards Credit Card: 26.99%
Maurice's credit card: 26.99%
Lane Bryant credit card: 26.99%
Catherine's credit card: 26.99%
Justice credit card: 26.99%
The Home Depot Consumer credit card: 17.99-26.99%
Apple Rewards card from Barclaycard U.S.: 13.99-26.99%
"There are many benefits of being a Zales Credit Card member," said Kim Kanary, a spokeswoman for Zales corporate owner Jewels. She said that while its cards' interest rates can range from 23.73 percent to 28.99, the store also offers no-interest plans and the "vast majority" of its cardholders choose the latter.
Meanwhile, Staples spokeswoman Carrie McElwee said the store offered three different cards with "varying annual percentage rates depending on the type of card and customers' creditworthiness."
The industry too asserts the cards, especially those with deferred interest promotions, are a valuable and useful tool for customers who use them wisely, and that most play it smart.
"These programs provide consumers the ability to pay and avoid interest and are provided at no cost," said Nessa Feddis, a senior vice president at the American Bankers Association, a banking trade association. But you need to go in "with eyes open" and "understand the product terms," she said.
Feddis pointed to a 2013 report by the Consumer Financial Protection Bureau which found that 80.2 percent of all credit card users, of which store cards are a smaller part, pay off their balances in full before the promotional period ends. That means they essentially got a "free loan."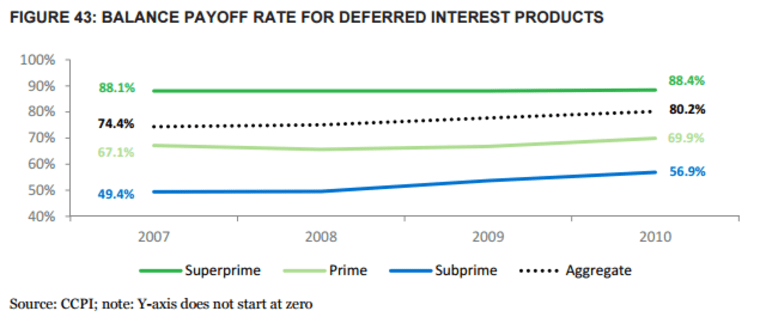 However, of those with poor credit, the type that might be more tempted by an instant line of credit offered at the checkout counter, only 56.9 percent paid off their cards before the zero interest period ended. That means they then started racking up interest.
Consider a store credit card with the average interest rate for store credit cards of 23.43 percent. If you carried a $1,000 balance and only made minimum payments, by the time you paid it off you would pay nearly double what you initially charged. In total it would take 72 months to pay off and cost you $837.75 in interest
In comparison, a credit card with the national average for credit cards of 15 percent interest would only cost $370.46 and take 54 months to pay off under the same scenario.
To be sure, those who pay off their cards right away can take advantage of the discounts and deals. But stores are banking on the fact that many won't.
"It's incredibly important to not be pressured into making bad choices," said Schulz.