Even the most seasoned cooks can use a little help when it comes to the larger-than-life task of putting together Thanksgiving dinner. So we asked some top chefs and cooking experts, including Giada De Laurentiis, Adam Richman and Curtis Stone, to share the cooking and serving tools they swear by to make the holiday easier — and less stressful.
These 10 tools — some of which you probably already have in your kitchen — might surprise you. Bonus: All but one of these gadgets cost less than $50! And there's even one that's totally free.
TODAY has affiliate relationships, so we may get a small share of the revenue from your purchases. Items are sold by the retailer, not by TODAY.
Roasting Rack
For Leah Cohen, chef and co-owner of New York City's Pig and Khao and Jersey City's Piggyback Bar, a roasting rack is an essential tool for the best Thanksgiving turkey. "It is important because you don't want to place the turkey directly onto the pan because you want airflow for even cooking and browning," she says. "With a roasting rack, you can also add vegetables at the bottom, which will help make for tastier gravy at the end."
Norpro Adjustable Roasting Rack, $7, Amazon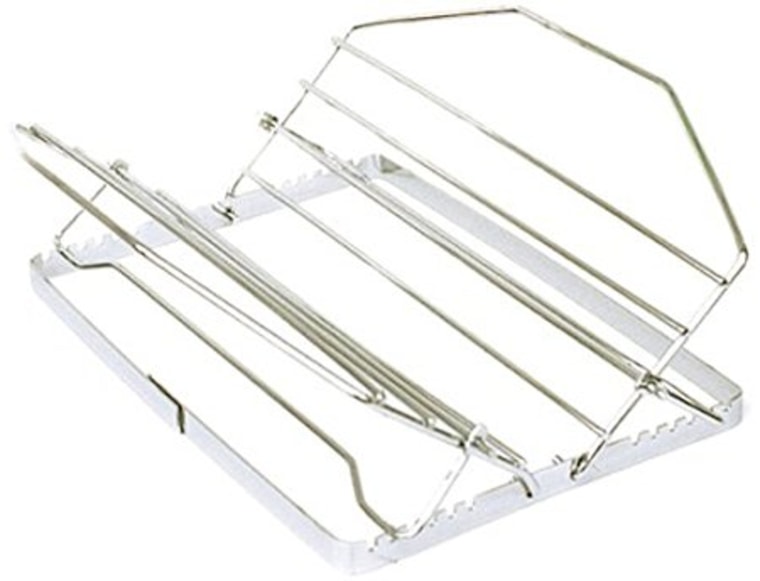 Cohen has used a variety of racks as a chef but there are plenty of different types on the market. You can spend more on a roasting rack, but we recommended this adjustable rack that will get the job done for less than $10. Plus, it folds down flat for easy storage.
Enameled Dutch Oven
"My must have is an enameled Dutch oven," says Megan Keno, author of "Cast Iron Gourmet." "They are perfect for cooking and serving all in one, meaning less dishes and less fuss. They match any decor, and with the color selection you can find one to fit your table!"
Lodge Enameled Cast Iron Dutch Oven, $50, Amazon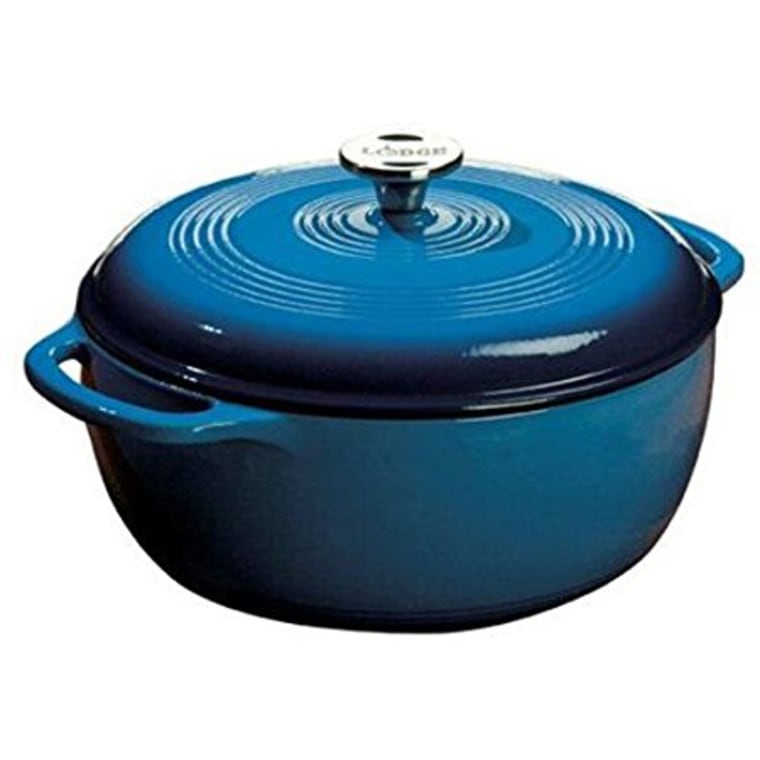 Keno recommends the Dutch ovens made by Lodge, which she says are economical and well made.
Digital Thermometer
"My thermometer is the first tool I reach for around the holidays," says chef Curtis Stone. Many other chefs we checked in with said a meat thermometer is a must-have for their holidays, too.
Stone added, "It takes the guess work out of knowing when the turkey, ham, and roast beef dinner are done to perfection — so no more dry turkey or leathery beef. Unlike ordinary thermometers, though, I prefer one that is digital and preset to various doneness based on the meat type. This way, I can set the doneness I want — from well to rare — and insert the probe into the raw meat, roast away, and the thermometer will beep when the meat has reached perfect doneness."
ThermoWorks ThermoPop Digital Thermometer, $30, ThermoWorks.com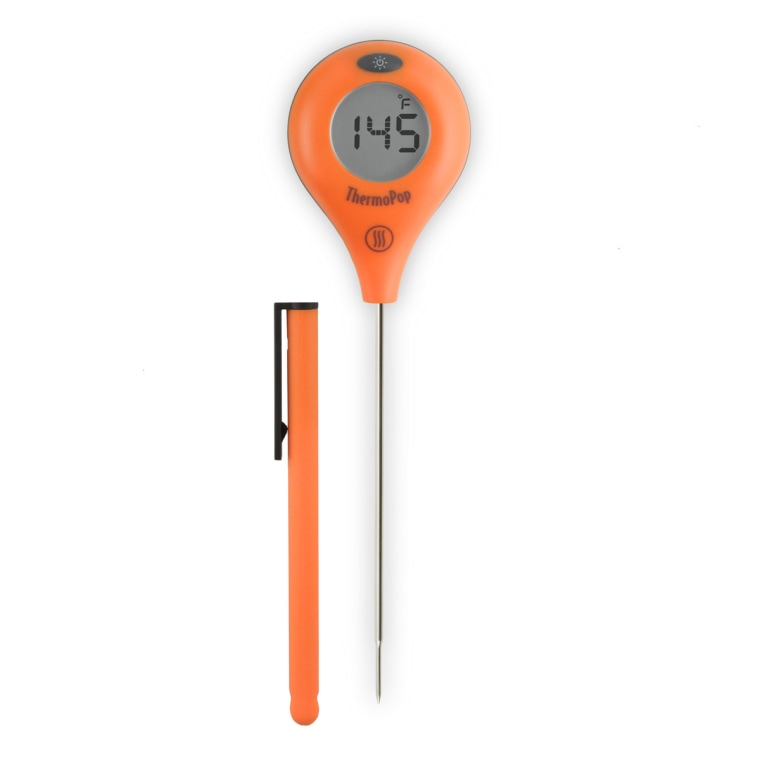 TODAY recommends this cute and inexpensive thermometer which gets top ratings from several sources, including the Wirecutter. And it comes in ten colors! If you're looking for something a little cheaper, the "Modernist Cuisine" team (authors, most recently of "Modernist Bread"), agree that an instant read digital thermometer is a must-have and say you can find a good one for $10 to $20 at any kitchen supply store or an upscale supermarket.
Immersion Blender
When it's time to put together his Thanksgiving meal, TV personality and author of "Straight Up Tasty," Adam Richman, reaches for his immersion blender (aka a handheld stick blender).
"I use it to make sauces, mix my mashed potatoes, blend my gravy, break down those awesome vegetables that have been roasting alongside the turkey to add them to my gravy or other sauces, and purée apple or cranberry sauce to a smoother consistency," says Richman. "I have even used it to make boozy bourbon milkshakes after the meal or as an alcoholic drink to be sipped with the meal."
Lots of bonus points for the fact that an immersion blender allows you to puree hot liquids (like butternut squash soup) directly in the pot instead of needing to transfer them to a traditional blender.
Hamilton Beach 2-Speed Hand Blender, $21, Amazon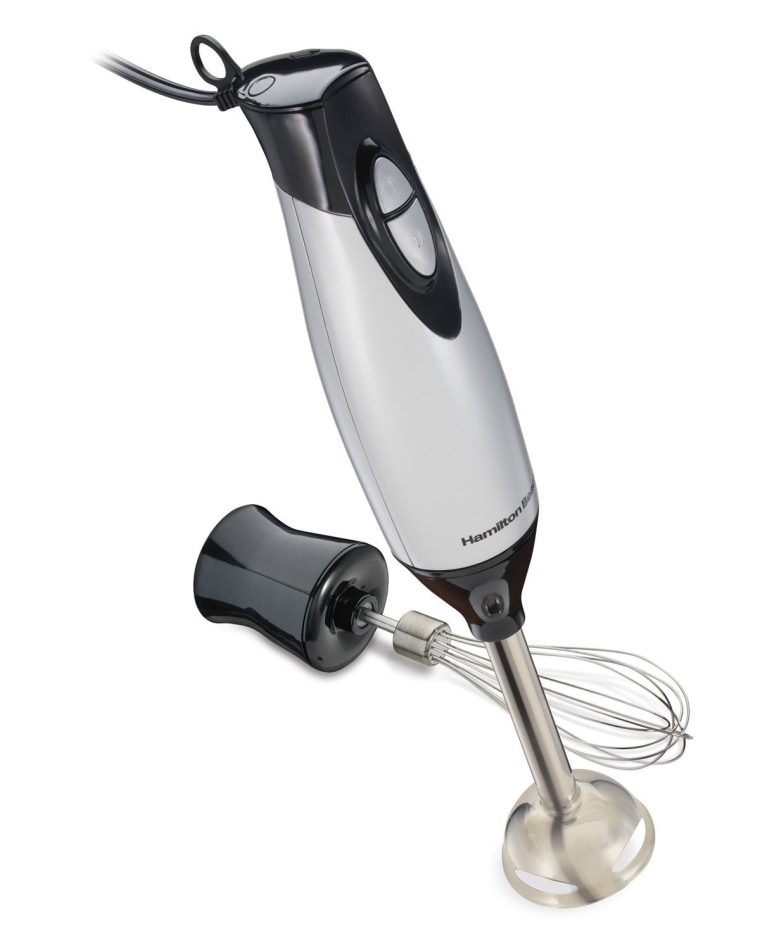 If you're just starting out with a handheld blender, we recommend this inexpensive model which has lots of positive online customer reviews and it comes with a useful whisk attachment.
Food Mill
For the perfect mashed potatoes, Leah Cohen's go-to tool is totally low-fi: a stainless food mill or potato ricer. "It makes it faster and easier to prepare smoother mashed potatoes," she says. Plus, because a food mill or ricer breads down the mashed potatoes quickly, they don't get overworked and gummy, she says.
Oxo Good Grips Stainless Steel Potato Ricer, $25, Amazon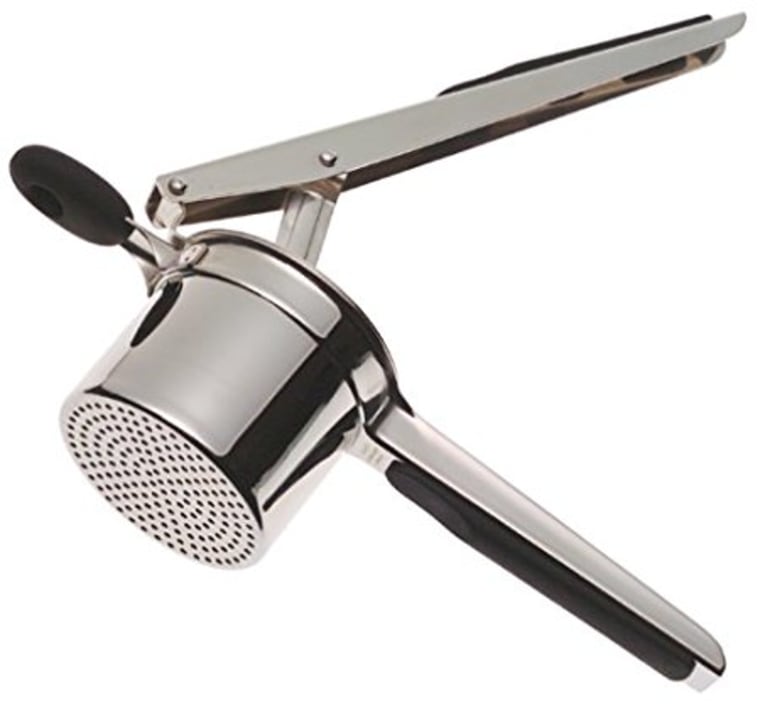 Oxo is known for its ergonomic designs, so you can make a big batch of mashed potatoes without hurting your hands with this Amazon best seller.
Marinade Injector
A marinade injector might look kind of scary, but it's the secret to a juicy and flavorful turkey, says chef, TV host and cookbook author Gabriele Corcos, whose latest book — coauthored with his wife, actress Debi Mazar — is "Super Tuscan."
"I love it because it allows me to create an even, juicy texture in any meat," Corcos told TODAY Food. "For example with turkey, I inject more juice in the breast than in the leg, so the white meat come out super-tender." Corcos doesn't put the injector away after Thanksgiving, though. "I also find it great when cooking stuff like a Barolo pot roast, where I can inject wine directly inside the meat before cooking it," he says.
Boone Hearth Automatic BBQ Marinade Injector, $50, Amazon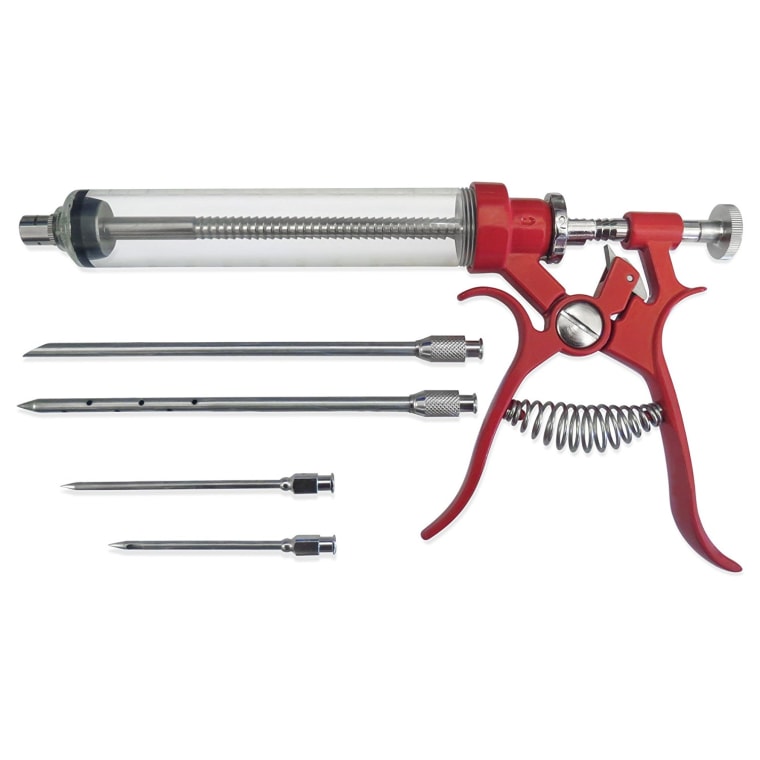 Corcos is partial to this marinade injector from Boone Hearth and he doesn't just stash it away after Thanksgiving, though. "I also find it great when cooking stuff like a Barolo pot roast, where I can inject wine directly inside the meat before cooking it," he says.
Slow Cooker
Two Food Network stars, Giada De Laurentiis and Sunny Anderson, swear by their slow cookers for the big day.
"It is perfect for keeping plenty of gravy, mashed potatoes, stewed vegetables or any side dish warm," says Anderson. "I have plenty of small ones I use for sauces and the large ones I use for the sides."
A slow cooker "also frees up burner or oven space, and things like soup can be served straight from them," De Laurentiis adds.
And don't forget about the part of Thanksgiving day many people spend watching football, says Anderson. "I've even filled one with shredded turkey and a bit of stock to stay warm and moist throughout the game for constant plate filling," she says.
Crock-Pot 6-Quart Programmable Cook & Carry Slow Cooker, $32, Amazon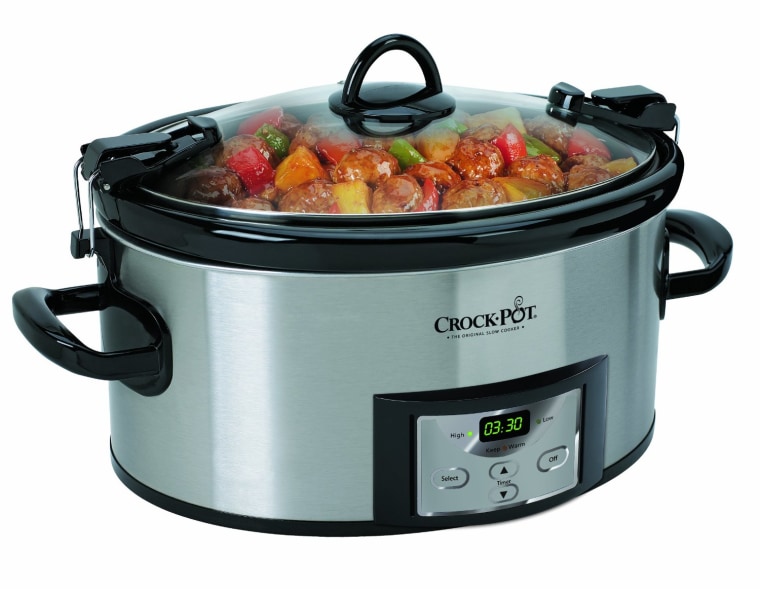 This portable Crock-Pot, which TODAY named among the best slow cookers on the market right now, is perfect for serving sides or taking to a potluck.
Spoonula
Giada De Laurentiis has previously raved to TODAY about GIR's mashup between a spoon and a spatula. She uses the silicone multitool year-round to scramble eggs and get every bit of cake batter from the bowl and, come Thanksgiving, she really puts it to work. "I am a stickler for 'waste not, want not' and with a spoonula you get every last bit of mashed potatoes from the pan," she says. "Or pie filling, or cranberries ... the list goes on and on on Thanksgiving!"
GIR Spoonula, $13, Amazon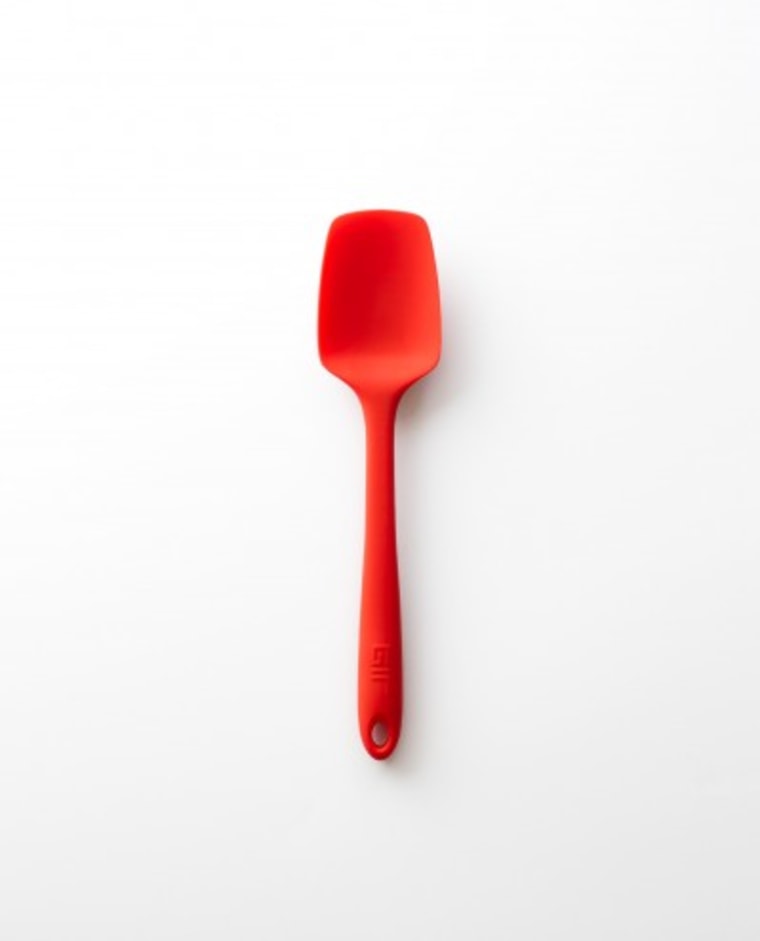 The GIR Spoonula recommended by De Laurentiis is dishwasher safe and comes in a variety of bright colors.
Disposable Chafing Dishes
"Disposable chafing dishes with Sternos are great for holding food," says Leah Cohen. "There is never enough space in your oven, especially on Thanksgiving. You can cook the dishes that will hold well ...mashed potatoes, mac and cheese, stuffing, etc ... then you'll have room to cook the vegetables and finish the turkey in the oven while everything else stays hot."
Sterno 24-Piece Disposable Party Set, $24, Amazon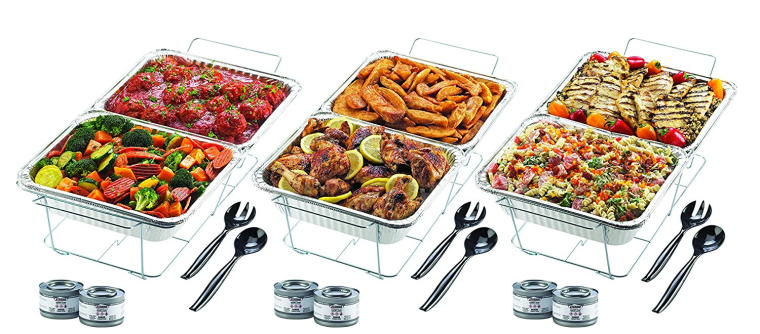 If you are entertaining a crowd, you'll appreciate this set, which includes wire racks, water pans, food pans, cans of Sterno fuel, serving spoons and serving forks. And you can toss it all (or preferably recycle it) after Turkey Day.
Big Green Egg
TODAY viewers know that Al Roker is a big fan of the Big Green Egg, a ceramic cooker that can be used as a grill, oven or smoker. And Justin Severino, chef at Pittsburgh restaurants CURE and Morcilla, says the cooker is a must for his Thanksgiving. Why? "Because smoked turkey is better than anything else," says the chef.
Plus, cooking your turkey in a Big Green Egg (or on your regular grill), frees up room in your oven for all your favorite sides and desserts!
Large Big Green Egg, prices vary, BigGreenEgg.com

Big Green Egg prices vary and they aren't available for sale online. Check out their website to find an authorized retailer near you.
And if you're not really into gadgets...
While ponying up for a few of these tools might make your Thanksgiving easier, if you ask legendary chef Jacques Pepin, the very best cooking tool is already in your possession at all times.
"My best tool is my hands," says Pepin. " I tear, squeeze, strain, shred, plate, portion with 'it' and it is free."
So if all else fails before turkey day, don't be afraid to get those paws a little messy.