Gifts for best friends, loved ones and party hosts are always the most difficult to find if you ask me!
You spend hours racking your brain for something special they don't already own that also shows you've put thought into it.
Well, no need to panic this time around! I've got three DIY ornament ideas you can make at a moment's notice without breaking your budget.
I've been really cautious of my spending recently and working to keep my beauty and home decor buys less than $20. So if you're also on a tight budget, these ideas may work for you!
In this episode of "Change for a $20," I visited a Michaels store (but any local crafts shop will do!) and picked up a few items, combined with some I already had at home, to make three different holiday ornaments you can gift this season.
1. Snowy car ornament
This cute holiday gift is easy to make, especially if you aren't the most crafty!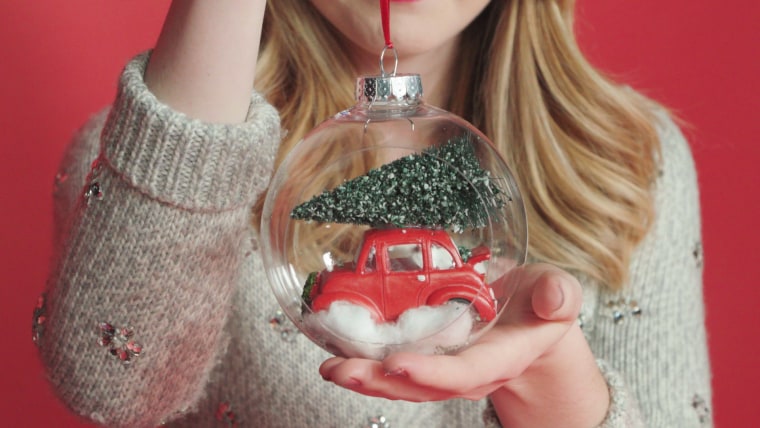 To create the snow globe effect and make it look like a winter wonderland inside, take cotton balls and break them apart before adding to the base of your ornament.
Pro tip: Find a plastic ornament that has an open back. It will make maneuvering decorations in and out much simpler!
With the magic that is hot glue, add a fun little car and fake tree to complete the look. I bought both of these during my trip to the craft store.
2. Drum ornament
Here's a simple idea that starts with one thing you surely have at home: paper towel rolls!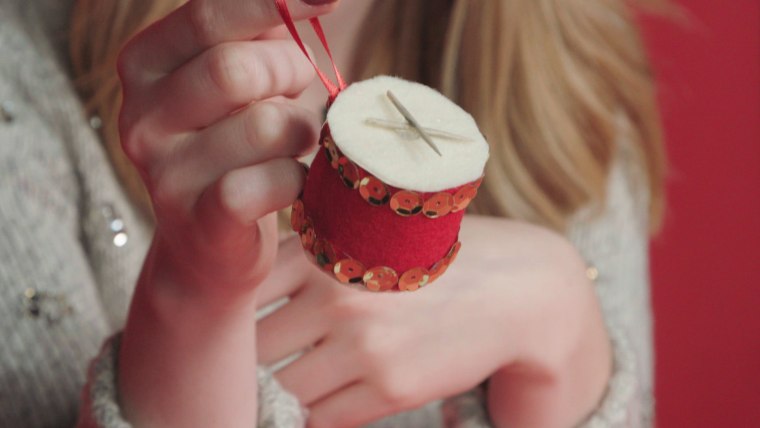 Start by cutting off a 1-inch section of the roll, using a serrated knife to cleanly cut the cardboard and following the lines as a guide.
Pro tip: Glue the ribbon (that will be used to hang your ornament) to the paper towel roll before you do anything else!
Next, glue a piece of felt around the outside to cover the roll and seal the handing ribbon in.
Using your cylinder as a stencil, trace a piece of poster paper twice and cut the pieces out. Do the same onto a white or cream piece of felt. This will be used to create your drum.
Glue your poster paper circles onto either side of your drum followed by the felt. Clean up any rough edges before moving on!
To dress up my drum, I outlined the top and bottom with sequins! But you can also use glitter or gems for a similar effect.
Lastly, break two toothpicks in half and paint each piece in silver. Cross them and glue to the top of each side of your drum to finish the decoration!
3. Marbleized nail polish ornament
If you want to really nail the gift for that person who is always hardest to shop for, I've got you covered! This ornament is the simplest and cheapest to make of the bunch.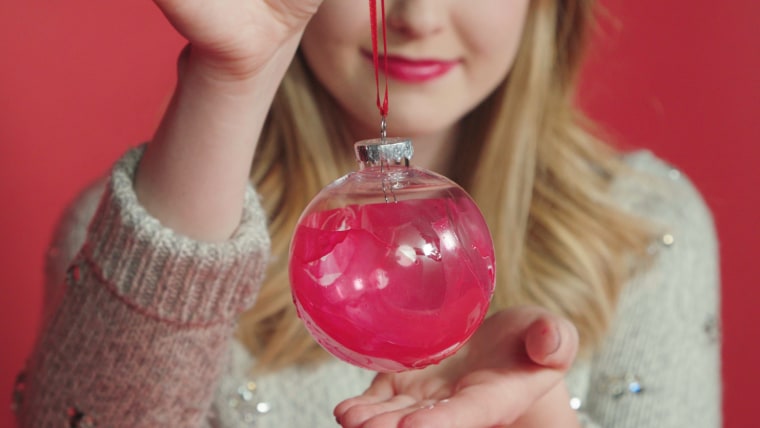 Fill a bowl (I recommend Tupperware or something you wouldn't mind parting with afterward) with water that's room temperature.
Have your two different nail polish colors and a toothpick at the ready because you'll want to move fast for the next portion of this craft!
Pro tip: Pour a few drips of each nail polish color into the water, alternating each time until the colors begin to swirl. The combined polish will stay toward the top of the water and settle fast, so don't delay!
Using your toothpick, make an "s" motion on top of the paint to thoroughly mix the polish.
Grab your ornament and dunk, leaving about a 1/2 inch from the top exposed. Keep the ornament submerged for about three seconds.
Pro tip: Avoid using a quick dry nail polish. In testing this idea, I found that a quick dry formula didn't react with the water in the way it needed to for this to work.
Now, get out there and "sleigh" your next holiday party with one of these sweet gift ideas!
New episodes of "Change for a $20" are released every other Friday at 12 p.m. Eastern time on TODAY's YouTube channel. For more ideas like this, be sure to subscribe here.