One of my favorite parts of the holiday season is decorating my home. From picking out a tree to designing a tablescape, there are so many opportunities for fun DIY projects.
That's why I headed back to TODAY Wednesday morning to share some great ways to get creative as you deck the halls. We set up a front porch, a mantel and a tablescape and filled them with holiday cheer. Check out the projects below!
Front porch
The front porch is a great place to start. Welcome your friends and family with some holiday cheer!
Cookie cutter wreath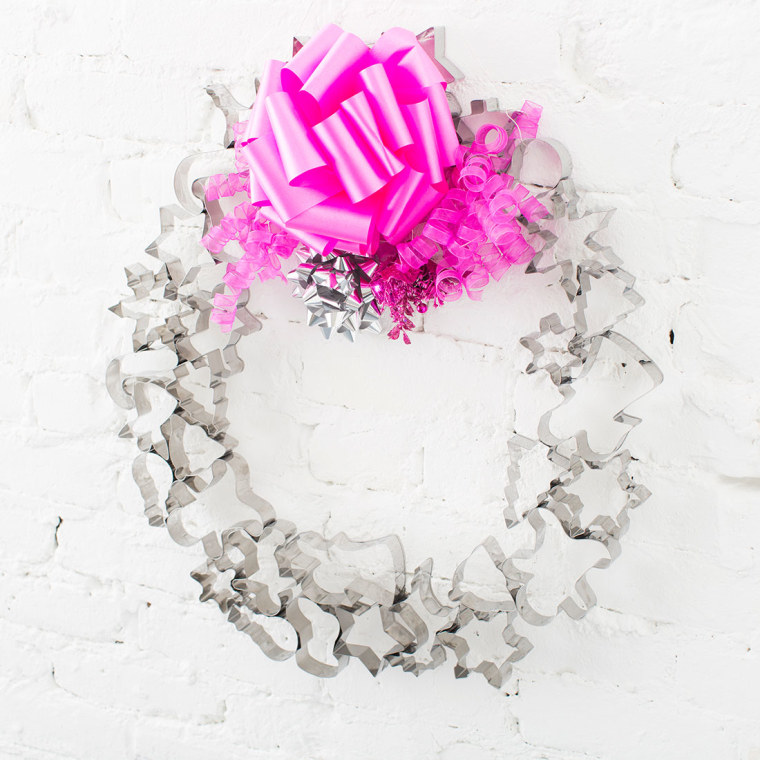 No wreath-making skills? No problem. Just round up a few of your favorite holiday cookie cutters (these can even be found at the dollar store!) and glue or wire them together into a circle. Do not use hot glue as they won't stick together. I used E-6000, a version of super glue that works on metal materials. Tie it up with a fancy bow and you're all set!
Giant lollipops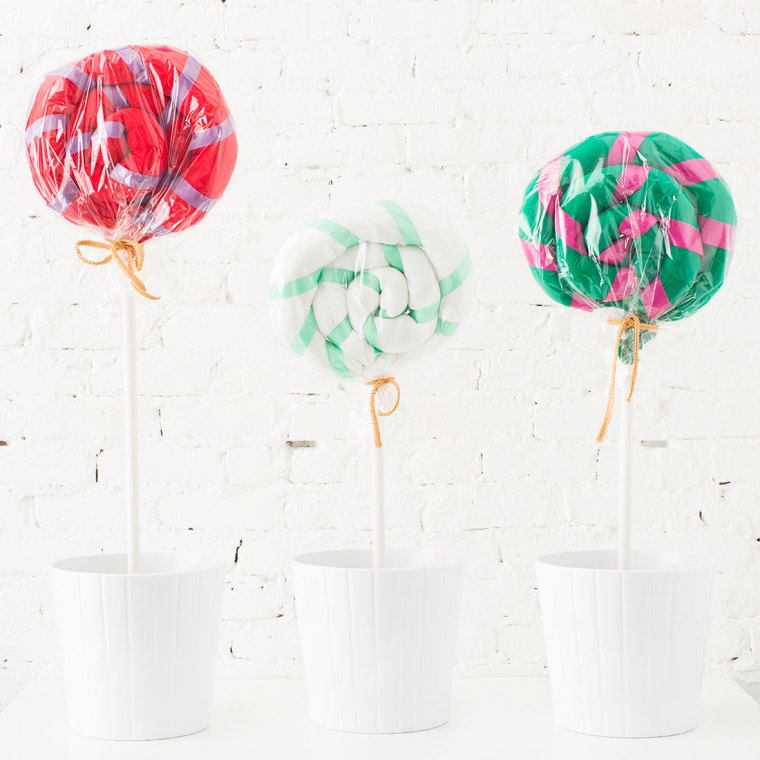 If you love gingerbread houses like I do, you'll love these lollipops that double as front porch decor. Use colorful tights filled with polyfill (typical pillow stuffing from the craft store) and then add colorful duct tape. Wrap in a spiral and secure with a cellophane bag and a ribbon. For the sticks, I just painted a basic wooden dowel, then secured into a planter pot with a bunch of sand. You can add salt or sugar on top if you want to make it look like the pots are full of snow.
Garland-wrapped gifts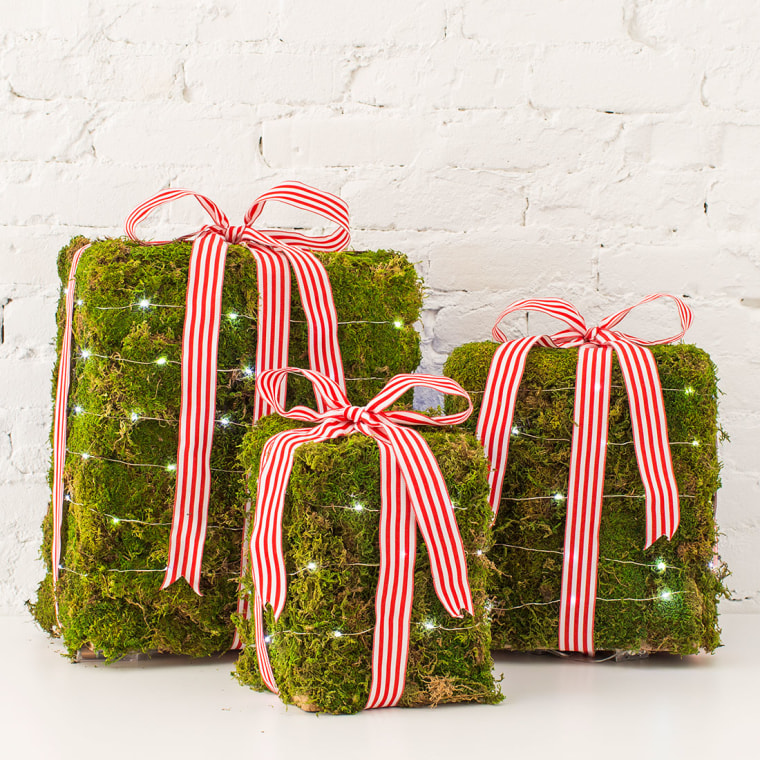 I love this take on an "outdoorsy" gift for the porch. This is a simple cardboard box that I covered with moss using spray adhesive. (You can find both very inexpensively at any craft store.) I wrapped each gift with a battery-operated strand of LED lights and tied them up pretty with a red ribbon. So simple!
Mantle
I decided to combine traditional and non-traditional decor to my mantel this year.
Curtain rod hack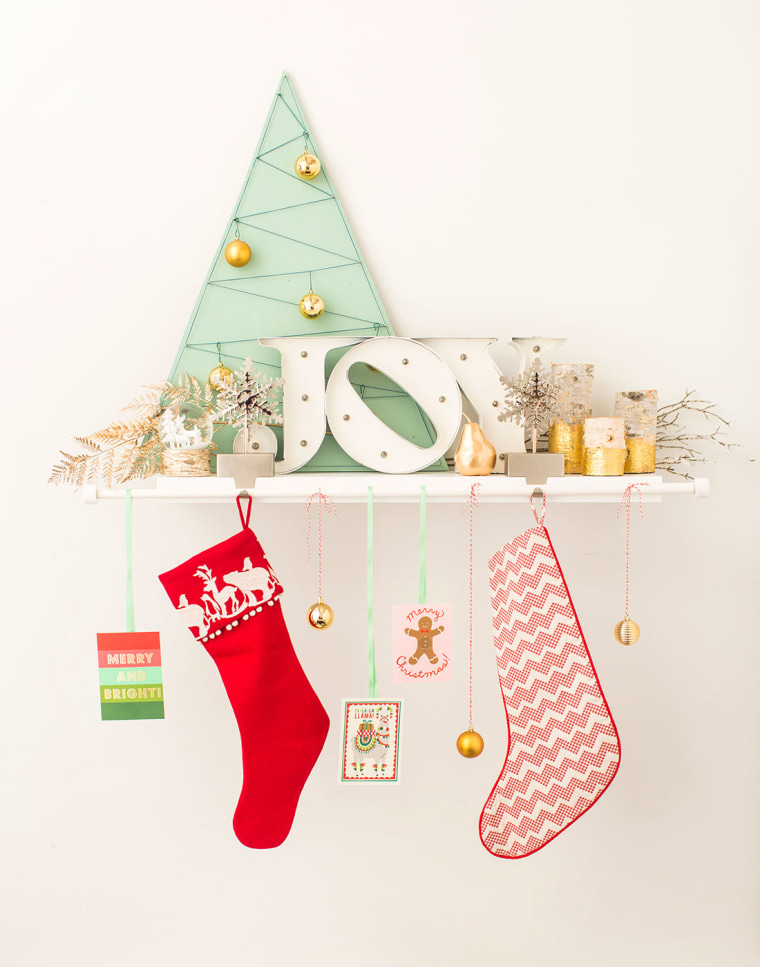 Some people may know this trick, but for others, it's going to change your life: a basic curtain rod, hung with stocking holders, is all you need to display multiple stockings and all kinds of other holiday decor, like cards and ornaments. Look how festive this fireplace looks! You can cover the rod with a pretty garland if you don't want your guests to see your trick.
Gold-foiled bark candles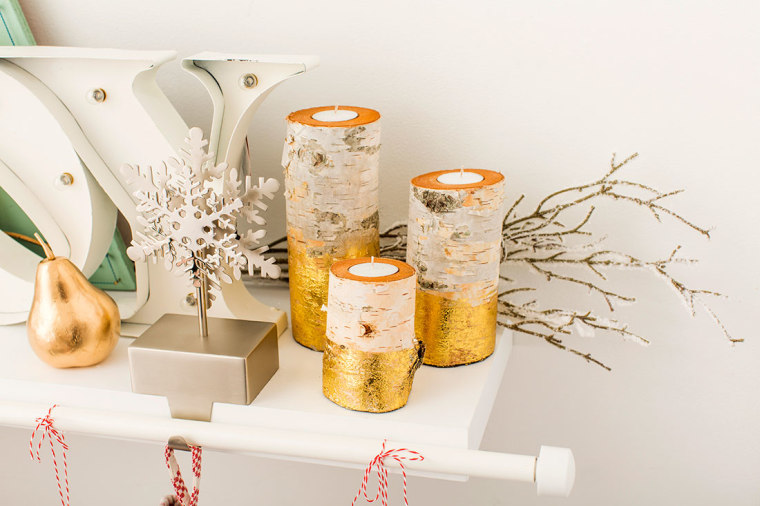 On top of the mantle, we have these beautiful gold-foiled bark candles. You can find these on Amazon and in several other retailers. To add the gold foil effect, just use some Mod Podge to paint on top of the bark, adhere the gold foil to the glue, then peel away after seconds.
Table
Now for the good stuff — the table!
Snowflake table runner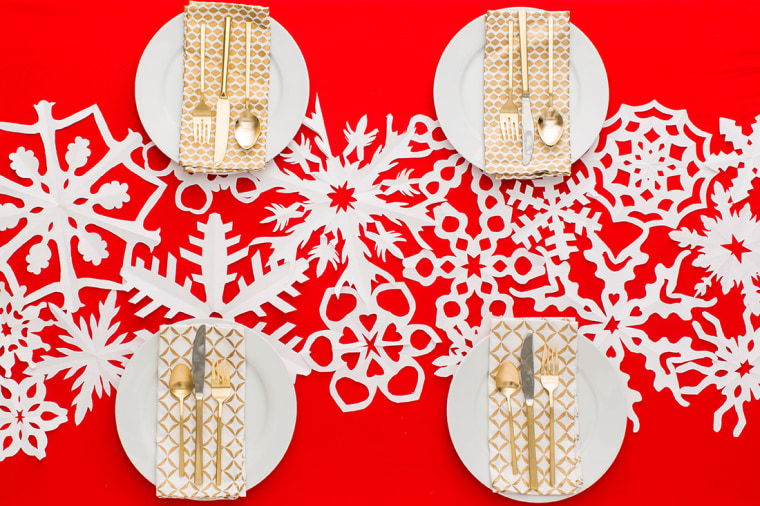 It's always great to get the whole family involved in the decorating, so ask your kids to cut up a few paper snowflakes, then glue or tape them together to make a beautiful table runner like this.
Mittens silverware holders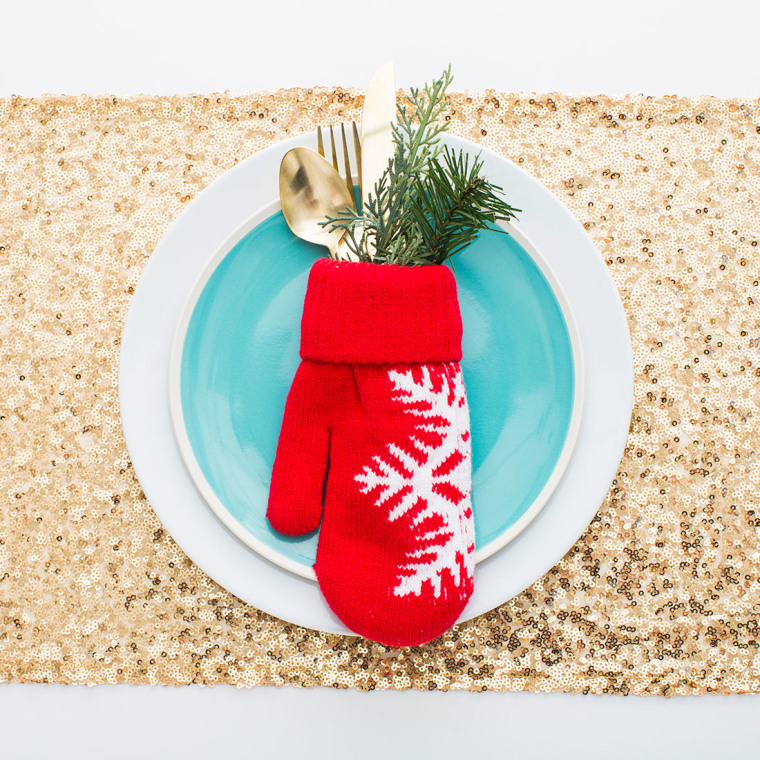 As for place settings, you don't have to break the bank to be creative here. Find a few festive mittens, add some pine needles and your silverware,and you're all set!
Elf hat napkins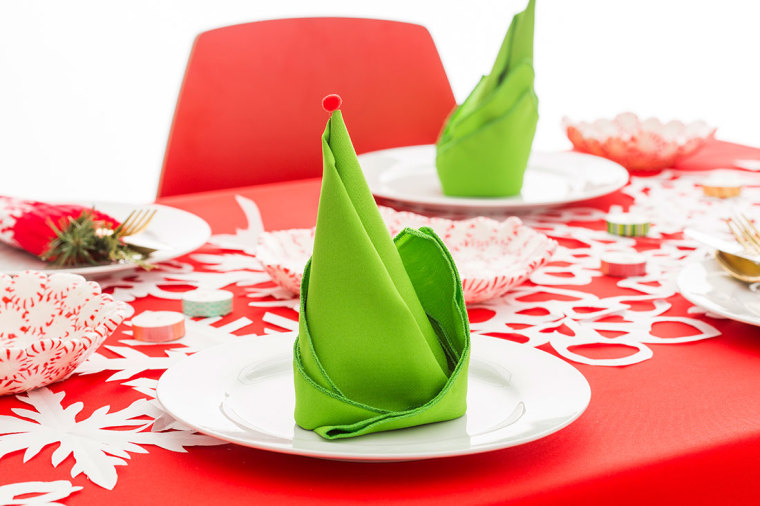 To make the red tip of the hat, just use a pom pom, bead or a cranberry attached to a piece of wire or any other long, thin stick. Then just slide it into the top corner of your fold.
Ornament place cards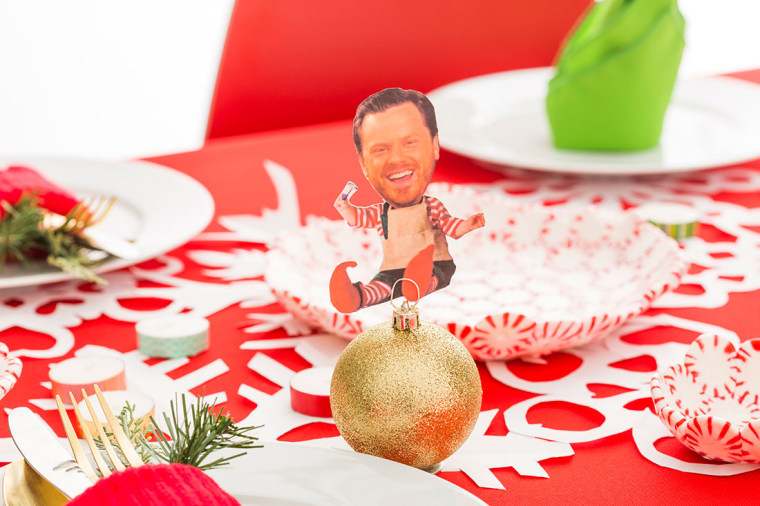 Instead of traditional place cards with your guests' names on them, why not make photo place cards instead?
To keep with the "elf" theme of the napkins, I found some funny elf bodies on the Internet, then cut out photos of my guests' faces to glue on top. Display them on an ornament so that everyone can clearly seewhere they're meant to sit. Just hot glue a washer to the bottom of the ornament to helpit stand up straight, then hot glue a wire to the top to hold the photo.
Washi tape tea lights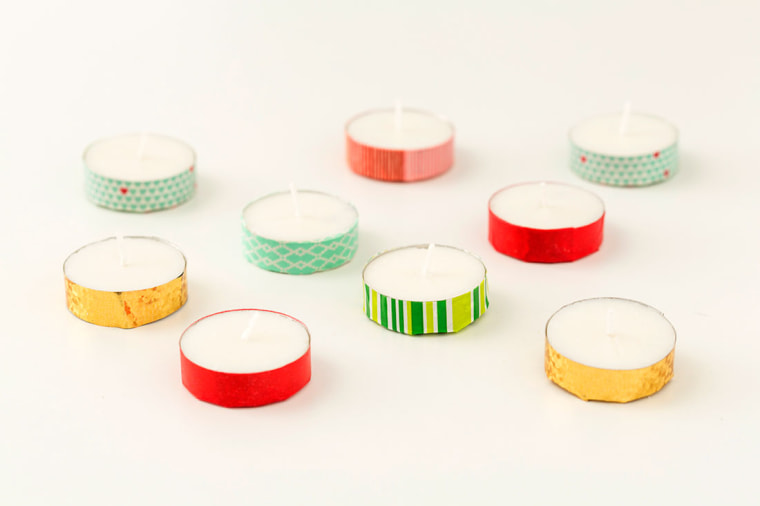 One easy trick to adding instant decor is with candles, but I decided to add holiday-themed washi tape on top of mine to make them even more festive. This is another great project for kids to help out with!
Peppermint platters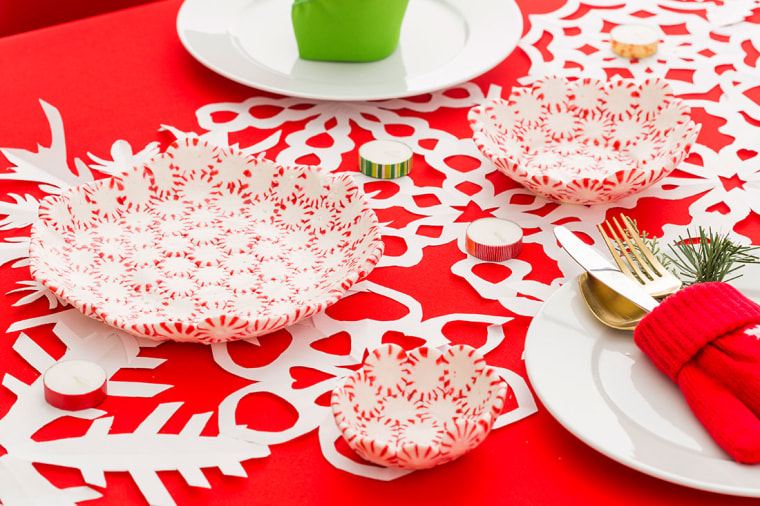 And finally, let's talk about these edible serving platters — they are made out of peppermints! Just melt your peppermints down in the oven at 350 degrees Fahrenheit for about 5-8 minutes or until they start to meld together. Then,depending on the shape you want, transfer them using parchment paper to cover the back side of a bowl. Mold the softened peppermint tray around the bowl until it is in theshape you desire, then let dry until set.