Due to the rules of broadcast television, most fans have only heard Tina Fey speak in family-friendly terms.
But in her upcoming film with real-life BFF Amy Poehler, "Sisters," the duo swears like a couple of old sailors.
And she's just fine with that.
During a Monday morning visit to TODAY, Fey confessed that cursing "is like an old swaddling blanket from my baby time!"
"It's very comfortable to swear," she said. "It was fun for us, having done broadcast TV for 20 years between us, to be able to."
And it will no doubt be fun for fans to see the duo together again on the big screen when the sibling comedy opens in theaters Dec. 18. But fans don't have to wait until then to see them side by side.
Tina and Amy are teaming up to host "Saturday Night Live" this weekend — or Betty and Amy are.
"My first name is really Elizabeth — Elizabeth Tina — so she's one of the few people that knows that, so she calls me Betty," Fey explained.
The "SNL" gig will mark the fifth time hosting for Fey, making her part of the exclusive five-timers club — which includes Alec Baldwin, Steve Martin, John Goodman and Bill Murray, among others.
It's an honor, and it's one no one would have expected to happen to "nerdy" Tina Fey — at least no one who knew her back in high school.
What would they have said if they knew what a success she'd turn out to be?
"They would say, 'But she only has one eyebrow. How is this going to work out?'" she joked.
During the chat, Fey also shared her wishes for the season: to take a nap and get a pair of good potholders.
Since Matt couldn't help with the nap, he presented her with a new set of potholders instead.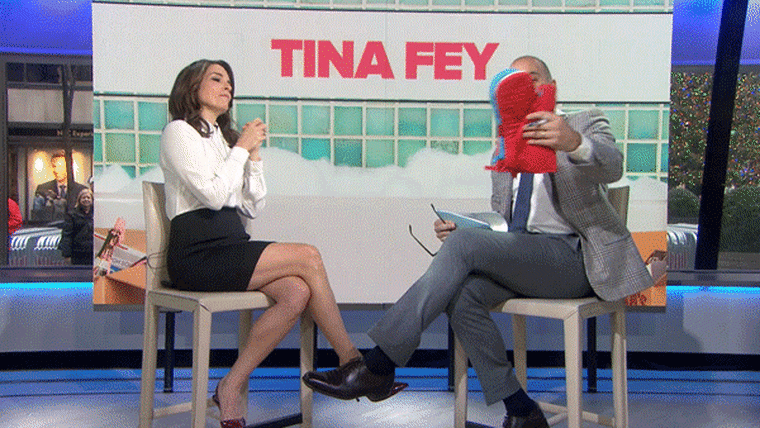 "Matt, you ruined Christmas and gave them to me early!" she said with a smile. "Thank you! I will seriously use these."
Follow Ree Hines on Twitter.