It's been over 50 years since the world first said hello to Dolly Parton, but the country singer and business-savvy entrepreneur is going stronger than ever.
She may have started out as one of 12 children growing up poor in rural Tennessee, but today she's got her fingers in many pies — from her ongoing singing career to her Dollywood empire, which includes a theme park, a resort and now a new NBC movie based on her autobiographical 1971 hit, "Coat of Many Colors."
But as she told TODAY's Willie Geist, she's been grateful for every twist and turn of her "rags to rhinestones" journey.
MORE: Dolly Parton duets with young fan who has Down syndrome
"I've been blessed with great people helping me see my dreams come true," she said. "But it is an odd sensation to see your name [everywhere]. There's a Dolly Parton Parkway, and every time I drive up that street, it just warps my ... I just think, 'I'm on Dolly Parton Parkway!'"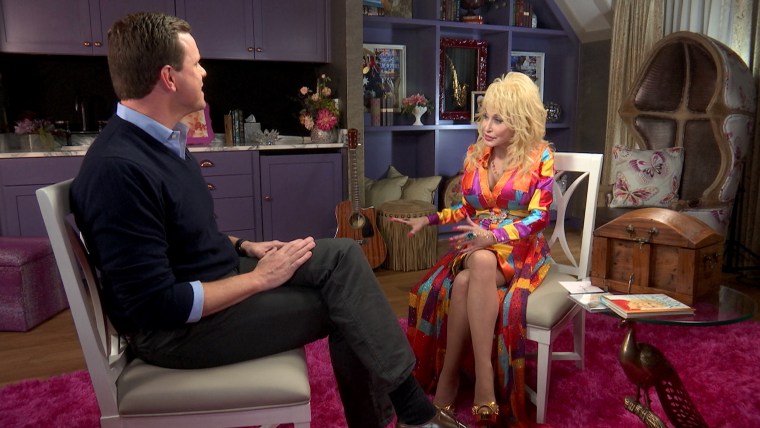 Over the years she's sold more than 100 million albums and made her mark in movies like "9 to 5", but she continues to work hard to keep everything she does close to her home and heart.
MORE: Willie Geist channels Dolly Parton in amazing 'Lip Sync Battle' clip
That includes her new movie, which is set in 1955 and focuses on a time in young Dolly's life where she learned that being rich or poor had little to do with how much you owned.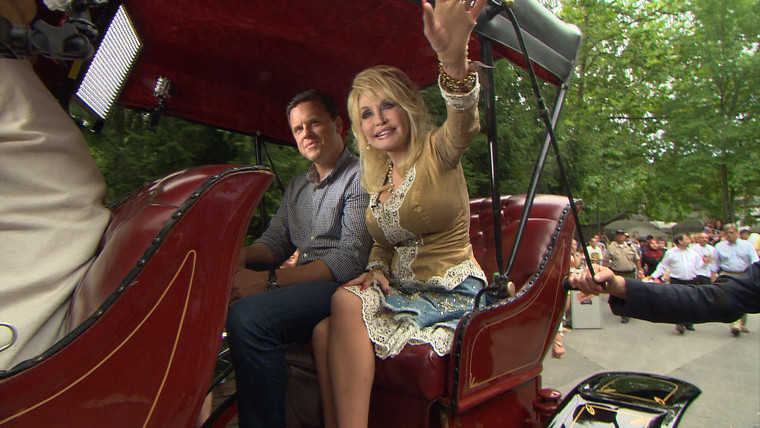 "My momma ... she'd always say, 'Now, don't you say we're poor,'" recalled Parton. "'There's a lot of people in worse shape than us. We're not poor, you know, we're just ... ain't got a lot of stuff, but there's a lot of stuff we do have.'"
She's carried that philosophy through the years and said she felt ready to share her story in a movie because, "There's nothing on TV anymore about families," the 69-year-old said.
"So it's more about celebrating the people that made me who and what I am. It really celebrates my whole family," she said.
Be sure to check back for more of Willie Geist's chat with Dolly Parton later this week.
"Coat of Many Colors" premieres on NBC on Thursday, Dec. 10 at 9 p.m. ET.
Follow Randee Dawn on Twitter.