Get ready prankers, jokers and merrymakers! The one day of the year we all get free rein with folly is here. It's April Fools' Day, and TODAY is taking the holiday seriously.
Well, you know what we mean.
The fun was in full swing as a couple of viewers were plucked from the plaza for big makeovers. But when it came time for their reveals, it turned out that their family members were really the ones in for a treat — or rather, a trick.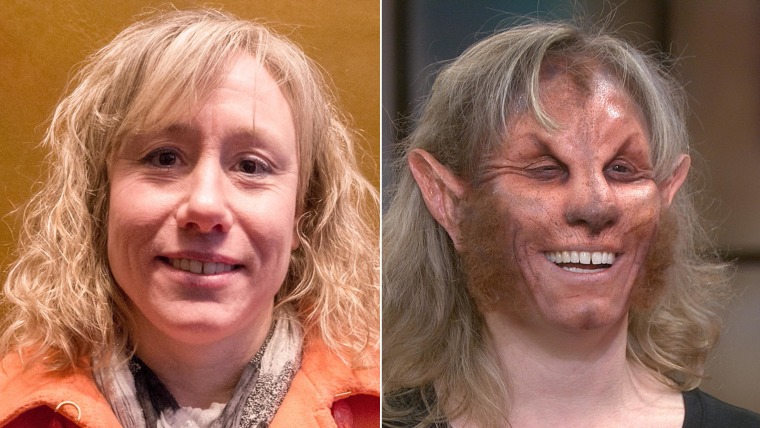 Instead of the usual transformations that take folks from their everyday look to a whole new level of lovely, these makeovers were intentionally frightful. The scary makeup masters from "Face Off" were in on the prank.
Clearly not in on the prank? The mother of one of our makeover subjects.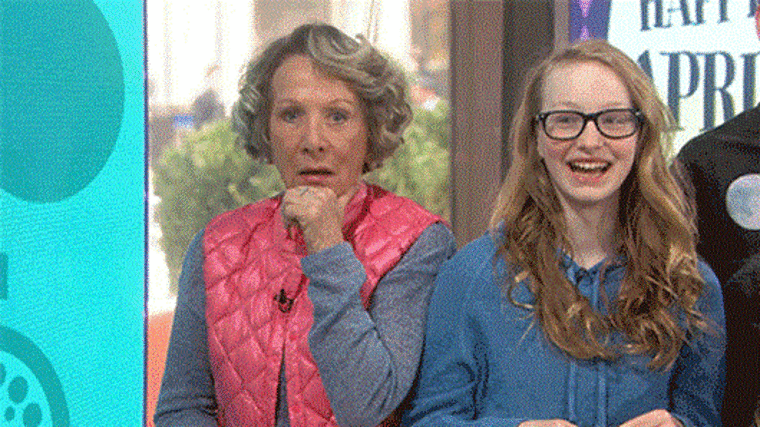 "Oh!" exclaimed Amy Hardy's mom. "I'm just so shocked! That's not what I expected."
Truly! But don't worry, Mom. The recipients of our monstrous makeover will get a gift certificate to Bliss Spa for the pampering they didn't get Wednesday morning.
Later Willie Geist found himself the victim of April Fools' Day fun, but he didn't mind. When he went to take the Egg Crack Challenge — which involves cracking a raw egg on one's head to support awareness and fundraising for juvenile diabetes — he didn't get yolk on his face, or even his suit.
The Easter Bunny himself stormed the stage and pelted the anchor with hard-boiled eggs instead. Still, while Geist appreciated the lack of cleanup required, he admitted it felt a bit like everyone's furry friend had hit him with "a roll of quarters."
Ouch!
The laughs continued when the other anchors joined Geist for a food segment that they were certain was really a joke. And they were right!
As a series of snacks were revealed from under silver domes, Natalie Morales wondered aloud if something else might pop out from under one of them. Well, as it turned out, knowing ahead of time didn't exactly soften the blow.
Morales and Tamron Hall screamed when the head of prankster Rich Ferguson was revealed. Ferguson, of course, is no stranger to April Fools' on TODAY. He was the man behind 2013's fantastic chair hoax.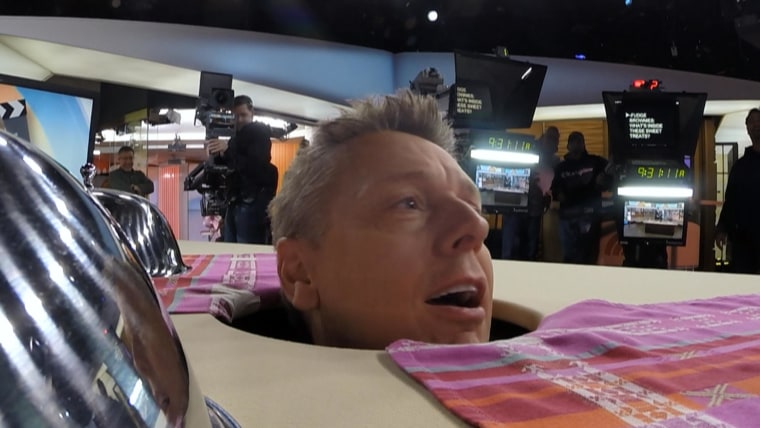 Then Drew and Johnathan Scott, the prank-loving brothers behind HGTV's "Property Brothers," stopped by and shared a few helpful tips ... and one fantastic gag.
The guys have a history of having fun alongside their home hints, and this time, the fun came when they gave Hall a quick lesson in cleaning gutters — and jumping in fear from mechanical snakes!
Got to love those guys.
Carson Daly actually kicked off our morning of gags by announcing the oh-so-believable Twelfie stick — yes, Twelfie. In a world full of selfies, shelfies and belfies, it's not too hard to believe that a Twelfie stick — a Twitter-specific product allegedly able to post perfect portraits straight to your account — might be a thing.
But the rest of the TODAY gang just didn't buy what Daly was selling, and soon it enough, the truth came out.
Follow Ree Hines on Google+.