Back in 1971, it was golden tickets all around for five young actors who landed super-sweet roles in "Willy Wonka and the Chocolate Factory," the musical adaptation of Roald Dahl's classic children's novel.
Forty-four years later, those kids are all grown up — and chatted with TODAY about their everlasting gobstoppers of memories.
Here's a surprise: They're still in touch with one another!
"We think of ourselves as a family," noted Paris Themmen, who played tiny television addict Mike TeeVee. "Maybe a bit of a dysfunctional family, but ..."
And it's not just the kids who are connected. Rusty Goffe played one of the Oompa Loompas and joined the reunion. "It's scary for me, because when we made the movie, they were kids."
"Now look at us!" said Denise Nickerson (Violet Beauregarde).
Playing rotten little brats, it turns out, was a blast.
"It's fun to be bad and to be encouraged to be bad," recalled Julie Dawn Cole (Veruca Salt). "Usually your parents are telling you, 'Don't do this. Don't do that.' And we had Mel Stuart, our director, saying, 'Be meaner.'"
In the movie, Nickerson's Violet is obsessed with chewing gum. Surprisingly, the actress never tired of having to chew all day (The way that a cow does," as the Oompas sang).
"I was having a ball," she said, but admitted she gave it up "when I returned and had 13 cavities."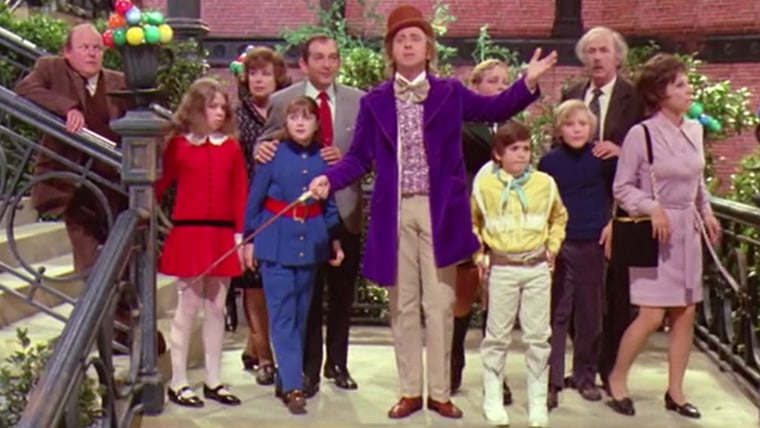 But what about getting to swim in a "choco-river," as Violet coined it in the movie?
Michael Bollner found out playing the gluttonous Augustus Gloop.
"It was water," he said.
Themmen, though, was wary of "bursting people's bubbles" about the iconic flick. So they changed course.
"It was chocolate!" cried Cole.
"Oh, it was so good. Delicious," Themmen joked.
And what about the hero, Charlie Bucket?
Peter Ostrum, who played the wide-eyed kid, left acting to become a veterinarian, but has fond memories.
"Everybody could be so lucky to have an experience like this," he said. "And then to go in a completely, you know, different direction."
And they would all do it again if they could.
"Absolutely," said Themmen.
We understand completely. It's all about a world of pure imagination, right?